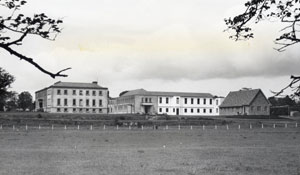 SACRED HEART COLLEGE, BALLINAFAD – CENTENARY
Ballinafad House in the heart of Co Mayo was given to the SMA by Llewellyn Count Blake in May 1908. In September 1908 the Society of African Missions opened the house to accomodate students preparing for the missionary priesthood as a Secondary school or Minor Seminary. It was named Sacred Heart College.
Centenary Celebrations – Photographs here
September 2008 marked 100 years since the opening of the College.
The Centenary was celebrated on Friday, 26 September, at Mayo Abbey, Co Mayo. The celebration included Mass in Mayo Abbey Parish Church. The main celebrant was Fr John Dunne SMA, Vice Provincial, who was joined by the Parish Priest of Mayo Abbey, Fr Austin Fergus, and a number of SMA missionaries. The large congregation included former teachers, students and workers of the College.
The homily was preached by Fr John Horgan SMA, a former teacher at the College. Full text of the homily here…
Refreshments and a Social Night in Mayo Abbey Parish Hall followed providing an opportunity to renew friendships from the past. It was a Great Night of memories and meeting old friends and of music and dance.