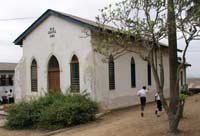 History

The little mud church built on the commanding site of Oke-Are in 1900 by the early Catholic Missionaries still remains. For more than eighty years it has stood sentinel over the ever growing city of Ibadan. It has witnessed the city's progress through the years of colonial rule to the new era of independence and modernisation, to become first a regional and then a state capital. From humble beginnings in Oke-Are the Catholic Church has grown with the city to become one of its prominent religious institutions. The little church on Oke-Are is rightly regarded as the cradle of the Catholic faith in Ibadan area and the foundation stone of the Catholic Diocese of Ibadan. In 1907, wishing to be closer to the masses of the people, the SMA Fathers came down from Oke-Are and acquired a second site at Ogunpa where they built the second Catholic Church. The place soon became known as Oke-Padre, the Hill of the Fathers. Under the zealous leadership of Rev Fr Louis Friess, who was in charge from 1907 until his death in 1927, Oke-Padre became the centre of missionary activity for the whole of Ibadan and its environs.
At the middle of the 19th century, Ibadan Catholic Mission was still part of the vast Diocese of Lagos. In 1952, however, it was considered strong enough to exist on its own as a Prefecture Apostolic or "pre-diocese". The one chosen to head the new jurisdiction was Monsignor Richard Finn SMA. Six years later, in 1958, the Catholic Church in Ibadan reached the final stage of its formation when it was raised to the status of a Diocese with Mgr Finn as its first Bishop. By then a number of parishes had been established alongside that of Oke-Padre. They included St Cyprian's, Oke-Ofa, St Joseph's, Oke-Ado and Holy Cross, Ikire.
On the July 4, 1971, Msgr Felix Alaba Job was consecrated Auxilliary Bishop of Ibadan. On December 12, 1974, he took over from Bishop Finn as the new Bishop of Ibadan.
In 1994, Pope John Paul II raised Ibadan Diocese to the status of an Archdiocese with Most Rev Dr Alaba Job as the first Archbishop of Ibadan. Ibadan cecame the seat of Ibadan Ecclesiastical Province with the Dioceses of Oyo, Ekiti, Ondo and Osogbo as suffragans.