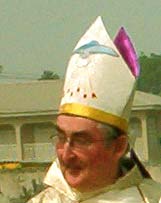 Bauchi Vicariate elevated to rank of Diocese: Dubliner, Bishop John Moore SMA, First Bishop
Vatican City (Fides Service) – The Holy Father, Pope John Paul II, on 12th December 2003, elevated the Apostolic Vicariate of Bauchi (Nigeria) to the rank of Diocese making it suffragan of the Metropolitan Archdiocese of Jos.
The Holy Father appointed Mgr John Moore SMA, titular Bishop of Gigti and until then Apostolic Vicar of Bauchi, as first Bishop of Bauchi.
"The new diocese of Bauchi comprises the territory of the former Apostolic Vicariate. It will have an area of 64,605 sq km, a population of 5,550,000 of whom 68,000 are Catholics gathered in 12 parishes assisted by 23 priests (15 diocesan and fidei donum and 8 Religious); 6 women religious, about 50 full time catechists and 31 major seminarians. The new bishop will have his See at the house in Yandoka Road in the outskirts of Bauchi and St John the Evangelist Church will be the cathedral." – (Fides Service 7/1/2004)
Bishop Moore, from Dublin, studied at the SMA Seminary in Dromantine and was ordained in Newry, Co Down in 1965. He has been involved in pastoral work in Nigeria ever since.
The new Diocese of Bauchi was formally inaugurated on 11 March 2004 when Bishop Moore was installed as the First Bishop of Bauchi.