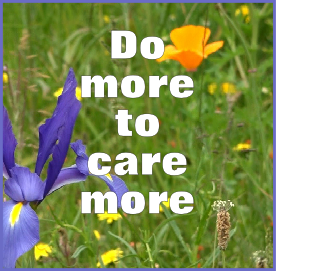 In the cold days of late winter and early spring an effort was made in the garden in Blackrock Road to prepare the ground, plant wild flower seeds and to do things in a way that cares more for creation. 
We present the result of this work here as one example of the many things that have begun to happen in SMA Communities all around Ireland, in Dublin, Claregalway, Dromantine, Wilton and Blackrock Road.  There is a growing consciousness of the need to do more in order to care more.  There is also a growing awareness that this caring needs to be planned, sustained and become an active part of Christian living and of living more justly.  
The efforts made in Blackrock Rd have, as you will see, had a beautiful result but all the other efforts in SMA Houses around Ireland are, although less visible equally important, the recycling, not mowing all the grass, growing vegetables, not using weed killer, reducing waste, composting, saving energy and so on.   All are ways of caring for creation and for all who depend on it, ourselves, those living far away and those yet to be born. 
All of us can do more to care more.  We hope you enjoy this three minute video which was filmed one afternoon in July.  We also hope it will be for you a meditation, a prayer on the beauty of God's Creation – entrusted to our active care. 
Filmed and edited by Paul O'Flynn                                                                                               Click on Full Screen for best viewing