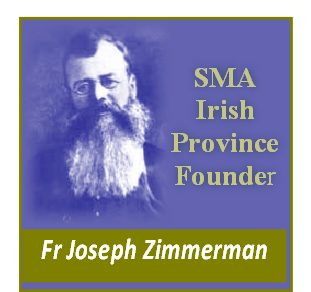 The Centenary of the death of Fr Joseph Zimmerman took place on 19 July, 2021 and this occasion was marked by a memorial event in St Joseph's Parish Wilton on Saturday, 17 July.
Fr Zimmermann is rightly seen as the Founder of the Irish Province of the Society of African Missions (SMA).
Mass was celebrated by Fr Malachy Flanagan, the SMA Provincial Leader, with a Homily delivered by Fr Tim Cullinane SMA. A memorial Plaque was later blessed and
unveiled in the SMA Cemetery. Afterwards, Fr Edmund Hogan SMA delivered a Talk on the life and role of Fr Zimmerman in the Wilton Parish Centre.
In 1882 Fr Joseph Zimmerman took charge of the Irish branch of the SMA. It had been founded four years earlier to attract vocations for work in the Society's British West African missions. But very few suitable candidates were coming forward and those that were did not persevere. The cost of maintaining this unproductive SMA enterprise was becoming prohibitive and it was clear that drastic action needed to be taken. In January 1883 Joseph Zimmermann was named Superior and arrived in Cork with a mission to see whether anything could be salvaged.
Over the next 28 years, he not only saved the Irish branch of the Society from closure, but built it up until it was to become the first Province of the Society. He achieved this by winning over the local Church to the missionary cause. At the start, little by little, he made friends among the clergy and laity, helping out wherever he was needed. Then, using his considerable powers of eloquence and persuasion, he began to preach the missionary message to a Church which at first did not want to hear, but gradually began to listen. He struck a chord deep in the heart of modern Irish Catholicism, invoking Ireland's illustrious missionary past between the 6th and 9th century and urging that once more Ireland should take its place among the great missionary nations. He was Founder of the Irish Province of the SMA and one among a handful who can be titled: Founders of the Irish Missionary Movement.  The Irish Province of the Society of African Missions was formally established on the 15th of May 1912 with Fr Stephen Kyne SMA as its first Superior.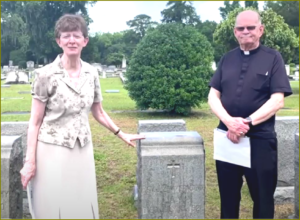 Just one year earlier, in June 1911, Joseph Zimmermann had left Ireland to take up a new post in the United States, in the SMA African-American parish of St. Anthony, in Savannah, Georgia. There he was to remain for the remaining ten years of his life. He died on 19 July 1921. 
Click Here to see a short video made at the grave of Fr Zimmerman in Savannah, Georgia, by Sr Pauline O'Brien, sister of Fr John O'Brien SMA. 
To view the unveiling of the memorial plaque to Fr Joseph Zimmerman in the SMA Cemetery in Wilton, Cork Click Here.  
Click here to read Fr Cullinane's homily.