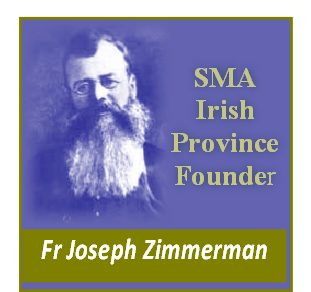 Fr Joseph Zimmermann SMA is acknowledged as the Founder of the Irish Province.
After 28 years in Ireland, he was transferred to Savannah, Georgia, USA, where he died on 19 July 1921.
To mark his contribution to the SMA, and particularly to the Irish Province, the Irish Provincial Leader, Fr Malachy Flanagan, celebrated a Mass on 17 July at St Joseph's SMA Church, Wilton, Cork, followed by the unveiling of a Memorial Plaque in the SMA community cemetery.
Fr Tim Cullinane preached at the Mass, basing his homily on Ecclesiasticus 44:1,9-13, Ephesians 2:19-22 and John 12:23-26. Following Fr Tim's homily (below) we have two videos relating to this celebration, in Ireland and the USA.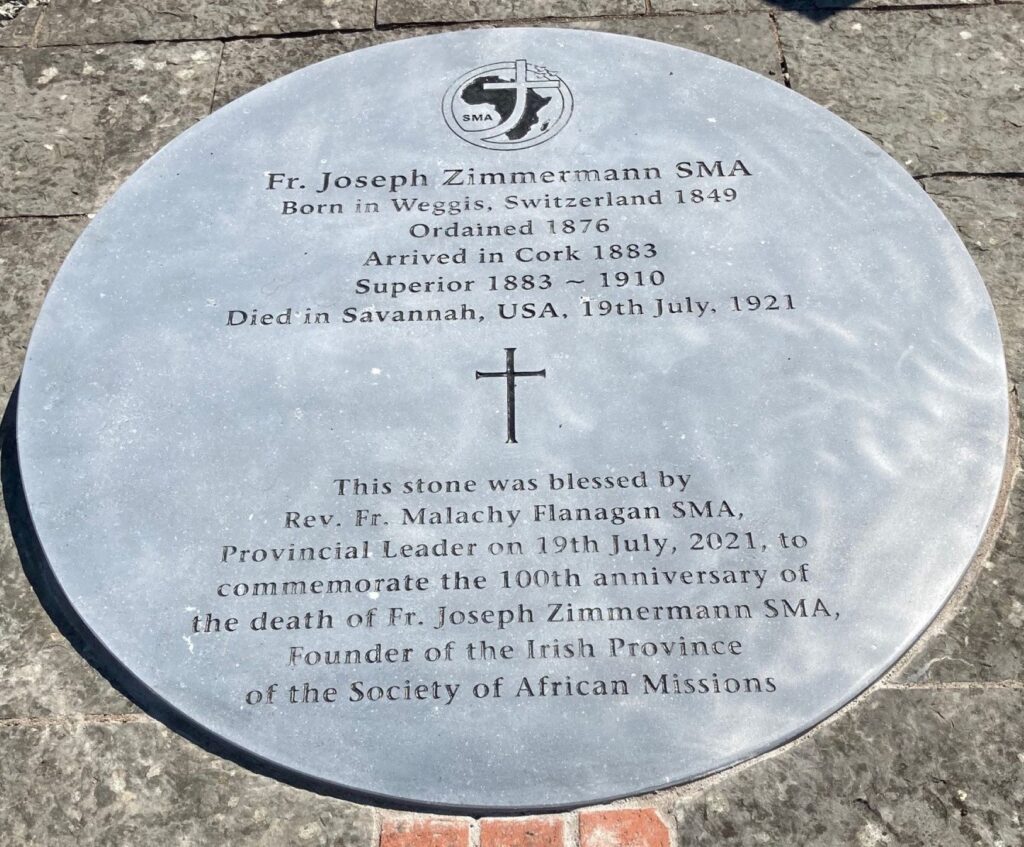 We are gathered together this afternoon to remember and honour the memory of Joseph Zimmermann, who died 100 years ago next Monday, 19 July. He is, as the first reading tells us, among a list of generous people whose good works have not been forgotten and in their descendants there remains a rich inheritance, in this case, the Irish Province of the Society of African Missions [SMA]. His story is God's story working through human beings to carry out His mission to the most abandoned spiritually and materially.
One of the most famous buildings in central London is St Paul's Cathedral, where most of the country's important religious events take place. The architect of the cathedral was Christopher Wren and in the crypt of the cathedral there is a plaque dedicated to his memory with the words, "If you seek a monument to this man look around you." If you seek a monument to Joseph Zimmermann you can begin by looking around this church (pictured below). It was Fr Zimmermann who bought 72 acres of farming land from a Mr James O'Connor for £1000 pounds on which this church, the shopping centre and the SMA House behind us are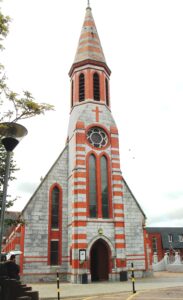 built. It was Fr Zimmermann who engaged the architect and was responsible for the building of the Church, opened in 1897. It was built in the style of churches back in his own country of Switzerland. As we gather here this afternoon in this eucharist we can sense his presence for every Mass is part of the heavenly liturgy so he is with us in spirit.
However, his most important contribution to the SMA was not this church but the SMA Irish Province itself. As most of you know the SMA was founded in Lyon, France, by Bishop Melchior de Marion Brésillac in 1856 for mission to the most abandoned in Africa. At first it was a French-speaking Society. By the 1870's a need was felt to recruit and train English-speaking members to work in English-speaking countries in West Africa, like Nigeria, Ghana and Liberia. As a result, Fr Augustin Planque, Superior General, turned to Ireland to respond to the challenge and an Irish branch of the Society was founded in 1878 in the hope of getting priests to answer this need. Very few suitable candidates came forward and since the training was in France where they had to adapt to a new culture and a new language, very few persevered. The cost of sustaining the SMA project in Ireland was becoming prohibitive and it was facing closure unless drastic action was taken. Into the situation entered the Swiss-born Fr Joseph Zimmermann who was sent to Cork in 1883 to see whether the whole project could be saved.
The Church in Ireland at that time was very inward looking. It had little interest in any mission outside of Ireland except to supply priests and sisters for the Irish people who had emigrated to places like the USA, Australia and New Zealand. So they were not very interested in the SMA and its work for the most abandoned in Africa. A man of great passion and energy, Zimmermann set out with great commitment to change that and to save the Irish branch of the SMA from closure. There are people in our own time, like Sr Stan and Jesuit Fr Peter McVerry who have the gift of being able take on a project with passion and inspire others to join them and become as passionate about it as they are themselves. Fr Zimmermann had such a gift. With his considerable powers of eloquence and persuasion he gradually won over the local Church to the missionary cause of the SMA. To re-ignite the missionary spirit in the country, he made use of the great missionary tradition of Ireland in the 6th and 9th centuries with people like Columba and Columbanus being instrumental in the evangelization of Europe.
He also had a vision of the SMA which became attractive to the Irish Church, wanting to establish, not an outpost of a French missionary congregation but an independent Irish missionary Institute staffed by Irish missionaries, educated not in France but wholly in Ireland, supported by Irish funds. Gradually, he won the support of a number of bishops,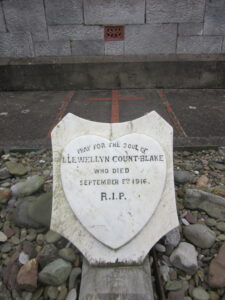 priests and lay people. He reached out in a special way to the laity and attracted a number of important benefactors including Count Llewellyn Blake, who is buried beside this church as you climb down the steps to the house. Over a number of years, Count Blake made a number of substantial financial contributions to Zimmermann's missionary project as well as giving two substantial properties in Galway and Mayo to the Society to be used for training students in Ireland rather than having them go to France.
With an increasing number of candidates, growing financial support and certain structures in place, the canonical requirements for a Province now existed: three separate houses, financial security and the ability to get vocations. With the support of some Irish bishops, friends in Rome to promote his cause, Zimmermann's case for recognising the Irish branch of the SMA as a separate Province was hard to turn down. Despite opposition from his French Superiors, the Irish Province of the SMA became a reality on 15 May, 1912.
Pictures of Zimmermann show him with piercing eyes, a long white beard and a giant cross across his chest. Today's gospel says, "Unless a grain of wheat falls into the earth and dies, it yields a rich harvest." The cross was very much part of Zimmermann's life as it was of the life of Jesus.   Writing to Fr Planque in June 1890, he wrote, "I've had a rough year; how many times I went to bed without eating, and how many nights I passed without going to bed at all except on a railway station bench, without mentioning the other annoyances that were, for me, ten times harder than these deprivations and annoyances that often caused me to cry bitter tears."  The hardest cross of all that he was called to bear must have been that, after working tirelessly for 28 years to establish an Irish Province, when it was erected, the first Superior was not to be Fr Zimmermann but Fr Stephen Kyne. The news was conveyed to him in a curt letter from the successor to Fr Planque as Superior General, Bishop Paul Pellet. Part of it reads as follows, "Dear confrere, in agreement with the Congregation of the Faith, we have decided not to renew your term as Superior. We are sending Fr Kyne to replace you… and the letter ended with the words, "You are to leave Cork and Ireland by the latest the 1st of January 1911 and come here to receive new directives.  The new directives were to take up a new post in the Unites States, in the SMA African-American parish of St Anthony in Savannah, Georgia, where he was to work for the remaining ten years of his life.
In April 1921, the SMA Superior General at the time, Fr Jean-Marie Chabert, was on a visit to America. He brought with him a letter from the Irish Province inviting Zimmermann to return to Ireland. He was very happy to receive it but his health did not allow it and he died less than three months later and is buried in Savannah.
Today, 100 years after his death, there is a certain sadness,  as part of us  would like to see a man who was so much part of our history for 28 years buried in the adjoining cemetery so it is good that today we are unveiling a plaque here in his honour. I'm mindful that on 9 December, 2018, the refurbished SMA House in Claregalway was renamed "Zimmermann SMA House". Yes, there is sadness but our predominant feeling should be one of gratitude to God and to Fr Zimmermann. The seed he planted has borne much fruit and has made, and is making, a difference to many people in different parts of Africa.
Fr Zimmermann is not only part of the story of the Irish Province of the SMA. He is also part of the story of the Irish Province of the OLA Sisters. It was he who introduced them to Ireland in 1887 and organised accommodation for them. That seed too has borne much fruit in Africa and in Ireland.
I said at the beginning that Zimmermann's story is God's story. It is also our story, as an Irish Province, and in our own time, we are called to write a new chapter in the story. The 100th anniversary of his death is a good time to ask the question, "Where is the Irish Province that he did so much to establish going into the future, considering that the Irish Province has had no ordinations in the past ten years". Gerard Hughes, SJ, in a book called, "The God of Surprises" gives good advice, "Look at the facts, the facts are kind and God is in the facts."  Fr Arrupe, the former Superior General of the Jesuits, said on many occasions as he went around visiting Jesuit communities in different parts of the world people would often ask him, "Where is the Society of Jesus going?" We are asking a similar question, where is the SMA Irish Province going? Regarding the Jesuits, Fr Arrupe would answer, "I don't know… but God knows … and we have to hear the answer from God. That is why we have to be open to the signs of the times. God is leading us today to live the Gospel in new ways. We have to be open to that and ask God to enlighten us and follow his lead." This too is what the SMA Irish Province has to do at this time.  As the prophet Isaiah said to his people in his time:
"See I am doing a new deed, even now it comes to light, can you see it?" (Isaiah 43: 18-19)
And as the Letter to the Hebrews says, "Remember your leaders, who preached the word of God to you and as you reflect on their lives, imitate their faith."
Click here to view a short video of the unveiling of the Memorial Plaque. 
Click here to see a video prepared by Sr Pauline O'Brien at the grave of Fr Zimmermann in Savannah, Georgia.