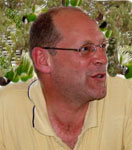 From left: Fr Thomas Wright (General Councillor), Fr Kieran O'Reilly (Superior General) with Fr Paul Saa-Dade Ennin (General Councillor) and Fr Jean-Marie Guillaume (Vicar General)
19th SMA General Assembly in Rome
Every six years the Society of African Missions holds a General Assembly. The 2007 SMA General Assembly began on Monday 16 April and ended on 12 May. It was held in the SMA Generalate in Rome.
40 delegates to the General Assembly represented all the various units of SMA – the seven Provinces, two Districts and four Districts-in-formation. SMA lay associates were also representated.
The General Assembly is an important forum for reflection, evaluation and decision-making regarding the life and work of the Society. It also sets down plans and guidelines for future mission and elects a Superior General and Council for the next six years.
The General Assembly re-elected Fr Kieran O'Reilly SMA (Cork, Irish Province) as the Superior General. It will be his responsibilty to lead the Society for the next 6 years.
The Leadership Team which will assist Fr Kieran was also elected. The new Vicar-General is Fr Jean-Marie Guillaume (France, Strasbourg Province) and the Councillors are Fr Paul Saa-Dade Ennin (Ghana, African District-in-formation) and Fr Thomas Wright (USA, American Province). This election marks a new milestone in the history of SMA with the election of the first African to the General Council of the Society.
The Assembly was opened with a special Mass of the Holy Spirit and an Opening Address by the Superior General, Fr Kieran O'Reilly SMA.