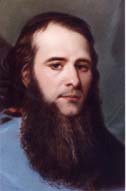 On 25 June 2016 we commemorate the 157th anniversary of the death of the SMA Founder, Bishop Melchior de Marion Brésillac, in Freetown, Sierra Leone.
See The Jubilee of Mercy with Bishop deBrésillac a short refection by Fr Basil Soyoye [a Nigerian SMA priest] here. 
He was a man before his time – in the early 1800's he advocated for an indigenous clergy in India. This brought him into conflict with his brother Bishops and others, forcing him to leave India and found a Society dedicated to the most abandoned in Africa. Today over 800 SMA priests, brothers and bishops continue to follow de Brésillac's example.
Prayer for the Canonisation of the SMA Founder here.
The SMA founder, Melchior de Marion Brésillac was born in Castelnaudary in the south of France, on 2 December 1813, the eldest of five children. His father was an engineer who home taught his eldest son.
Early Life and Ordination
He was ordained a diocesan priest on 22 December 1838. After ordination, he was appointed curate in the Church of St Michel, Castelnaudary. However the young priest began to discern a call to mission. Both his bishop and father opposed his calling. Eventually his bishop consented. In 1841 he travelled to the Paris Foreign Missionary Society without his father's blessing. After nine months he was appointed to India, arriving in Pondicherry (Bangalore) in July 1842.
In preparation he invoked God's grace for the following resolutions:
to be a missionary from the bottom of my heart

to neglect nothing that will advance the work of God

to seize every opportunity of preaching the Word of God

lastly… to use every available means, all my strength, all my mind, towards the training of a native clergy.
Life in India
He spent 12 years in India from 1842, first as a curate at Salem and as head of the minor seminary of Pondicherry. His ability, both as a pastor and seminary rector, was widely recognised and within four years of his arrival was appointed Pro-Vicar, and later Vicar Apostolic of Coimbatore. One of his early initiatives was to open a diocesan seminary, insisting on the need to form a native clergy and hierarchy so that missionaries could engage in primary evangelization elsewhere. But these ideas ran counter to the colonial thinking of many foreign priests who believed the native people were not yet capable of the intellectual and moral standards required.
The Indian caste system deeply troubled him. Preaching a Gospel, which championed the equality of everyone before God, he was upset by a system where a person's worth was determined at birth. He was even more shocked and angered to see the Church condoning it. His attempts at questioning the system met with bitter opposition. De Brésillac sought clear directives from the Holy See on this and other practices, particularly as expressed in the liturgy.
Resignation
In 1854 he travelled to Rome to make his case. Both the Pope and the Secretary for Propaganda Fide listened attentively but in the end chose to leave things as they were. Consequently, following much soul searching and doubt, De Brésillac sought permission to resign as bishop, which was eventually accepted.
His desire to be a missionary until death was still with him. Having returned to France he visited the headquarters of the Paris Foreign Mission Society, following which he wrote to the Secretary of Propaganda Fide asking that he might become an active missionary again, suggesting the interior of the West Coast of Africa.
Founding the Society of African Missions
In response Rome asked him to establish a new society. On 29 February 1856, he left Rome with agreement to found a new missionary society in the full knowledge the road ahead would be challenging, especially recruiting candidates and seeking funds.
His unwavering faith bore fruit. On 8 December 1856, the feast of the Immaculate Conception, he led a small group of six recruits to the shrine of Our Lady of Fourviere in Lyons, France. There he consecrated the Society of African Missions, to Our Lady and together this small group dedicated themselves to the work of the African Missions. The Feast of the Immaculate Conception remains the Society's Foundation Day. The first group of three SMA priests set sail for Sierra Leone on 4 November 1858, with de Brésillac following six months later.
West Africa and Death

He arrived in Freetown, Sierra Leone on 14 May 1859 as the first Vicar Apostolic of Sierra Leone. He was accompanied by one priest and one brother. Smallpox and yellow fever, however, was devastating the African and European population respectively. On 2 June one of the advance group died after a short illness. Three days later a second priest died unexpectedly. Twelve days later one of the brothers died and a second returned to France, leaving de Brésillac and just one priest. On 25 June 1859 de Brésillac died leaving only a critically ill Fr Reymond behind. There was no priest to offer a funeral Mass for the bishop or bless his grave. A protestant minister read the prayers over his grave.
Our picture shows a small Chapel built in the Freetown cemetery where the Founder and his companions were buried until their remains were removed to the SMA House in Lyons, France.