The SMA Summer School 2016 is entitled: 'Living Laudato Si' and marks the first anniversary of Pope Francis' revolutionary encyclical inviting us to become global missionaries promoting the care of Mother Earth. The conference will be held at our Dromantine Conference Centre, Co. Down, and will be addressed by men and women who have made environmental care their mission. Details on the Summer School can be located here.  If interested in attending the Summer School [it begins on Saturday morning] contact the Dromantine Conference & Retreat Centre immediately.
Global Catholic Climate Movement
There have been many global initiatives in response to Laudato Si. One of the most significant and ambitious is the Global Catholic Climate Movement (GCCM), a community of hundreds of thousands of Catholics worldwide responding to Pope Francis' call to action in tackling the climate change crisis. It is united by faith and by the moral imperative of responding to, and raising awareness about, climate change. It actively encourages the renewal of the human relationship with God's creation, for current and future generations.
As the climate crisis is complex, GCCM structures its work in 3 dimensions:
SPIRITUAL DIMENSION: "We must therefore encourage and support the 'ecological conversion' which in recent decades has made humanity more sensitive to the catastrophe to which it has been heading." (St John Paul II)
LIFESTYLES DIMENSION: "Humanity is called to recognize the need for changes of lifestyle, production and consumption, in order to combat this warming." (Pope Francis, LS 23)
MOBILIZATION & ADVOCACY DIMENSION: "The Church has a responsibility towards creation and she must assert this responsibility in the public sphere… She must above all protect [hu]mankind from self-destruction." (Pope Benedict XVI, Caritas in Veritate 51).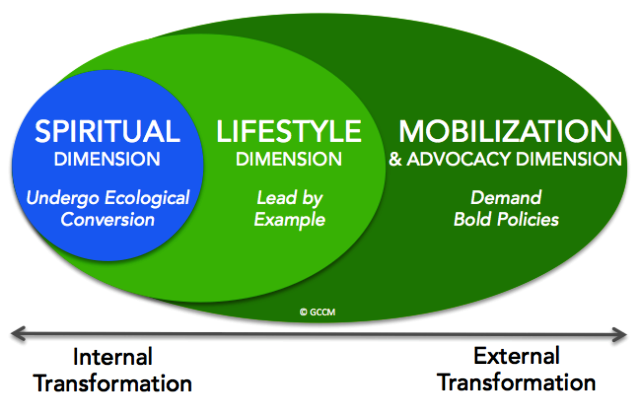 Global Catholic Climate Movement Objectives: 
To learn more about the Global Catholic Climate Movement's Objectives and Initiatives Click Here.  Here you will find informed opinion, resources (including a comprehensive list of environmental films and documentaries) and ideas for individuals, parishes, and dioceses to engage in.
A further climate justice initiative is the SMAs ThumbPrint campaign, which our Justice Office is promoting nationally and which already is attracting international support.