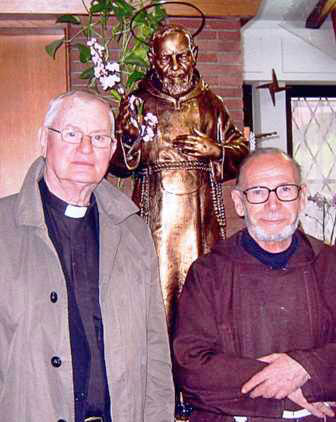 Do you like brown bread!!
Fr Sean Hayes SMA writes about his recent pilgrimage to San Giovanni Rotondo, the Shrine of Santo Pio. Fr Sean is pictured here with the Guardian, Fr Ermelindo OFM Cap.
Sometimes it was damp and cold on the Holy Mountain.
I am just back from San Giovanni, where I spent 5 wonderful nights. The trip included Palm Sunday, the branches, the donkey, the procession.
I have been going to visit Padre Pio for 14 years, but this time was the best, the least tiring. We flew Aer Lingus (JWT) from Dublin to Naples. We had a coach waiting, which took us off to San Giovanni, stopping at Pietrelcina, where Padre Pio was born and said his first Mass.
The mosaics in the new church at San Giovanni have to be seen to be believed.
We were 46 in the group (pictured below), with a very good Group Leader, Ann, who worked hand in glove with Lorna, an excellent Courier. Lorna is Irish, fluent in Italian and most knowledgeable about everything. She didn't spare us, showing and explaining everything. She knew the Monastery, the English Office, and all the personnel.
We also visited Monte Sant'Angelo and San Matteo.
We had our special Candle lit Rosary / Night prayers every night after supper and how privileged we were when some told us of their encounter with Padre Pio.
Last but not least, if you like brown bread you will have to bring some with you.
– Fr Sean Hayes SMA