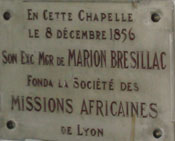 Centenary of the Irish Province
1912  – 

15 May

  – 

2012
The Society of African Missions was founded in 1856 by Bishop Melchior de Marion Brésillac at the Basilica of Our Lady of Fourviere, Lyons, France.
In 1859, Bishop de Brésillac set out for his mission in Sierra Leone. Less than six weeks after his arrival he, along with four others, was dead from Yellow Fever. For many this would have proved a fatal blow. But not for the priest, Fr Augustin Planque, left behind in Lyons to guide the Society in Europe.
And it is to the credit of Fr Planque that the plant, so cruelly cut down in Freetown, did not die. In fact during the following 50 years, 201 more SMA priests gave their lives in preaching the Gospel in Africa. Fr Planque led the Society from 1859 – 1907, nurturing the fledgling Society as it sought vocations, trained seminarians, ordained priests, seeing them die within months or a year or two of going to Africa. But he presevered, under the grace of God. He also founded the Sisters of Our Lady of Apostles (OLA).
One of Fr Planque's major decisions was to seek English-speaking members for the Society in order to proclaim the Gospel in English-speaking parts of south and west Africa. He sent priests to Ireland to establish a foundation in Cork. The first of them, Fr Francois Devoucoux, arrived in May 1877. With the help of Bishop O'Callaghan OP of the diocese of Cork and the support of many lay people, women and men, the new branch in Ireland began to grow.
Probably the most significant SMA sent to Ireland was a Swiss-born SMA, Fr Joseph Zimmerman who arrived in 1883. For the next twenty-seven years, he worked tirelessly to establish the Society in Ireland on a firm footing. And part and parcel of that foundation was the need to have a branch of the Society in Ireland with its own leadership and not subject to the day-to-day control from Lyons.
Eventually, on 15 May 1912, Bishop Paul Pellet, SMA Superior General, formally established the Irish Province of the Society of African Missions. It was the first formal 'offshoot' of the SMA plant, nourished by the blood of hundreds of SMA priests and brothers in Africa.
In this Centenary Year all Irish Province members give thanks to God for the wonderful witness of those who have gone before them. We must also give thanks to God for the wonderful group of supporters and benefactors who have helped us down the years. May God bless each and everyone of them. Despite the challenges we face, the Irish Province remains committed to its missionary task of making Christ present in the world today.