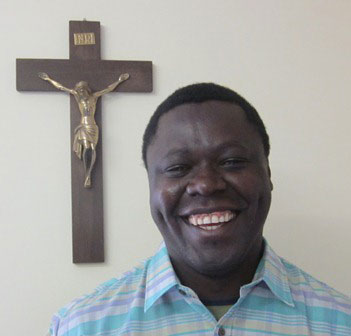 New Bishop for Bossangoa
Fr Nestor Désiré Nongo-Aziagbia SMA has been appointed by Pope Benedict XVI as Bishop of Bossangoa in the north-west of the Central African Republic.
He was born in M'Baiki, in the diocese of M'Baiki, Central African Republic on 6 March 1970. He hails originally from the diocese of Alindao, the third-born and first son of Ferdinand Nongo and Anne-Marie Yamogbeto. Fr Nestor is one of 12 children.
After completing his initial schooling in Mobaye (1975 – 1983), he studied at Saint Louis Minor seminary in Bangassou (1983 – 1987). From 1987 – 1990 he studied at St Paul's Junior seminary in Bangui before going on to the Major seminary (St Marc) in Bangui, as an SMA seminarian. He studied Philosophy in St Marc's after which he went to the SMA International Spiritual Year programme at Calavi, Benin Republic (1993 – 1994). He took his first Oath of temporary membership in the Society in June 1994.
He was then appointed for his pastoral year (Stage) programme to the diocese of Lafia in Nigeria. There he worked with Fr Donal Fennessy SMA (in Keffi) and Fr John Keane SMA (in Lafia). After his one-year Stage Nestor went for his Theological studies at Ss Peter & Paul Major seminary, Ibadan (Nigeria).
On 7 December 1997 he became a permanent member of the Society. His Ordination to the priesthood took place on 23 August 1998 in Mobaye.
From 1998 until 2004, Fr Nestor served in the Vicariate Apostolic of Kontagora, working in the Agwara area alongside Fr Donall O'Cathain SMA. Agwara is an area of Primary Evangelisation and the people there have responded positively to the preaching of the Gospel. For a period, he served as Parish Priest of Agwara and as an SMA Regional Councillor in Nigeria South (2000 – 2004).
It is noteworthy that three priests who have served in Agwara parish have gone on to serve as bishops: Bishop Tim Carroll SMA (emeritus Vicar Apostolic of Kontagora), Bishop Bulus Dauwa Yohanna (recently-ordained as Vicar Apostolic of Kontagora) and Bishop-elect Nongo-Aziagbia.
In 2004, Fr Nestor was sent for Further Studies in Dogmatic Theology at Strasbourg, France. Whilst there, he lived at the SMA Community, Haguenau and served in local parishes. He has also worked in both School and Hospital Chaplaincy. From 2008 until now he is the Parish Priest of the St Paul's Parish communities in Weitbruch, diocese of Strasbourg.
In June 2007 he was appointed as Councillor to the Strasbourg District Superior. This appointment marked a historical moment in the Society as Fr Nestor became the first African SMA to serve on an SMA administration in Europe. Three years later, the Strasbourg SMA members elected him to lead the District, a position he has filled until his appointment as Bishop.
Bishop-elect Nongo-Aziagbia already has Bachelor and Master Degrees in Theology. He will defend his Doctoral thesis in Dogmatic Theology (Ecclesiology) at the Theological Faculty of the University of Marc Bloch in Strasbourg on 2 July 2012.
The Bishop-elect is fluent in Sango, French, English and Hausa. With his different experiences and academic achievements, Fr Nestor is well prepared for the onerous task laid on his shoulders. His Episcopal Ordination is scheduled, most probably, for 22 July.
Bossangoa covers 62,420 sq kms (Ireland is 84,000 sq kms). According to the most recent statistics (2011), Bossangoa has a total population of 612,000, of which about 40% are Catholic. Fifteen parishes are served by 38 priests (33 diocesan and 5 missionary priests). The diocese has 28 Major seminarians as well as 6 Brothers and 16 Sisters.
The Legion of Mary is very strong in the diocese, with over 2300 members. The diocese also has a Radio station which broadcasts throughout the area, reaching towns and villages where the clergy have yet to establish permanent missions.
All Fr Nestor's confreres in the Society of African Missions wish him every grace and blessing in his future ministry. Ad Multos Annos!