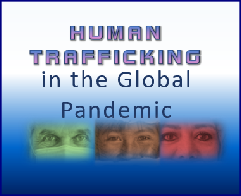 The COVID-19 Pandemic has greatly exacerbated Human Trafficking by increasing vulnerabilities, especially for those who are already at risk as well as reducing efforts to combat trafficking. This has provided traffickers with an opportunity to use these vulnerabilities to their advantage. 
2. Human Trafficking in the Global Pandemic. 
Today we bring you the second in a series of six videos based on information provided in the 2021 Trafficking in Persons Report (TIP) published by the US State Department in June this year.  In this video we share more about the impact of the Pandemic on Human Trafficking.
 Videos Yet to be published
3. Human Trafficking – Ireland's TIP Ranking
4. Human Trafficking – Law Enforcement in Ireland. 
5. Human Trafficking – Protecting Victims in Ireland.
6. Human Trafficking – Prevention in Ireland.   
For ease of access the first video in the series – Human Trafficking – What is it? is also published here.
1. Human Trafficking – What is it?