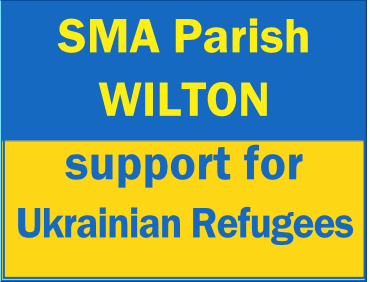 On a Monday evening 7th March after viewing the devastating news from Ukraine the Staff of the SMA Parish Centre met with Fr. Michael and decided to try and support this cause. A group of staff from the Centre led by Ann Cronin in collaboration with staff from Penney's, Wilton Shopping Centre, led by Roy Hanna, made connections with a group of Polish Couriers which resulted in an agreement to carry the goods to the Polish Border with Ukraine being made.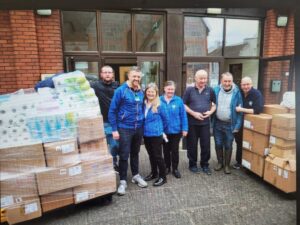 With these initial steps in place Fr Michael, Parish Priest at St. Joseph's Wilton, agreed to promote the appeal in the wider Parish.  The the appeal got moving, posters were produced and distributed to local shops and venues. Information about the appeal was also shared on Social Media, through local Radio Stations, and in the Parish Newsletter.  At the same time Parishioners were invited to come on board to help sort and pack all donations.
The response has been overwhelming, people have been hugely generous with Sleeping Bags, Torches, Clothing, Food, Hygiene Products and  Baby Products.  Cash donations were also received, this money was spent in the local pharmacy on First Aid Supplies. On the following Wednesday we had a full container of aid supplies and this was dispatched to Poland.  By Friday of the same week further donations were received – enough to fill four Van's and this material has also been sent. Donations were still flooding in to the Parish Centre and all that is received will be used to support refugees.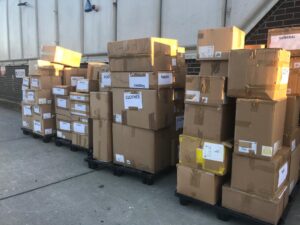 The latest update from the Polish drivers is that Medical supplies are now needed more clothes.  On Saturday 19th of March Ann Cronin, the Parish Centre Manager, had a call from Cork Airport, as citizens of Ukraine were arriving and needed support.  From the donations received ninety personal bags made up of hygiene products for Ladies, Men and Children & Babies were prepared and sent to the Airport. Today, 16th March, another van-load of these hygiene bags will be sent to the airport and there are plans to continue providing material support for other Ukrainians expected to arrive in the coming days and weeks.
At this moment in time donations of  First Aid and Hygiene Products are being accepted – no clothing or Blankets are required.