The Nigerian government's focus on its war against the Boko Haram insurgency is obscuring a growing humanitarian emergency, according to an IRIN News Organisation report.
The violence has driven at least 1.5 million people from their homes in the three conflict-affected northeastern states of Adamawa, Borno and Yobe. The vast majority have been taken in by friends and relatives in the main cities, but the hospitality has imposed a significant burden on their hosts."People are stressed. People are tired. Things are very difficult," said Mustapha Zannah, a lawyer in the region's largest city Maiduguri who at the beginning of the year was sheltering one family and has since added four more. 
The Catholic bishop of Maiduguri, Bishop Oliver Dashe Doeme, is on a visit to Ireland at the moment. The bishop has been forced to close many mission facilities – schools and clinics – which are at the service of all the people, not just Christians or Catholics. Priests and Sisters have been withdrawn from isolated parishes because of threats to their safety. Though a predominantly Muslim area the Maiduguri became a separate ecclesiastical jurisdiction in 1953, under the care of the Augustinian Order [OSA].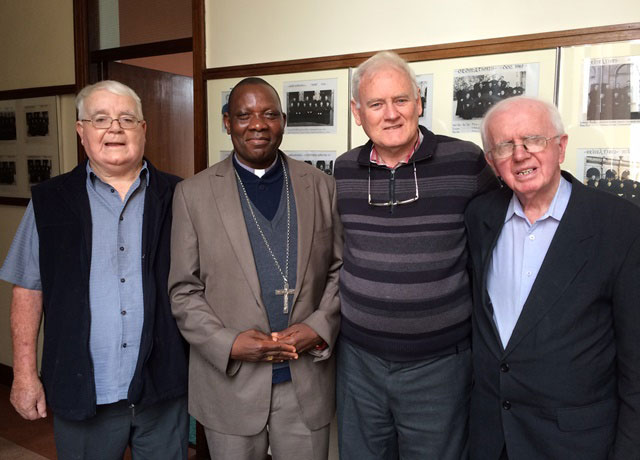 Our picture shows SMA Fathers Frank Meehan, Maurice Henry and Bernard Cotter, all of whom spent many years in northern Nigeria.
In a meeting with European parliamentarians on 27 May the bishop spoke of his hope in recently-elected President Muhammadu Buhari. The meeting was arranged by Aid to the Church in Need.
Read complete IRIN report here.