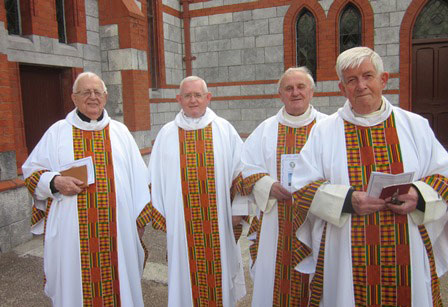 The SMA Vice Provincial Leader, Fr Malachy Flanagan, was the Principal celebrant and homilist at the concelebrated funeral Mass for the late Fr Paddy McGovern SMA at St Joseph's SMA Church, Wilton on 8 June 2015. After the Mass, Fr Paddy was laid to rest in the adjoining SMA community cemetery, not far from his senior brother Fr Greg who died on 27 December 2010. May they rest in peace.
Our picture shows Fr Michael Evans SMA [a classmate of Fr Paddy], Fr Flanagan, Fr Bennie Fitzpatrick [CC Swanlinbar, representing the diocese of Kilmore] and Fr Gerry Murray SMA [ who worked with Fr Paddy in Ilorin diocese].
The following is an edited version of Fr Malachy's homily.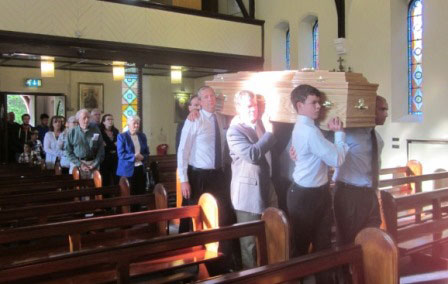 We are gathered here today to say farewell to our dear brother priest and friend Fr Paddy McGovern, whom God called to himself last Thursday morning. In a real sense, we've come to pray Fr Paddy home to God. Our hearts go out to his family whom he leaves behind – his sisters Eileen and Rita, his brother Bernard Michael, nieces, nephews, extended family, relatives and friends and the family of the SMA.
Fr Paddy was indeed a very special person. A "true gentleman" was how someone described him to me in the last few days. He was kind and very generous with his time for others. He was known for his hospitality and he always had an eye out for those in need. In his own quiet way and unknown to others he reached out to help the poor and needy. One thing Fr Paddy was not short of – and that was friends. He had a large circle of friends – and there's no doubt that we are all feeling the huge loss of Fr Paddy's passing. Today as we remember him and we give thanks to God for his life as we celebrate his life as a great missionary and friend.
"The souls of the virtuous are in the hands of God… grace and mercy await those he has chosen"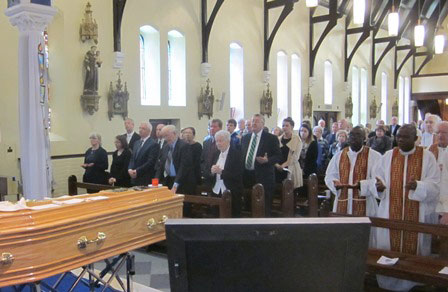 "The life and death of each of us has its influence on others… Alive or dead, we belong to the Lord".
These words from the readings today offer us great support and consolation especially when we are faced with the death of a loved one. As we try to come to terms with the unexpectedness of Fr Paddy's death – we reach out to clutch at something that gives us hope and guidance during these sad days. His going from us was so sudden – it left us all in shock. And yet knowing Fr Paddy he would not have

wanted it any other way. As the mobility of his legs weakened and his ability to be independent got less and less – he would not have wanted any fuss made about him. And he was ready to answer the final call home – he slipped away quietly in his sleep.
Fr Paddy served in Coothall parish in Elphin diocese. The PP of the parish, Fr Brian Conlon, and a number of parishioners attended the wake and funeral.
Fr Paddy can be described as a loyal and faithful servant. Ever faithful to his calling from God to be a missionary priest – he put himself at the service of God and at the service of the SMA both in Ireland and in Nigeria.
We firmly believe now that his soul is in the hands of God where grace and mercy awaits him. We believe too that he has heard those words from the God he loved and served all his life: "Well done, good and faithful servant – welcome home!"
Fr Paddy's life had a big influence on all who knew and met him. In the SMA, he was a popular person and someone you could depend on. We knew him as a cheerful person, always ready for a laugh and having a hand in teasing and pulling the wool over our eyes. We know that Fr Paddy – gave his life to God many years ago – so alive or dead – he belongs to the Lord. He is gone to be with the Lord and for him, life is changed, not ended. Because of our faith, we firmly believe that he is alive with the Lord.
Fr Paddy McGovern was born on the 14th October 1929 at Bawnboy, Co. Cavan. He was the fourth born in a family of six – two girls and four boys of Andrew McGovern and Margaret McGoldrick. His eldest brother, Fr Gregory joined the SMA's and was ordained in 1951. No doubt Fr Gregory's choice in life was to have a big bearing on Paddy's own choice later on.
From his primary schooling at Corratillan, he proceeded to St Patrick's College, Cavan from 1944 – 1948 for his secondary education. It was as a result of winning a watch in a competition he did in a Mission Magazine that he learnt about and was attracted to the SMA. Paddy, as a young lad was a promoter of Mission magazines. The fact too that his brother Gregory was already training to be an SMA Priest – would have influenced Paddy and so he made up his mind that he too would join the SMA and he headed off to the SMA Novitiate at Cloughballymore in Galway where he spent two years. He then moved to Dromantine for his studies in Theology for another four years.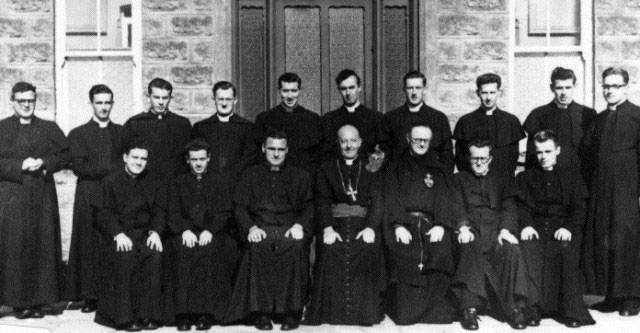 He was ordained a priest on the 15th June 1954 at Newry Cathedral – being one of 15 ordained that year. Our picture shows his 'Departure ceremony', along with his classmate and the Provincial Superior, Fr John Creaven and Bishop John Reddington SMA of Jos, Nigeria. Fr Paddy is standing, 5th from left.
Fr Paddy's first appointment in Africa was to the then Prefecture of Ibadan in Nigeria. He enjoyed his first missionary assignment which he often spoke about where he worked in the parish of Oke-Padi alongside Msgr Richard Finn and Fr Larry Dolan – both gone to their eternal reward. He travelled home on leave in 1958 with the sure intention of returning – only to learn that he would be needed to take up the position of bursar in our own SMA Seminary at Dromantine. Definitely this was a big disappointment for him that his Mission career had been interrupted – but Fr Paddy being a loyal and faithful servant accepted what was being asked of him.
For the next 19 years he gave huge service to the responsibilities placed on his shoulders as bursar in Dromantine. Many of the student priests who passed through Dromanine in those years speak highly of Fr Paddy McGovern – a kind and generous person – always with a smile and ready for a bit of banter at a moment's notice.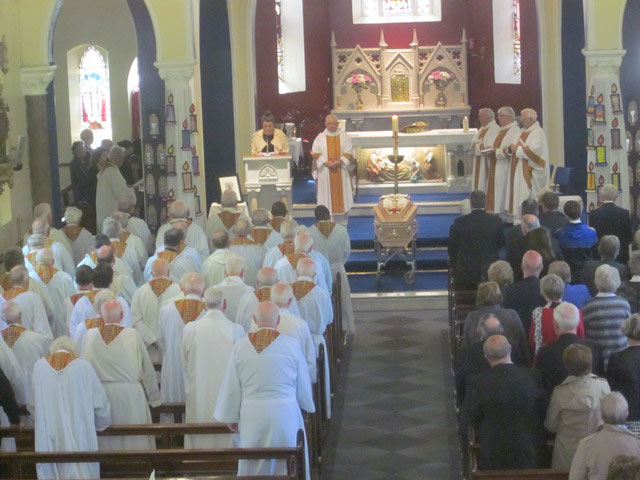 Even though he was contented in Dromantine – his heart was in Africa and he made a number of requests to be re-assigned back to the Missions. In 1978, he was transferred to be the bursar at our SMA house in Wilton. But in 1982, he was granted three months leave to visit Nigeria – possibly as a trial run to see if he would be able to adjust once again to life in the tropics. He thoroughly enjoyed that visit. He travelled all over Nigeria visiting different Mission stations and he met up again with many SMA's who had passed through Dromantine while he was there.
He spent a lot of time with his brother, Fr Gregory in Kaduna, and perhaps the highlight of his visit was that he was present when Pope John Paul II visited Kaduna – definitely a proud moment for him as he stood alongside his brother and experienced at first hand all the excitement and joy surrounding that papal visit. There's no doubt that when he returned to Ireland his request to be allowed back to the Missions intensified.
In 1984, his wish to be re-assigned to the Missions came true and he was appointed to Ilorin Diocese in Nigeria. He would spend the next 10 years ministering in the parishes of Bacita and Offa. In 1994, I had that honour of being his successor as the parish priest of Offa. He handed the parish over to me while he transferred to the SMA House at Ibadan. The parishioners of Offa held Fr Paddy in great esteem and were very sad to see him go. Such an influence he left on them as with all he met. He spent a further two years in Ibadan – an Ibadan so different from the place he knew on this first missionary assignment. It had grown and developed so much and it was fitting that he would end his missionary career in the very place he started all those 40 years earlier.
On his return home he spent eight years in Elphin Diocese – as a curate in the parish of Coothall and he was based at Crossna – a time he really enjoyed and formed close ties with the people there. It was an extra bonus that he was not too far away from his family in Swanlinbar.
In 2004, he decided to retire from active ministry having reached 50 years in the priesthood. He was to spend the next seven years in our SMA House at Claregalway and the remaining four years at Blackrock Road, Cork – all these years were lived in relatively good health and happy contentment.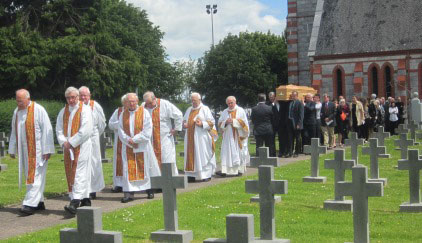 Fr Paddy was very close to his family and they to him – both in Cavan and in the US – and there was always weekly phone calls to catch up on all the news. The large number of family members here today bears testament to that. His occasional visits to the US and his visits home to Cavan every summer was something he looked forward to and he was already planning for a visit home this summer. He was proud of his Cavan roots and he had a great interest in the GAA which he developed as a young lad in St Pats Cavan. Up to ten years ago he was a regular visitor to GAA headquarters, Croke Park and so it's no surprise that he asked me some years ago to help him order Monday's edition of the Irish News as it carried all the sports' news – both local and national. Fr Paddy loved to keep in touch.
The Gospel today tells us: "Come to me all you who labour and are overburdened and I will give you rest". Fr Paddy has accepted this invitation from the Lord. He had given almost 61 years of service as a priest. Loyal and generous service to the SMA both in Africa and Ireland and to the Irish Church in Elphin Diocese. It was service given often in difficult situations and when his health was not always so robust – but not a word of complaint would you hear from him.
Fr Paddy has gone home now to God. He is at peace. He is now at rest – the rest promised by Jesus. He is re-united with his parents, his brothers Fr Gregory and John and all his family members, relatives and friends, and SMA confreres that have gone before him. We all have memories and stories of Fr Paddy in our hearts. They are precious and every time we recall them – we are reminded of just how special Fr Paddy was to all of us.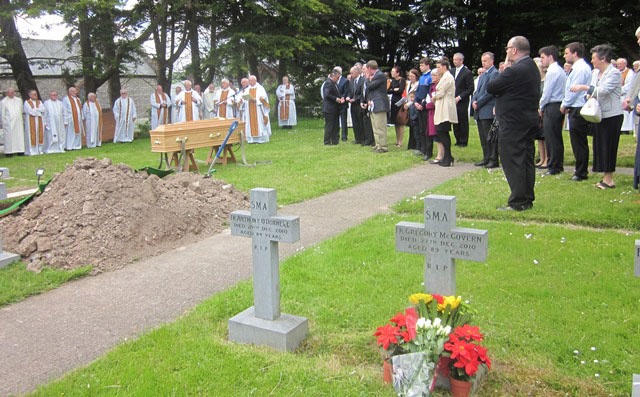 Fr Paddy was predeceased by his brothers Fr Greg SMA and John. Our photo shows Fr Greg's grave close to his brother.
Fr Paddy may you rest in peace. Ar dheis Dé go raibh a anam dílis.
                       Read Fr McGovern's Obituary here.                  Read an account of Fr McGovern's funeral ceremonies.