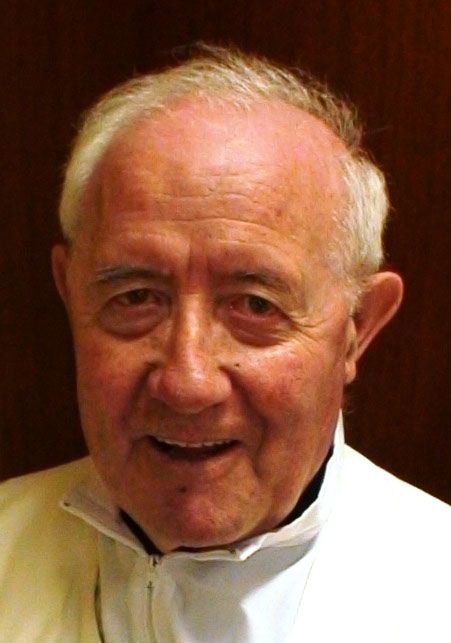 Fr Paddy McGovern died unexpectedly on Thursday, 4 June 2015 at the African Missions, Blackrock Road, Cork. His remains were received into our community Oratory by Fr John Denvir SMA who reminded us that we know not the day nor the hour. We should always stand ready for that final call, which came for Fr Paddy earlier that day. Over the coming days many visitors called to the house to pay their respects, some coming from his home area in Co Cavan as well as parishioners from Crossna, where Fr Paddy ministered from 1996 – 2004. Each evening we celebrated Evening Prayer for the Dead and recited the Rosary for the happy repose of Fr Paddy's gentle soul.
On Sunday evening, Fr Eddie O'Connor SMA [Community Leader] led the Prayers before the transfer of Fr Paddy's remains across the city to St Joseph's SMA Church, Wilton. In his remarks prior to the removal Fr Eddie reminded us how many of us – family and SMA's – knew Paddy to be a lovely man, popular with everyone. He meant so much to all his family, they loved him to bits. Despite the distance they travelled often from Cavan and elsewhere to visit. Paddy never complained and was always grateful for anything that was done for him. When asked by Fr Eddie, 'how are you?', his reply was "I'd be grand if I could get a new pair of legs." Paddy loved to 'stir things up' but always in a kindly way. That 'roguishness' was recognized by the Claregalway SMA community who bought a big wooden spoon and hung it over his chair in the community dining room!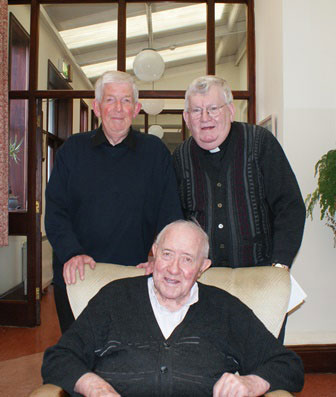 After the Prayers the family had some time to say their personal goodbyes to a much loved brother, uncle, grand-uncle and priest. We then travelled to Wilton where Fr John O'Keeffe, Wilton community Leader, received the remains at the church. Fr Paddy had served as House Bursar and Parish Assistant from 1978 – 1984.
Fr Paddy is pictured with fellow labourers in Ilorin diocese [Nigeria], Fr Gerry Murray SMA and Fr Seán Lynch SMA.
After a reading from St Matthew – as long as you do it to one of these the least of my children, you did it to me – Fr John said that "Fr Paddy did not parade his good works before others. Nor did he enumerate his achievements at home and abroad. Neither did he seek earthly recognition. He performed his priestly duties quietly and efficiently, making very few demands on others. And so, tonight, we accept his mortal remains in sorrow on the one hand, while at the same time thanking God for his life, and for his love of God and the people he served. May his soul rest in peace."
Monday, 8 June, we gathered to bid a final farewell to Fr Paddy. Sixty priests – SMA, Kiltegan, Redemptorists and diocesan – gathered to concelebrate the Funeral Mass which was led by the SMA Vice Provincial Leader, Fr Malachy Flanagan, assisted by Fathers Michael Evans SMA [a classmate of Fr Paddy], Fr Bennie Fitzpatrick [CC Swanlinbar and who served for many years as a missionary in the Kilmore Mission to Minna and, later, in Lagos, Nigeria] and Fr Gerry Murray SMA [who served with Fr Paddy in Ilorin diocese]. Among the other concelebrants were Bishops Patrick J Harrington SMA [emeritus bishop of Lodwar, Kenya], Tim Carroll [emeritus Vicar Apostolic of Kontagora, Nigeria] and Noel O'Regan [emeritus bishop of Solwezi and Ndola dioceses, Zambia].
Fr John O'Keeffe SMA was MC and Niamh Roe was the Organist and led the singing. The readings were proclaimed by Greg McGovern [who travelled from the USA] and Margaret Dempsey, a nephew and niece of Fr Paddy. The Prayers of the Faithful were read by Brendan McGovern, Luke McKernan, Margaret McGovern, Michael McGovern, Niamh McGovern and Sarah Minehan.
For the Offertory procession, Fr Paddy's sister, Rita McCabe, carried up his well-worn Breviary [Prayer Book], his brother Bernard Michael carried the Wine, Christina McKernan carried the bread and John McCabe carried a Rose [reminding us that every year Fr Paddy had a flower placed at Fr Greg's grave in the adjoining cemetery where soon he too would be laid to rest].
After Holy Communion, another nephew, Greg McGovern [from Swanlinbar] spoke movingly of his uncle Fr Paddy and expressed the thanks of the entire family to the SMA and the lay staff in Claregalway and Blackrock Road who always made them feel so welcome whenever they came to visit.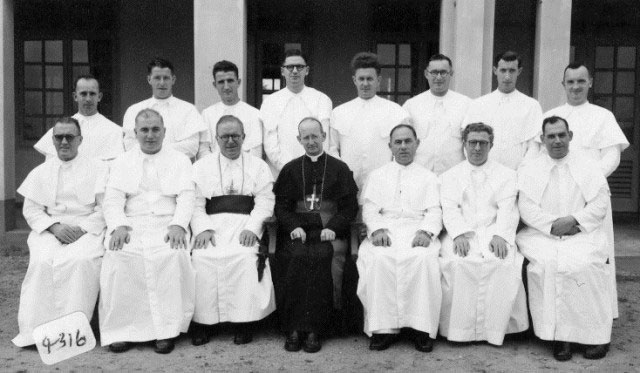 Fr Paddy served in Ibadan Prefecture from 1954 – 1958. This photo was taken at a meeting there [8 August 1956] with Monsignor Richard Finn [Prefect Apostolic, seated 3rd from left] and the Apostolic Pro-Nuncio. Fr Paddy is standing, second from right.
After the Prayers of Commendation, Fr Paddy's remains were carried from the Church to his grave, passing close to that of his brother Fr Greg. Fr Malachy Flanagan led the prayers and a decade of the Rosary was recited by Fr Bennie Fitzpatrick.
The chief mourners were Fr Paddy's sister, Rita McCabe, his brother Bernard Michael McGovern, nephews, nieces, grand-nephews and grand-nieces, other relatives. SMAs travelled from all five houses in Ireland to be part of the ceremonies as well as parishioners from Crossna, Co Roscommon, led by their Parish Priest, Fr Brian Conlon PP. Their presence was greatly appreciated by the family and the SMA. It showed that the good people do lives after them. Some lay staff from Claregalway, where Fr Paddy lived for seven years, also made the long trip down to be part of the funeral Mass.
Absent from the ceremony was Fr Paddy's other sister, Eileen McGovern, who was unable to travel. She was in our thoughts and prayers at this sad time for her also.
Fr Paddy has gone to God. May he pray for us from his place of rest.
Obituary of Fr McGovern.
Homily at the funeral Mass for Fr McGovern.