Fr Patrick McGovern SMA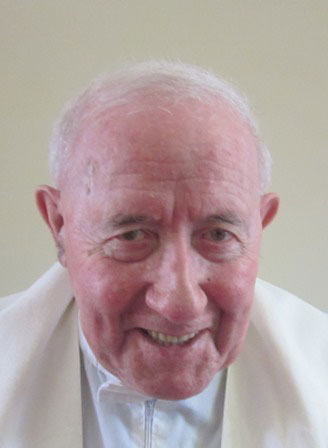 The death of Fr Patrick [Paddy] McGovern SMA on Thursday morning, 4 June 2015, was received with great sadness by his family, the SMA community in Blackrock Road and by all his SMA confreres.
Fr Paddy was in failing health for some time but his death was unexpected, taking place at 7am in St Theresa's Nursing unit in the SMA House on Blackrock Road, Cork. He was 85 years of age.
Patrick James McGovern, son of Andrew and Margaret (née McGoldrick), was born on 14 October 1929 in Tongalee [in the parish of Corlough, Bawnboy, diocese of Kilmore], Co Cavan. The family, of 4 boys and 2 girls, later moved to Swanlinbar.
He attended St Patrick's College, Cavan (1944 – 1948) for his secondary education. He entered the SMA Novitiate at Cloughballymore, Co Galway in 1948, taking his first oath of membership in the Society on 29 June 1950. From 1950 – 1954 he studied Theology at the African Missions Major seminary, Dromantine, Newry, Co Down becoming a permanent member of the Society on 15 June 1953. Exactly one year later he was ordained a priest in the Cathedral of Saint Patrick and Saint Colman, Newry, one of twelve in the 1954 Ordination class.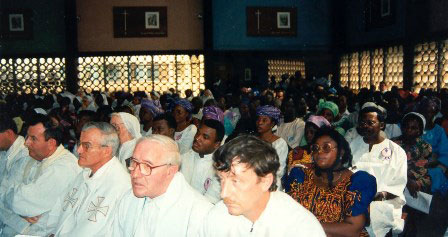 Fr Paddy's first appointment in Africa was to the then Prefecture of Ibadan, Nigeria which was under the pastoral care of Monsignor Richard Finn SMA [from Co Mayo]. He returned to Ireland for his first home leave in December 1958 and, due to the sudden illness of the Bursar in Dromantine, Fr Paddy was kept at home to take on that important responsibility. He was to spend the next nineteen years as Bursar there, despite repeated requests to be allowed return to the missions. In 1978, Fr Paddy was appointed Bursar at the SMA Novitiate in Wilton, Cork. During his years in Wilton he also served as Assistant Priest in the recently-created SMA parish there.
Our picture shows Fr Paddy at the funeral of fellow-Ilorin SMA missionary, Fr Kevin Carroll, who died in January 1993, on the morning of his 50th Ordination anniversary.
Finally his request to return to Africa was granted and in 1984 he was appointed to the diocese of Ilorin, Nigeria where he served for ten years – in the parishes of Bacita and Offa – before taking on the role of Guestmaster at the SMA Regional House in Ibadan, returning to the city where he first began his missionary career, forty years before. He spent four more years in Ibadan until, in 1996, he decided to call it a day in Africa and return to Ireland.
Not yet ready to retire from active ministry, Fr Paddy accepted an appointment as Curate in the parish of Coothall [Elphin diocese], looking after Crossna and Drumboylan churches. After eight happy years there he retired to the SMA House in Claregalway. He transferred to the SMA House on Blackrock Road, Cork in 2011 where he participated in the different community exercises, despite increasing mobility challenges. All his life, Fr Paddy was known for his gentle teasing of others. For this and his welcoming smile he will be sadly missed.
Fr Paddy is survived by his brother Bernard Michael and sisters Eileen and Rita. His brothers, Fr Gregory SMA and John, predeceased him.
Ar dheis Dé go raibh a anam dílis.                                                                                                        Requiescat in pace.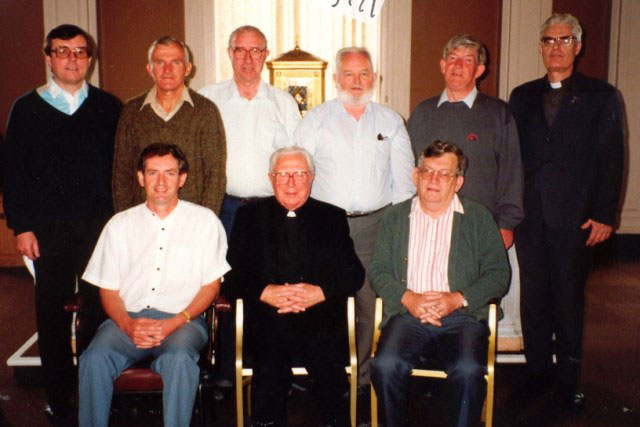 SMA's who worked in Ilorin diocese with the retired Bishop, Rt Rev William Mahony SMA. This photo was taken on the occasion of the Ordination of Fr Alberto Olivoni SMA, who previously served as a medical doctor in the diocese.
Front row, Fr Danny Monaghan, Bishop Mahony and Fr Seán Lynch.
Back row, Fr Peter McCawille, Fr [later Bishop] Tim Carroll, Paddy McGovern, Willie Cusack [SMA Regional Superior], Gerry Murray and Alberto Olivoni.
Read Fr Malachy Flanagan's homily at the funeral Mass.                     Read an account of the funeral ceremonies for Fr McGovern.