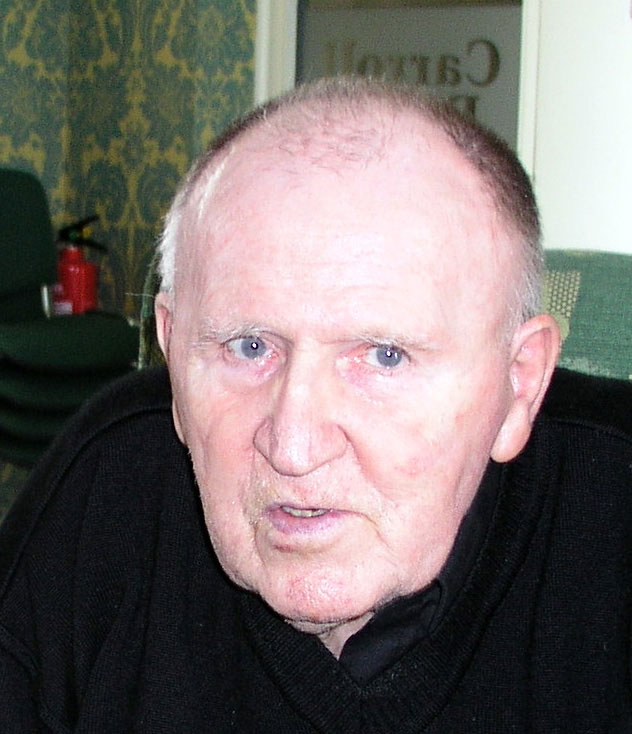 Fr Seán Rafferty SMA

16 July 2009
Fr Seán Rafferty SMA passed to the Lord in the evening of Thursday, 16th July 2009 in St Joseph's Nursing Home, Warrenpoint, Co Down. He had been in failing health for some time. He was 85 years of age.
Seán was a native of Barr, Co Down which is in the Parish of Donaghmore in the Diocese of Dromore. SMA House, Dromantine is in the same parish. He was the third child in a family of two girls and two boys, children of the late John and Elizabeth Rafferty. He was born on 10 July 1924.
In 1929 he began his primary education in Barr Primary School where his teacher, Mr Peter Conlon (father of the late Fr Fergus Conlon SMA) had a profound influence on him. He received his secondary education with the Christian Brothers at the Abbey CBS, Newry 1936-1941. He then decided to become a missionary priest and came to the SMA, studying first at SMA House, Clouhgballymore, Kilcolgan in Co Galway and then at SMA College, Dromantine in his native parish. He became a permanent member of SMA on 16 June 1947 and was ordained to the priesthood in St Colman's Cathedral, Newry on 13 June 1948. After ordination he enrolled at University College Cork where he graduated in 1951. He continued further studies in education in London 1951-53.
In 1953 he was appointed to Nigeria to work in the Archdiocese of Kaduna with his first assignment to St John's College, Kaduna where he was a teacher until 1965. In 1965 he was appointed as Supervisor of Schools, a post he held until 1970. He then enrolled at Fordham University, New York where he graduated with a Masters degree, MA, in Religious Studies.
In 1972 he returned to Nigeria and took up an appointment at Ahmadu Bello University in Zaria as member of staff and as Chaplain. He retired from education in 1990 having completed thirty-five years in education. He then took on full-time pastoral work among the Hausa people in rural areas of Kano State and continued in this until 1998 when ill-health forced him to retire from work in Africa. He was appointed to SMA House Dromantine and helped in Loughbrickland Parish in the Diocese of Dromore until he retired in 2002.
Seán was very much involved in the apostolate of the Young Christian Students (YCS) and for many years was the Nigerian National Chaplain.
He spent his retirement at SMA House, Dromantine and was there until his deteriorating condition warranted the full-time nursing care he received at St Joseph's Nursing Home, Warrenpoint since 2006. Last year he had the privilege of celebrating the Diamond Jubilee of his ordination.
He is mourned by his sister Susan (McDonnell) who lives in Monasterevan, Co Kildare and by numerous nieces and nephews, other relatives and many friends.
Seán's remains reposed at the home of his niece in Newry and were removed to SMA House, Dromantine on Sunday 19 July for the conclebrated funeral Mass. Fr Damian Bresnahan SMA, Provincial Councillor, was the main celebrant and preached the homily. He was joined Fr Maurice Henry SMA, Regional Superior in Nigeria North where Sean worked; by the local SMA Leader Fr Noel O'Leary and Fr Paddy Mackle SMA who worked with Sean in St John's College, Kaduna and by the local parish priest, Fr Jarlath Cushenan and other SMA members. Priests and Brothers from Dromore Diocese as well as St Louis Sisters were also present. The burial took place in St Mary's Cemetery, Barr.
Ar dheis lámh Dé go raibh a anam dílis.