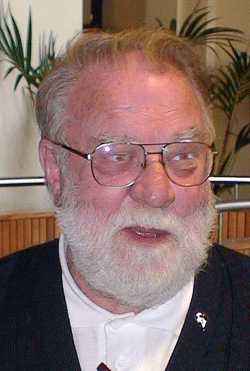 Fr Henry Casey SMA
06 February 2009

Fr Henry (Harry) Casey SMA passed away in the afternoon of Friday 6 February at Downpatrick Hospital in Co Down. He had been hospitalised in the Erne Hospital, Enniskillen for emergency treatment for respiratory problems on 28 December 2008 and transferred to Downpatrick from which he was discharged . However he was re-admitted to hospital on 1st February. He was aged 67 years.
Harry was born on 6 May 1941 in Belfast in the Diocese of Down & Conor. He was one of seven children – five sons and two daughters – of the late Harry Joseph and Letitia (nee Milligan) Casey. He received his early education in the Primary School, Ardglass, Co Down and St Teresa's in Belfast and his secondary education at St Mary's Christian Brothers' Grammar School, Belfast.
In 1959 he decided to become a missionary priest in the Society of African Missions and entered the SMA Spiritual Year programme at Cloughballymore, Kilcolgan, Co Galway in September. He became a temporary member of SMA on 25 June 1960 and undertook his studies of philosophy and theology at the Society's Major Seminary at Dromantine, Newry, Co Down 1960-1966. He became a permanent member of SMA on 15 June 1965 and was ordained to the priesthood on 20 December 1965 at St Colman's Cathedral, Newry by Bishop Eugene O'Doherty, Bishop of Dromore, one of seventeen SMA priests ordained that day.
After completing his studies Harry was assigned for missionary work to Nigeria and was appointed to the Archdicoese of Lagos arriving in October 1967. He worked mostly in the Ijebu area of the Archdiocese and when Ijebu-Ode Diocese was created in 1969 Harry continued work in the new jurisdiction. He served in various parishes – Ibonwon, Ijebu-Igbo, Iperu-Remo and as administrator of the Cathedral Parish until 1976 when he returned to Ireland.
Unable to return to the missions he took up assignments in the Diocese of Down & Conor for thirty-two years from 1976 to 2008. He served in St Columbas, Ballyhackamore in East Belfast, (1983-1991), in Greenville (1991-1994), Newtownabbey (1994-1997) and Ballymartin, Co Down (1997-2008).
Harry's brother, Comgall, died in 1975. He is surviced by his brothers Tony, Gerard and Francis and by his sisters Patricia (Connor) and Mary (Lambe). The late Sr Comgall Milligan OLA was his aunt. He is sadly mourned by his family, nieces and nephews, uncles and aunts and by many former parishioners in the Diocese of Down & Connor and by his confreres in the Society of African Missions.
After reposing at his family home in Quay Street, Ardglass, Co Down his remains were removed to St Nicholas' Parish Church, Ardglass on Sunday, 8 February and were received by Parish Priest, Fr Robert Fleck. The funeral Mass was concelebrated on Monday 9 February at 12 noon. Fr John Dunne SMA, Vice-Provincial, was the principal celebrant and preached he homily. Among those concelbrating were the Bishop of Down & Connor, Most Rev Noel Treanor and Auxiliary Bishop, Most Rev Anthony Farquhar, and a large number of priests from the Diocese and members of SMA. Interment took place in the adjoining cemetery.
Ar dheis lámh Dé go raibh a anam dílis.