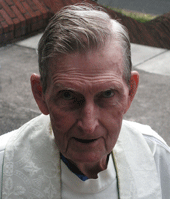 Fr Patrick J Carroll SMA
28th January 2009
Fr Patrick J (Paddy) Carroll SMA passed away in the afternoon of Wednesday 28 January 2009 at St Theresa's Nursing Unit attached to SMA House, Blackrock Road, Cork. He underwent open heart surgery late last year and had recovered well from that. On his return to Wilton he sustained a hip fracture which necessitated further surgery. He came to Blackrock Road in early January and his condition gradually deteriorated until his passing at 1.10 p.m. He was aged 84 years.
Paddy was born on 24 October 1924 in Bootle, Liverpool. He was one of the eight children, four sons and four daughters, of the late Francis James Carroll and Mary (nee Kehoe). He completed his early education in St Alban's, Catholic Primary School at Wallesey, Merseyside in Cheshire and at St Edward's CBS, St Domingo Road, Liverpool.
In 1940 he decided to follow his older brother Kevin to become an SMA missionary coming first to the SMA College at Wilton, Cork and then to the Novitiate of the Society which was then at Cloughballymore, Kilcolgan, Co Galway. Whilst there he continued his studies for the missionary priesthood at University College Galway where he graduated with a BA (1st Class Hons in Philosphy and Education) in 1943. He became a temporary member of the Society in 1943 and then came to the Society's Major Seminary at Dromantine, Newry Co Down. He took permanent membership of the Society in 1946 and was ordained to the priesthood at St Colman's Cathedral, Newry on 18 June 1947, one of 16 SMA missionaries ordained that day.
After ordination he enrolled at Cambridge University and graduated with a BA in 1950. He then attended London University for his Diploma in Education which he was awarded in 1951. He was awarded his MA degree from Cambridge in 1954.
He spent one year on the teaching staff of the SMA Secondary College at Ballinafad, Co Mayo and in 1952 he was appointed to West Africa to the Archdiocese of Lagos in Nigeria. Apart from another year in Ballinafad in 1961 he spent seventeen years in Nigeria, mostly in the education apostolate. He was on the teaching staff of St Leo's College in Abeokuta, then at St Gregory's College, Lagos and later was Principal of St Anthony's Grammar School, Esure, Ijebu-Imushin.
In 1969 he was appointed the superior of the first SMA student body to enrol at St Patrick's College, Maynooth in Ireland and became a lecturer in the College's English Department.
In 1972 he returned to Africa to take up a new appointment at the University of Liberia in Monrovia where he taught until 1980. He subsequently spent a further nine years in pastoral work there.
In 1989 he moved to the new SMA Foundation in The Philippines. He was on the staff of the SMA International Spiritual Year Programme for Asia based at Silang in the Philippines.
In 1996 he retired from active ministry and was appointed to SMA House, Wilton, Cork. In 1997 he had the joy of celebrating the Golden Jubilee of his ordination and in 2007 the Diamond Jubilee.
Always a keen sportsman he was actively involved in a wide variety of sporting activities, both in his younger days when he excelled at soccer, tennis and became adept at Gaelic football and hurling, and his later life when he loved his game of golf at which he was an accomplished low handicapped player.
He was a younger brother of the late Fr Kevin Carroll SMA who died in 1993. His sisters, Eithne, Mary and Sr Eileen (an Irish sister of Charity) and his brother Colm also predeceased him. He is mourned by his sister Attracta and his brother Brendan, his sisters in law, Pat and Margaret, and many nieces and nephews, other relatives and friends as well as his confreres in the Society of African Missions.
After his remains reposing at SMA House, Wilton, they were removed to St Joseph's SMA Parish Church, Wilton on Friday, 30th January. The concelebrated funeral Mass took place on Saturday, 31st January at 12 noon and was followed by interment in the adjoining SMA Cemetery. Provincial Leader, Fr Fachtna O'Driscoll SMA was the main concelebrant and deliverd the homily. He was assisted at the altar by Frs Tom Gorman, Dan Cashman and John O'Brien. A large number of SMA priests were joined by a representative of St Patrick's Missionary Society in the concelebration. Fr Cormac Breathnach SMA was MC, Fr Aodhan McCrystal SMA led the singing and Brother Jim Redmond SMA was at the organ.
Ar dheis lámh Dé go raibh a anam dílis.