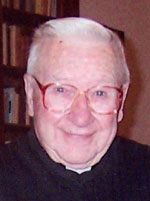 Fr James Harrold SMA
30 August 2009
Fr James Harrold SMA passed away peacefully at St Theresa's Nursing Home attached to SMA House, Blackrock Road, Cork in the evening of Sunday, 30 August, 2009. He was aged 91 years.
Fr Jim was born in Limerick on 5 December 1917. He became a permanent member of the SMA on 13 June 1942 and was ordained to the priesthood on 19 December 1942. He belonged to the American Province of SMA. He retired to SMA House Wilton some years ago and when his health deteriorated he moved to St Theresa's Nursing Unit. He had made good progress after suffering a stroke but in recent weeks his condition deteriorated until his demise.
His remains were removed from the SMA Community Chapel, Blackrock Road, Cork on Tuesday, 1 September to SMA Parish Church, Wilton, Cork. The funeral Mass was concelebrated on Wednesday, 2 September and was followed by interment in the adjoining SMA Community Cemetery. American Vice-Provincial, Fr Brendan Darcy SMA, was the main celebrant and he was joined at the altar by Fr Kieran O'Reilly SMA, Superior General, Fr Fachtna O'Driscoll SMA, Irish Provincial, Fr Joseph Marwa SMA from Tanzania who has been working in Liberia and Fr Brendan Murphy PP of Kilmeedy Parish in the Diocese of Limerick. Many priests from Limerick and SMA joined in the concelebration. Jim's nephews read the Readings and grandnephew and grandnieces read the prayers of the Faithful. Fr Denis Collins SMA was MC and Fr Cormac Breathnach SMA led the singing with Br Jim Redmond SMA at the organ.
Ar dheis lámh Dé go raibh a anam.