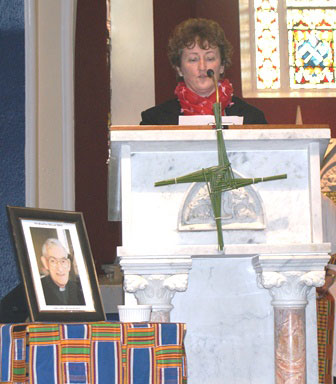 Fr John O'Keeffe, SMA Community Leader in Wilton, received the remains of his former colleague at St Joseph's SMA Church, Wilton at 7pm after its arrival from the African Missions House, Dromantine where Fr Martin had lived for the last 25 years.
After blessing the remains and placing the Book of the Gospels, the Crucifix and a Stole (symbol of priesthood) on the coffin, Fr Tom Harlow read from the Letter of St Paul to the Philippians (4:4-9) and Fr John then read from Matthew 5: the Beatitudes.
After the Gospel reading Fr John shared the following:
On behalf of the Wilton SMA Community I offer sincere condolences to Annie, Pat, Jimmy, Eileen and Mary, their families, Martin's nephews and nieces, grand-nephews and nieces, other relatives and friends. We in the SMA share your grief in the passing of our brother in the priesthood, Martin.
I welcome you all here this evening recognizing particularly the OLA Sisters, Fr Fachtna O'Driscoll, our Provincial Leader, my brothers in the SMA and others who have come to share in our moment of prayer for Fr Martin. I particularly welcome those who have travelled from Wexford and other counties to pay your respects, and to honour the life of our departed brother, missionary and priest.
"Christ has given us our true meaning and identity. He tells us who we are" (Joseph Pollard). For Martin to live without Christ would be to live a meaningless life. His priesthood enveloped him. He strove every day to serve Jesus and to live through Him, with Him, and in Him. Fr Martin found happiness in his work – he was never half-hearted in his priestly duties nor in his daily tasks. He lived his vocation to the full, accepting his different appointments and applying himself meticulously to the spiritual and mundane duties of each day. He was indeed happy in his vocation and shared his happiness with his communities in Nigeria and Ireland.
We pray for the repose of his soul and that he is now united eternally with his dear parents and his brother John. May they rest in peace.
Funeral Mass – 12 noon – 1 February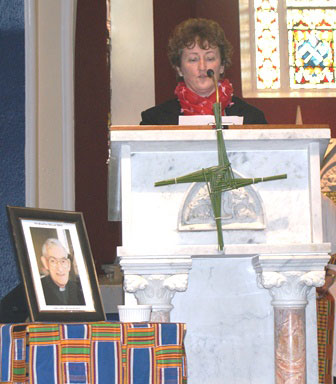 A large gathering of family and friends from Co Wexford gathered with the Wilton SMA community to 'pray Fr Martin home to God' as the SMA Provincial Leader, Fr Fachtna O'Driscoll reminded us in his introduction to the Mass. The principal concelebrants were, from left: Fr Paddy O'Rourke (Co-Leader, SMA Dromantine), Fr Martin Costello (a classmate of Fr Martin), Fr O'Driscoll, Fr Tom Curran (SMA General Councillor in Rome) and Fr Robert Nolan (a cousin on Fr Martin and Parish Priest in Adamstown, Co Wexford).
Fr John O'Keeffe was the MC and Fr Angelo Lafferty led the singing.
Aileen Nolan (pictured) and Paul Fortune read from the Prophet Isaiah (40: 1-3, 7-11) and the Letter of St Paul to Titus (2: 11-14, 3:4-7) respectively. Fr Angelo sang the Responsorial Psalm with the sung response: My soul is longing for your peace, near to you, my God which was something Fr Martin looked forward to throughout his priestly life, in Nigeria and Ireland.
Fr O'Driscoll read from the Gospel of St Luke (12: 35-40). Read Fr O'Driscoll's homily here.