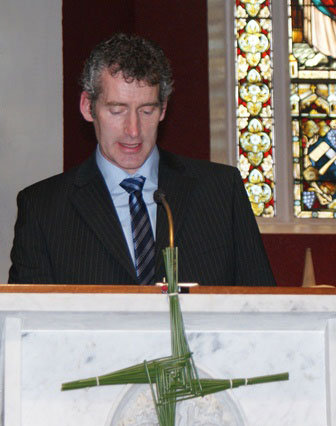 Funeral Rites for Fr Martin Nolan SMA in Dromantine
The remains of Fr Martin Nolan returned to Dromantine from Craigavon Area Hospital on the afternoon of 30 January and for several hours family members and SMA confreres received many of our neighbours and friends who came to pay their last respects. At 9.45pm we gathered to recite the Rosary around Fr Martin's coffin.
The following morning the community gathered for Morning Prayer of the Church.
Go dtuga Dia na Flaithis dó.
At 11am on 31 January Concelebrated Mass of Thanksgiving in the community Chapel brought nearly 100 people to pray for the happy repose of his soul. Fr Paddy O'Rourke SMA was the Principal Celebrant, assisted by the Dromantine community: Frs John Denvir, Peter Thompson, Kevin Mulhern (who led the singing), Maurice Kelleher (who acted as MC), John Travers, Sean Ryan, Eddie Deeney and Des Corrigan. Also concelebrating was a cousin of Fr Martin: Fr Pat Mernagh (Chaplain to the Forces, McKee Barracks, Dublin) and Fr Martin Kavanagh SMA.
Paul Fortune (pictured) read from the Book of Wisdom (3:1-6, 9) and Aileen Nolan read from St Paul's Letter to the Romans (8:28-30). The Gospel, from the 17th Chapter of St John, was read by the Dromantine Co-Leader, Fr John Denvir.
Fr Peter Thompson delivered the following homily:
One of the nicest pieces in the Gospels is chapter 17 of St John's Gospel. In it we have a scene vividly described for us – Jesus is sitting with his followers for the last time. Very soon he himself would begin His final journey that would lead to the Cross and Death and Resurrection.
In this Gospel story we see Jesus speaking with His friends about many things. He prays to His Heavenly Father too and this prayer goes like this "I have glorified you on earth and finished the work that you gave me to do". His life was drawing to an end. He was accepting the reality, accepting the will of His Father.
To-day we gather to celebrate the life of Fr. Martin. He had a relatively long life, a busy and very fulfilled life. We are told that the Hindu people refer to death as the quenching of a lamp because the dawn has come. It's a nice homely image and one that fits very well, I think, in the case of Fr. Martin.
His death when it came on Tuesday night was quiet and not entirely unexpected. It was, we could say, the silent quenching of the candle flame – the fading out of life, the gentle withdrawing of a gentle soul to the shores of eternity, to the source of all life and energy.
Our Mass here in Dromantine today is essentially one of thanksgiving for Martin's life – for the person he was. We celebrate a life of goodness and kindness, of love given and love received in return.
Born on 8th May 1934, Martin was baptised in the Church of Glenbrien, Co Wexford the following day. He attended Glenbrien National School and then moved to CBS, Enniscorthy before deciding that he wanted to begin his studies for the Priesthood with the S.M.A. Fathers in Ballinafad, Co Mayo. After completing his Leaving Certificate in 1954 Martin entered the SMA Novitiate, in Co Galway. From there he moved on to study at UCC and later came here to Dromantine to study theology. He was ordained in St. Peter's Church in Lurgan in December 1961 by the late Bishop Eugene Doherty.
Those of us who were contemporaries of Martin here in the Seminary would agree that he was nothing if he wasn't entirely consistent in what he did and said right through his life. What you saw was what you got at all times. The virtues of uprightness, honesty, integrity and justice shone through every fibre of his being. He had no time for what he would term nonsense in any shape or form. His great love was sport, hurling being his priority but he was also keenly interested in Gaelic Football, Soccer, Golf and Rugby. He was blessed with a phenomenal memory and was often called on by his community members to recall the name of a sports star or a significant historical event.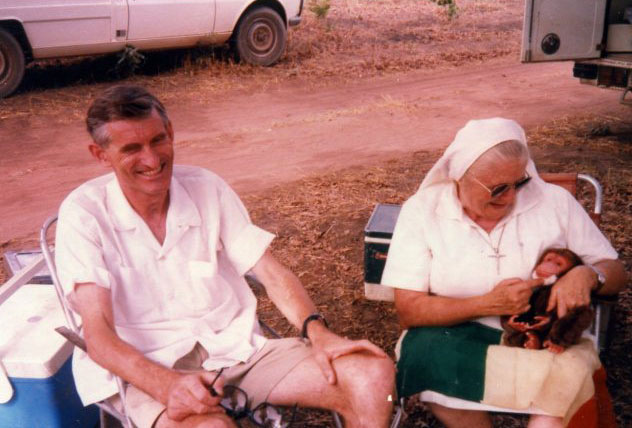 After his ordination, Martin was appointed to Northern Nigeria and soon found himself on the staff of St. Murumba's College in Jos. Later on he taught in the minor seminary in the Diocese of Jos and also in the teacher training college at Kafanchan where he was much loved, respected and appreciated as an English teacher. Having spent another 12 years in the pastoral ministry in Jos, he worked in several parishes: Pankshin, Akwanga, Langtang and Shendam, names that regularly fell from his lips as he loved to recall various incidents of note that made a lasting impression in his life in Nigeria.
Our picture shows Fr Martin from a 1984 photo taken at Damapr, near Shendam, Nigeria with Sr Mary Magdalen OLA and 'friend'!
Tall and very athletic though Martin was, his health always tended to be somewhat frail and so it was that in 1984, he was told by his doctors that his days in Africa had come to an end. After some months recuperating, he took up an appointment in the diocese of Cork and Ross. At that time the Society Superiors were looking for more personnel for the staff of Dromantine and after 2 years in Cork Diocese, Martin joined the staff of this house. That was just over 25 years ago. It is no exaggeration to say that Martin has made a huge contribution to Dromantine over the years. Five years ago he had a hip operation from which he made a great recovery and continued to be responsible for the Treasury office – a work that entailed responsibility for travelling to banks North and South of the border often in difficult weather conditions and sometimes over rough roads – a work that involved reading all the many letters that come here each day, often telling of personal problems and making special requests. Martin always ensured that those letters were acknowledged and in so far as possible all requests were followed up.
We can truthfully say of Martin that his entire life was spent in the spreading of God's word. He was truly remarkable for the great witness he gave. Witness has many qualities. In Martin's case his witness was his example of total dedication. No doubt he was mindful of the words of Christ when he said to his apostles "you will be my witness until the end of time". Martin's witness was given in the school, the parish and the office. His witness was always public faithful and courageous. It was clear and truthful and it reflected the values of the Gospel.
Martin's death, like every death tells us many things. It reminds us that, whether a life is long or short death always comes. It comes as the great proof of our human situation. It is a reminder that we don't have all the answers that the last word is always with God. Death always spells loss as well.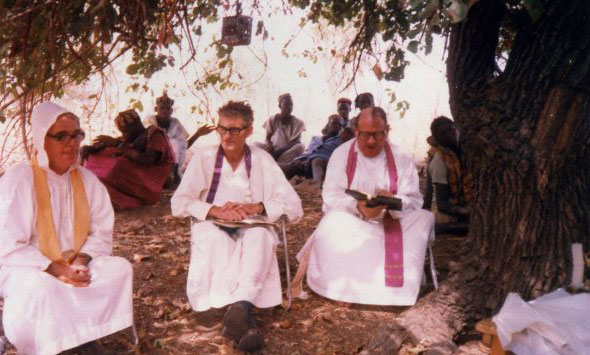 Our picture shows Fathers Frank Meehan, Martin Nolan and Leo Silke celebrating Mass in an outstation of Langtang.
Saying goodbye to a much loved priest, confrere and friend is not easy. It is often said that in the world of nature, the two high points of the day are the sunrise and sunset. These are very special moments. Birth and death, we can say are special moments too in the life of every human being. At these times especially, we realise that every person is unique. People seem larger to us when they are born and when they die – more especially when they die. It is only then that we get a glimpse of their worth. We get an overview of their contribution to life. At death we regard a person not just as unique and precious but also as sacred. With death we are in the presence of a mystery. Each and every death is a mystery. Just as each and every person is a unique gift from God. Just as Martin came into being 78 years ago he went back again to the creator of all life. His pain and discomfort is now finished and we are all left with a lot of very good memories – memories of someone always ready and willing to help out in situations where help was needed – always willing to do duty on phones and doors in times of staff shortages. Up to the very last weeks, Martin would check to ensure that windows and doors were securely locked at night time. He was indeed Dromantine's 'minister for security'. These are memories to cherish – memories of someone who cared deeply about other people someone who was a good brother, a good friend and above all a good priest.
To-day we pray for Martin, conscious that prayer for the dead is very deeply ingrained in our Catholic tradition. It expresses some of the deepest truths of our faith. It helps us in our belief that those who live well and die well are gone to God.
Martin had a great awareness of God's presence. A very private person, his prayers too were said in private for the most part. What we knew was that he usually walked the corridor as he said his Rosary to which he was very faithful – together with faithfully praying all the Hours of the Breviary.
In conclusion we can say that death came to Martin as the harvest time of the spirit. It came as the logical conclusion based on the natural order of all created things. As we read in the Book of Ecclesiastes "there is a time to be born and a time to die"
Martin has left us with many memories and memory is a great gift. It helps us to recall incidents and events and it makes us realise just how precious and how unique love is. Martin's wit and sense of humour, his ability to make and hold friends make up the legacy that he has left behind.
When loved ones die they leave us a parting gift – the gift of spirit. That spirit comforts us and maintains the link between us and them. But the spirit also summons us to life. We are challenged to grow – to shine in our own right and we are often led to discover within our selves sources that we never knew existed. So we can feel that, though we lose something in death, we gain something too. We are helped to see life and death bathed in a new light. We believe that beyond death there is a life where broken things are mended and lost things are found – where there is rest for the weary and joy for the sad.
Today the story of Martin's life is complete. It is all over now – the hustle and the bustle and the worry of life. Like very person who lives and dies, Martin made his own very definite contribution to life. His loved ones can now be at ease and reconciled to his death. Death and life as we know come from the same hand – the hand of God.
All Martin wants now is to be remembered at the Altar of God. We gladly do that for him as we pray that his soul will rest in perfect peace for all time.