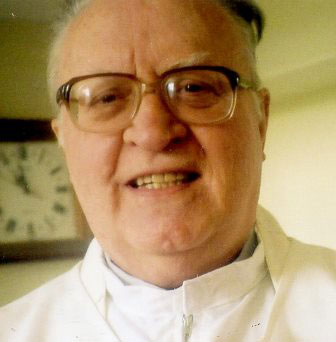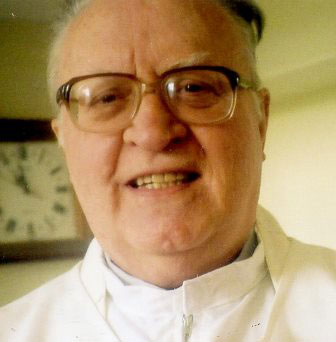 Fr Martin J Walsh died peacefully at 7.30am on Tuesday, 29 July 2014 in the St Theresa's Nursing Unit at the African Missions, Blackrock Road, Cork. He was 86 years of age.
Martin Walsh was born in Liverpool on 8 September 1927 to Delia [née Ward] and Patrick Walsh. He was baptised in St Mary's Church, Highfield Street, Liverpool two days later. His father was originally from Kilmaine, Co Mayo and his mother from Ardskea, Co Galway.
In early childhood the family returned to Co Galway where Martin completed his Primary education [Annaghill – 1939-1941]. He was confirmed in Lackagh parish Church, Athenry, on 18 April 1940. Fr Martin had a cousin – Fr Joe Stevens – in the SMA and in 1941 Martin entered the Sacred Heart College at Ballinafad, Co Mayo where the SMA provided education for those wanting to join the Society.
He completed his secondary education at the African Missions, Wilton in 1945. Formally entering the SMA programme for priesthood, Martin returned to Co Galway, to the SMA Novitiate at Cloughballymore where he spent two years. During this time he also studied Philosophy, a subject in which he would later excel.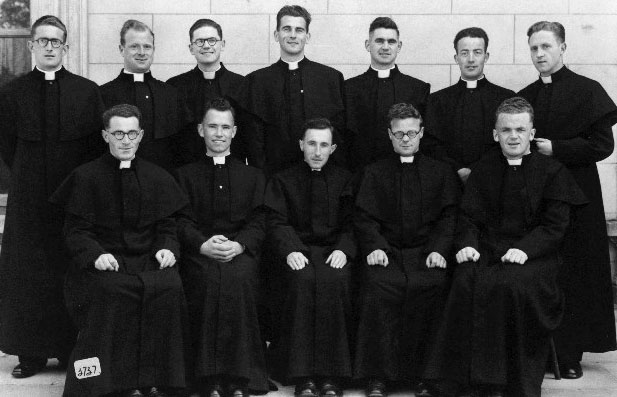 The 1951 Ordination class, with Fr Martin in back row on right.
Recognized for his academic ability he was sent to study at UCC where he gained a First Class Honours degree in Scholastic Philosphy and Education, living in Wilton.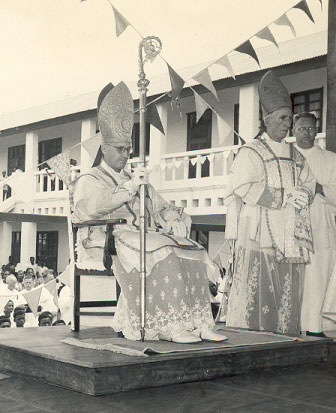 He undertook his theological studies at the African Missions Major seminary in Dromantine, Newry, becoming a permanent member of the Society on 12 June 1950.
Our picture shows Fr Martin at the Episcopal ordination of Bishop William Field SMA as Bishop of Ondo, assisted by Bishop Patrick J Kelly of Benin City.
Along with 11 classmates, Fr Martin was ordained to the priesthood by Bishop Eugene O'Doherty on 13 June 1951 in St Catherine's (Dominican) Church, Newry as the Cathedral was undergoing renovations at the time. Following his ordination Fr Martin was sent, not to Africa as his classmates were, but to Cambridge University where he gained an MA in 1954.
The next four years Fr Martin spent in Ondo diocese in the education apostolate. At the time there was a temporary school in a building adjacent to St Matthew's Catholic Church in Ondo Town. By 1956 Fr Martin had acquired a piece of land and the following year he began building what became St Joseph's College, which in time was handed over to the De La Salle Brothers who still run it today. One SMA who worked with Fr Martin at this time recalls that each afternoon Fr Martin, along with the students, would go out into the compound and reclaim the land by cutting down the bush. Fr Martin took his part, with cutlass in hand and a big wide hat to cover his head!
In 1958 he was recalled to join the teaching staff in Dromantine for a four-year period [1958-1962]. He is remembered by former pupils as a very good teacher and always considerate and kind to his students.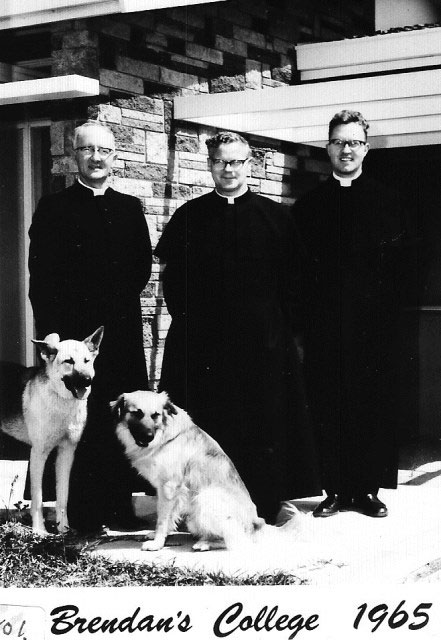 The Society was invited by the Archbishop of Perth to staff a new College and run a parish in Beaconsfield. After initial reservations etc it was agreed to take on this new venture. Fr Martin, along with Fr John Creaven [Irish Provincial Superior] and Fr Con Murphy went to Perth in 1963 to examine the project. To get a flavour of the education system in the country, Fr Martin taught for some months at the Christian Brothers Trinity College in Perth. Fr Murphy was recalled for an African appointment and Fr Martin was appointed as Dean of Students at St Brendan's College and taught there until 1969.
Br Francis Murphy, Fr Elisha O'Shea and Fr Martin.
Though the Society handed the school over to lay management in 1973 we still care for the Parish of Christ the King, Beaconsfield where Fr Liam Keating is the sole SMA representative in Australia.
After Australia Fr Martin was appointed again to Ondo diocese but when he reached Nigeria the Regional Superior appointed him to the staff of the Ss Peter & Paul Major seminary. He taught there for a year before returning to Ondo diocese but, after a year there, he returned to teaching Philosophy in Ibadan. Kindness and thoughtfulness were two of his characteristics. One of the 1976 Ordination class recalls that when they were doing their Preparation programme [Tyro] in Ibadan in late '76, Fr Martin arrived from the seminary with a map for each of them showing how to find their way around the huge city of Ibadan. He is pictured below with some Ibadan seminarians in the 1960's.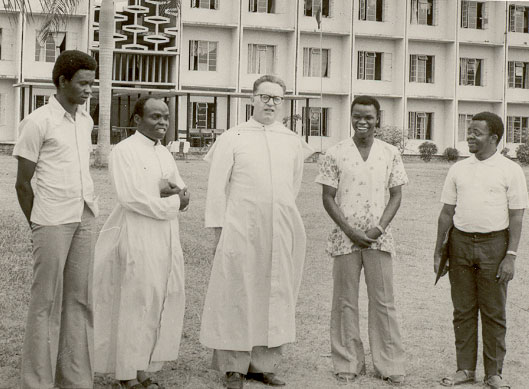 When St Paul's College Major seminary in Gbarnga, Liberia had need for a Philosophy teacher Fr Martin was sent. Gbarnga was then in the Archdiocese of Monrovia. It is now a diocese in its own right. During his three years in Liberia he wrote A History of Philosophy – a book which summarised the eleven-volume work of Frederick Coppleston. This book became the standard text book in many seminaries, lauded for its simplicity yet completeness. A five-year appointment as Editor of the Irish Provincial Bulletin – a theological and pastoral review of sorts – was his next appointment and he lived in Blackrock Road during this period.
However, teaching was in his blood and from 1989 – 2006 he was on the staff of the Missionary Institute in London. He retired from teaching in 2006 and remained living in London until increasing frailty forced him to recognize the reality that he needed nursing care. He came to St Theresa's Nursing Unit earlier this year and settled into community life once again, attending daily Mass in the Chapel and joining the community for meals and other events.
Fr Martin is deservedly mourned by his sisters, Cathy Sellers (USA) and Moura Smyth (Sligo), his brother Barry (USA), brothers-in-law, sister-in-law, nieces, nephews, relatives, friends and his confreres in the Society of African Missions.
May his gentle soul rest in peace.