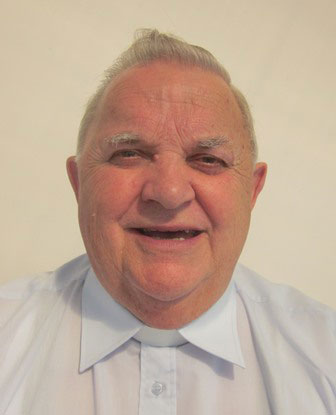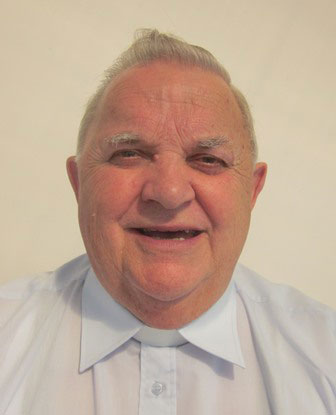 Bill Foley was born in Ballybunion, Co Kerry on 13 October 1935, the third of four sons born to Bridget [née Stack] and William Foley. He was baptised in St John's Church, Ballybunion parish three days later. He was confirmed in the same Church on 28 September 1947.
His primary and secondary education was at the CBS Tralee, where he was a classmate of Fr John Quinlan SMA. He began studies for the Leaving Certificate but then decided to follow his brothers John and Desmond into the Civil Service. After passing the Clerical Officers Exam he was assigned to the Income Tax section, based first in Dublin and then in Dundalk. The idea of joining the SMA had been in his mind when in school but he'd put it aside. He now decided to act on it and he set off for the African Missions, Cloughballymore in Co Galway for his Novitiate, along with 48 others, in September 1954 [22 of that group were eventually ordained]. A year later he took his first oath of membership in the Society. After Cloughballymore he spent a year in to Wilton and then, from 1955 – 1961 he studied Philosophy and Theology at the African Missions Major seminary, Dromantine, Newry, Co Down.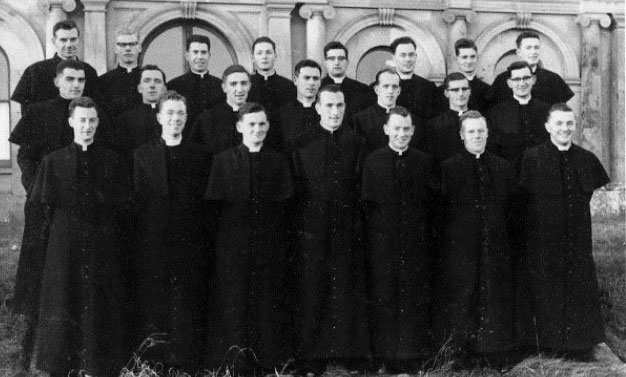 On 14 June 1960 Bill became a permanent member of the Society and, along with 21 classmates, was ordained a priest in the Cathedral of Saints Patrick & Colman, Newry by Bishop Eugene O'Doherty. A 23rd member of the class, Oscar Welsh, was ordained later due to the age requirements. Fr Bill is pictured on extreme right front row in our picture above.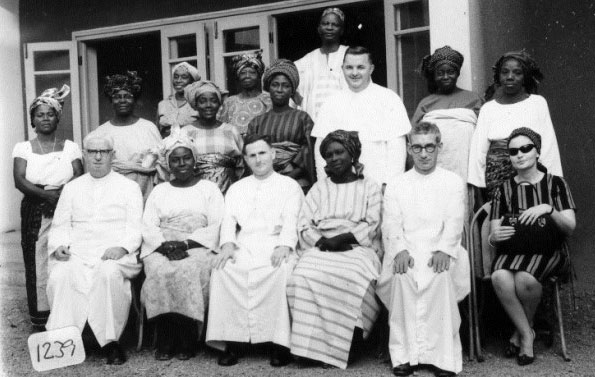 Fr Bill is pictured at Holy Cross Cathedral with Fr Paddy Culligan (Administrator) and Fr Martin Costello and Fr John McGuinness with a parish committee.
Recognizing his intellectual ability Fr John Creaven sent him to study Canon Law at the Gregorian University in Rome where he achieved a Licentiate in Canon Law in 1963. He often travelled to the University on the back of Fr Henri Blin's Vespa scooter. Following his holidays at home in Kerry Fr Bill was appointed to the Archdiocese of Lagos, Nigeria. His first mission was with Fr Michael McLoughlin in Ijebu-Igbo (now part of Ijebu-Ode diocese). His organizational skills were tapped into by Archbishop Leo Hale Taylor who later appointed him as Manager of Schools for the Holy Cross parish which had some very large Primary schools in the Archdiocese. This was one of the most important posts in any diocese and Bill had no problem doing the task entrusted to him, living in the house attached to the Holy Cross Cathedral. His SMA companions there were Frs Pat Culligan, Martin Costello and John McGuinness. When Archbishop Taylor died it was Bill Foley who was called on to be part of the Organising Committee and act as MC for the obsequies.
In 1967 he was recalled to be Master of Aspirants at the Novitiate in Cloughballymore, Co Galway. After one year he was transferred to take charge of the Major seminary at Dromantine. It was a time of great change in the Church. The Second Vatican Council had 'opened the windows' to a new reality. It was not an easy time to be helping to train seminarians. Like most seminaries there was plenty of turmoil with students seeking to embrace the change which Vatican II heralded and staff wanting to maintain a certain control of the 'evolving situation'. Bill Foley was caught in the middle! No matter what decision he made it couldn't please all sides and, even to this day, there are some who will take his side or continue to disagree with his decisions. But, no matter what he said or did, he did it for the best of reasons and to further the spread of the Gospel. He also oversaw the transfer of the seminary to Maynooth after the Society Superiors decided, in the spirit of Vatican II, to have the SMA seminarians trained with diocesan and other seminarians. It was also becomingly more difficult to provide adequate staff for Dromantine.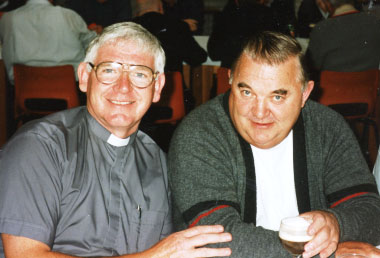 After one year as Rector of the SMA House, Maynooth, Fr Bill was elected to the Provincial Council where he was responsible for, inter alia, Promotion and Property. He was re-elected in 1978 and served as Vice Provincial Superior to Fr Con Murphy. In accordance with the SMA Constitutions it was not possible for Bill to serve a third term as Councillor and so, in 1983, he returned to Dromantine as Superior where he devoted his energies to promoting the Mission Association Cards as a new means of funding for the Missions. Our photo shows Fr Bill and Fr Brendan Dunning SMA who has been part of the SMA Promotion team for many years.
His welcome to visitors was legendary and he could always be relied on to sing a song or two at the different Holiday Camps, FVC Retreats which he helped to promote throughout the north of Ireland. One young man said on hearing of his death: "my abiding memory of him, aside, obviously, from the pipe, will be laughter and joy. RIP Bill".
During his time in Dromantine he assisted the local church with his Canon Law expertise. On hearing of his death Bishop John McAreavey of Dromore diocese wrote of this work: "Bill was a judge on the Armagh Regional Marriage Tribunal and an excellent one. He brought good judgement and common sense to everything."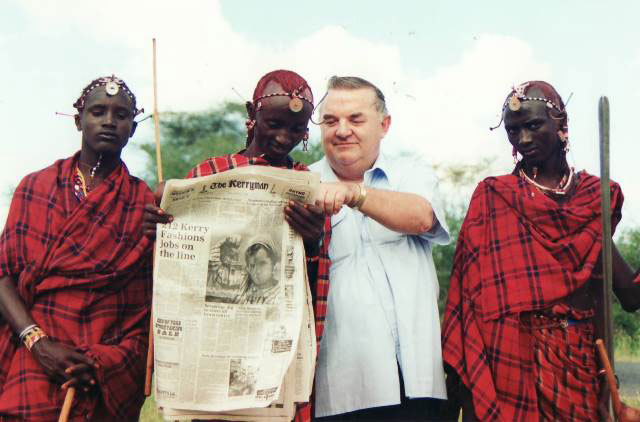 Checking out the sporting results with the Maasai in northern Kenya via the Kerryman
In 1990 his oft-repeated request to return to Africa was granted and he served for 4 years in Lagos. His first appointment was with Fr Kevin McGarry in St Agnes', Maryland and then St Sabina's Catholic Church, Idi-Mangoro with Fathers Tomás Walsh and Cathal McKenna. When Fr Walsh returned to Ireland in 1992, Fr Bill became Parish Priest. In 1994, as he prepared to return to Lagos following his holidays at home, he was asked by the SMA Superior General, Fr Patrick J Harrington, to take temporary charge of the SMA House of Studies in Nairobi to which he agreed. After one year in Kenya he returned to be Superior of the SMA House in Wilton. He was a man of foresight and during his seven years in Wilton he oversaw the extension of the community cemetery for he realised that with more and more men living longer, and so 'retiring' from the missions there would be need for additional space in the cemetery, adjacent to the parish church. In August 2001 he had a serious stroke which forced him to retire and he remained on in Wilton for the remaining years of his life.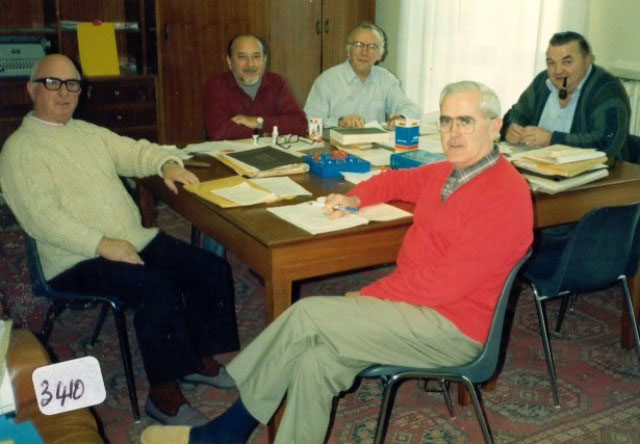 Bill Foley was also well known and appreciated in the wider Society, attending several General and Provincial Assemblies, serving on numerous Commissions where a clear head, which could look at all sides of an argument, and come to a clear rational decision was needed. Two former Superiors General, Fathers Joe Hardy and Daniel Cardot, spoke of his kindness and attention to detail during the different Commissions and Assemblies they participated in. Fr Hardy wrote: "The last time I met him in 2009 he was still full of humour and happy to remind me of our collaboration during the post Vatican II SMA General Assemblies  and the writing of our new Constitutions… Bill was a true SMA man, a devoted missionary to Africa, a clever administrator, fair to the job and to his friends. God knows his faithful servants and welcomes Bill to His table. He will now be singing for ever in the joy of his Lord." He is pictured (on right) with Frs Jackie Power, Joe Hardy, Kevin Scanlan and Lambert Meurders.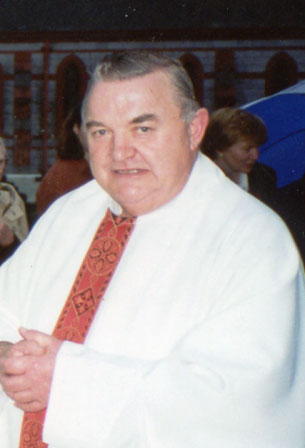 But Fr Bill's was an 'active retirement'. No way was he going to sit and do nothing! Fr Bill remained active in many ways even if he could not move about as easily as before. He maintained a huge correspondance with friends and SMA supporters, by post and phone. His inability to drive was a huge blow for him but many kind family and friends brought him to places he wanted to go.
He learnt how to use the computer and produced beautiful booklets for the many baptisms and weddings he was asked to officiate at. These were not just family occasions but also for others who held him in such high regard that they wanted him to be part of their special days. Surely a sign of the esteem in which he was held beyond the SMA. Our photo shows him at the Remembrance Sunday Mass in Wilton some years ago during which he preached a much-appreciated sermon. The Sisters of Mercy were very dear to him and he often celebrated Mass for the St Columba's community in Wilton as well as leading their Christmas and Easter ceremonies for several years. At the time of his death he was preparing a homily to preach at the OLA Golden Jubilee celebration for two of their Sisters.
He was always committed to the missions and did a lot of quiet untrumpeted work to support particular SMAs and OLA Sisters in Africa. His Christmas 'letter' was a means of fundraising for different needs – there are several churches in the north of Kenya which benefitted from the financial support he got from friends and relatives. His care also extended to different OLA projects in Tanzania and elsewhere. He served on the Board of Tabor Lodge Treatment Centre in Cork for six years.
Even though no one is indispensable the words of Fr Tomás Walsh echoes the thoughts of many SMA's: "it will be hard to think of the Irish Province without Bill Foley."
Bill Foley was an SMA to his backbone. The SMA was everything to him. He was always ready to offer an opinion on all matters SMA. Sometimes this wasn't appreciated but Bill did it for the good of the Society as he saw it. His family was the other great interest of his life. He was involved as much as possible in the different family events down the years. Now that he has gone to the house of the Father we trust that he will continue to pray for his family and the SMA calling God's blessings on us all.
Our final photo is one the earliest of him from the 1960's during his time in Holy Cross Cathedral. His usually well-coiffed hair is suffering from the heat and humidity! Fr Bill is fourth from the right, next to the Bishop Aggey who was soon to succeed Archbishop Taylor as the first indigenous Archbishop of Lagos. Also in the picture are Fr Denis Slattery and Fr Jerry Coakley.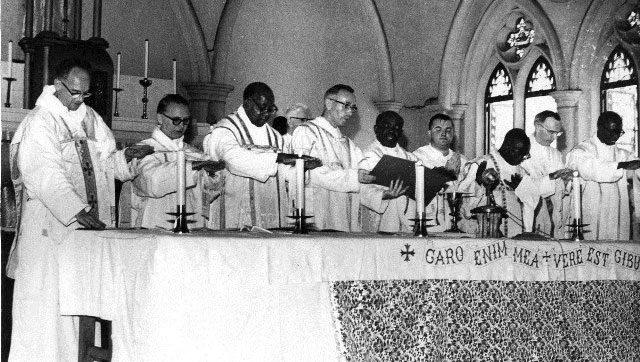 Fr Bill is deservedly mourned by his brothers, John and Desmond, sisters-in-law Rosie, Nora and Dolores, nieces, nephews, other relatives, a wide circle of friends all over Ireland and beyond as well as his confreres in the Society of African Missions. His younger brother, Tony, predeceased him.
Eternal rest grant unto him, O Lord.