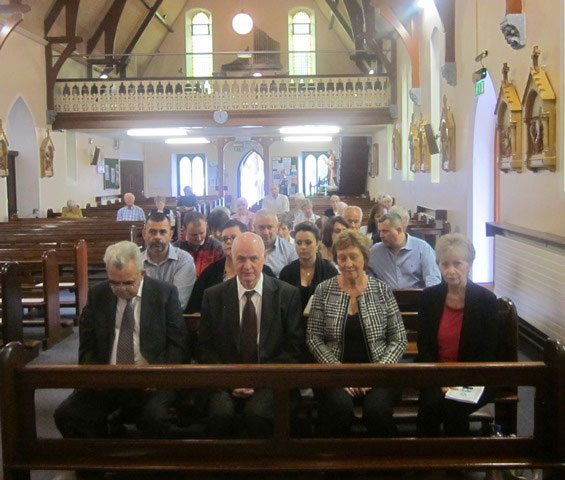 Fr Martin J Walsh died on Tuesday, 22 July 2014. His funeral Mass was celebrated on Friday, 1 August, at St Joseph's SMA Church, Blackrock Road, Cork after which his remains were buried in the SMA community cemetery at Wilton, Cork.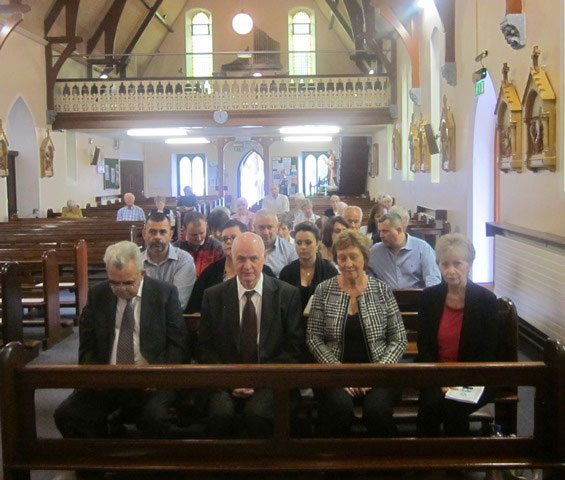 The SMA Provincial Leader, Fr Michael McCabe, was Principal Celebrant, assisted by Fr Donal Fennessy [representing the British Province], Fr John Brown [Parish Priest of Our Lady & St Patrick's, Walthamstow] and Fr Tom Harlow [SMA Parish, Wilton]. Forty-two other priests concelebrated the Mass.
Fr McCabe delivered the following homily.
"Come, you whom my Father has blessed, take for your heritage the kingdom prepared for you since the foundation of the world (Mt 25: 34)
These words from today's Gospel express our faith that all who believe in Christ and manifest his love in action, receive eternal life and will be raised up on the last day. We know that Fr Martin not only believed in Christ but spent his life in the service of Christ's mission. He wanted others to share his faith in Christ and experience the transforming power of his love just as he had experienced it. As we acknowledge the loss of a brother and friend, we thank God for his life and example, and affirm our faith that Fr. Martin is now sharing is that fullness of eternal life and happiness promised by Christ to all who believe in him. It is in this context that it appropriate to remember some of the key moments in Martin's long and fruitful life.
Martin Walsh was born in Liverpool on 7 September 1927 to Delia Ward and Patrick Walsh. He was the eldest boy in a family of six, three boys and three girls. His father hailed from Mayo and his mother from Galway and in early childhood some of the family returned to Galway where Martin completed his primary education.
Inspired by the example of his cousin, Fr Joe Stephens, who was an SMA priest, in 1941 Martin decided that he, too, would become an SMA missionary priest. He entered the minor seminary of the SMA Irish Province at Ballinafad, Co Mayo where he began his secondary schooling which he completed at African Missions College, Wilton, Cork.
In 1945 Martin entered the SMA Novitiate at Cloughballymore where he spent two years. Recognising his intellectual acumen, his Superiors sent Martin to study at UCG where he graduated in 1947 with a First Class Honours degree in Scholastic Philosophy and Education. That same year he took his first oath of membership of the Society. From Cloughballymore, Martin went to the African Missions Major seminary in Dromantine, Newry, where he followed the usual course of theological studies required for priesthood. He became a permanent member of the Society on 12 June 1950. Martin was ordained to the priesthood by Bishop Eugene O'Doherty on 13 June 1951 in the Dominican Church of St Catherine's in Newry, Co. Down.
Described by his Superiors as an "earnest, hardworking, zealous and generous person, with a highly developed sense of responsibility", Martin was a brilliant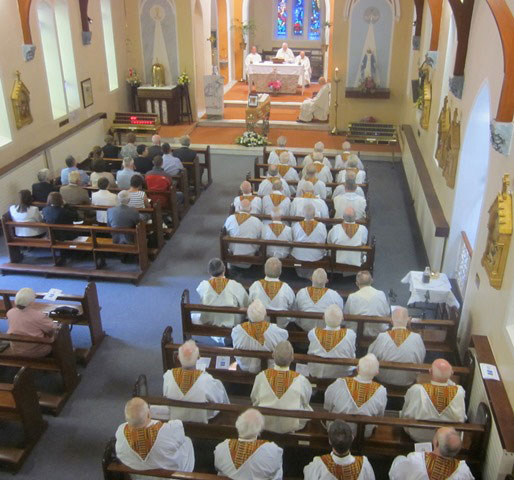 and eager student. Following his ordination, he was sent to Cambridge for Further Studies and graduated in 1954. His first missionary appointment was to Ondo Diocese and he worked there for four years, mainly in the education apostolate. At the time there was a temporary school in a building adjacent to St Matthew's Catholic Church in Ondo Town. By 1956 Fr Martin acquired a piece of land and the following year began building what became St Joseph's College, which eventually was handed over to the De La Salle Brothers who still run it today. An SMA priest who worked with Fr Martin at the time recalls how, each afternoon, Fr Martin was accustomed to join the students in preparing the land for the building project by cutting down the bush. Fr Martin did not hesitate to take his part in this physically demanding task, with cutlass in hand and a big wide hat to protect his head from the burning sun!
Returning to Ireland in 1958, Martin was appointed Professor of Philosophy at the Major Seminary of the Irish Province in Dromantine and taught there for four years. Many members of the SMA still alive today were privileged to have had him as a teacher. Martin was held in high esteem by the students not only for the quality of his lectures but especially for his sensitivity and kindness. An SMA priest whom who was a student during those years remembers Fr Martin especially for having reached out to him with understanding and compassion at a time when he was grieving the death of his father.
In 1963 the SMA was invited by the Archbishop of Perth to staff a new College – St Brendan's – and run a new parish at Beaconsfield. The Irish Province accepted this invitation and Fr Martin was appointed as Dean of Students at St Brendan's College and taught there for almost five years. Leaving Australia in 1959, Fr Martin was appointed once more to Ondo diocese but when he reached Nigeria the Regional Superior appointed him to teach Philosophy at Ss Peter & Paul Major seminary, Ibadan. He would continue in that post until 1981. Once again, thoughtfulness and consideration were hallmarks of his relationship with students and also with the young priests arriving in Nigeria for the first time. One of the 1976 Ordination class recalls that when they were doing their Preparation programme [Tyro] in Ibadan in late '76, Fr Martin arrived from the seminary with a map for each of them showing how to find their way around the huge city of Ibadan.
Following a one year sabbatical at Boston College where he completed a Masters' Degree in Divinity, Fr Martin was appointed in 1982 to teach Philosophy at St Paul's College Seminary, in Gbarnga, Liberia. This was an international seminary for training priests from the dioceses of Liberia, Sierra Leone and the Gambia. I happened to be the Dean of Studies during the time Martin was teaching there and I have fond memories of him as a wise, soft-spoken, elder brother, whose advice I appreciated, even if I didn't always follow it. He would often knock on the door of my room and ask if he could have a word with me. I would say 'Sure, Martin'. He would then offer me his advice and say 'I don't want you to act on it now but put it on the back burner'. And, indeed, more often than not I kept his advice on the back burner. Martin was loved by the students not only because he was a superb teacher but because of the personal interest he took in those he taught, most of them now priests and a few bishops. During his time in Liberia, Martin completed work on his major academic project, a 500 page History of Philosophy which would serve as a vade mecum of seminarians. Martin's text book was published in 1985 and is still widely uses in seminaries throughout Africa.
Martin returned to Ireland in 1985 and was editor of the SMA Irish Province Bulletin for the next four years. In 1989 he was appointed to teach Philosophy at the Missionary Institute in London and continued in that post up to his retirement in 2006. Upon retiring he remained living in London until increasing frailty forced him to accept that he needed constant nursing care. He came to St Theresa's Nursing Unit in January this year, and gradually settled into the routine of community living. He accepted the twilight years of his life with enviable equanimity as befits a wise and faithful servant. He would have concurred with the sentiment of Edgar in King Lear: "Men must endure their going hence even as their coming hither. Ripeness is all" (Act 5. Sc. 2). When Fr Martin was ripe with years and wisdom, God called him to dwell in that domain of the blessed where all tears are wiped away and death is forever conquered.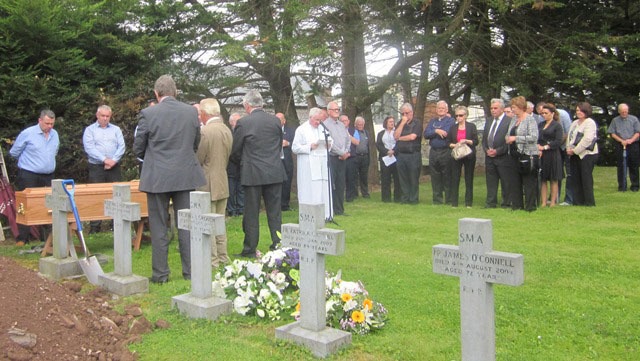 May his gentle soul rest in peace.