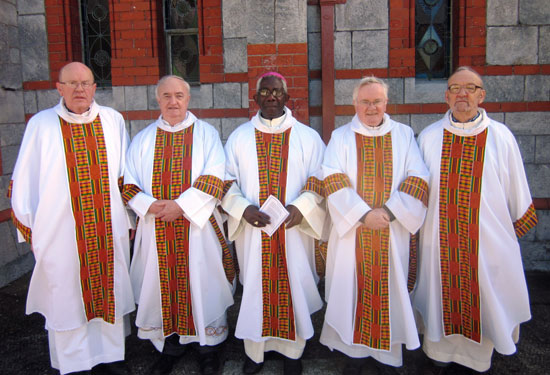 Fr Martin J Walsh died peacefully at 7.30am on Tuesday, 29 July 2014 in the St Theresa's Nursing Unit at the African Missions, Blackrock Road, Cork. He was 86 years of age.
Fr Martin's remains were brought to the Community Chapel at 5.30pm that day where the SMA comunity Leader, Fr Colum O'Shea, blessed his remains and led the Evening Prayer for the Dead. At 7pm the Rosary was recited by the community, the staff of St Theresa's, some OLA Sisters and local people who came to express their sympathy on Fr Martin's death. Fr Michael Igoe, who worked with Fr Martin in Ondo in the 1950's, led the Rosary and other prayers.
Fr Martin's remains rested in the Chapel until Thursday when, at 7pm, Fr O'Shea recited the Prayers for the transfer of the Body to the Church. Due to an already scheduled wedding in Wilton it was decided that Fr Martin's funeral Mass would take place in the adjacent St Joseph's SMA Church, Blackrock Road. Fr Angelo Lafferty SMA, Assistant Parish Priest, received the remains at the Church door and led the cortege into the Church where prayers and a decade of the Rosary were recited.
Two of Fr Martin's nieces placed the Book of the Gospels and the Crucifix on his coffin at the start of the ceremony. Fr Colum O'Shea read from the Gospel and, in some brief remarks, reminded us that though Fr Martin had only been in St Theresa's for a few months he had settled in and was content. Towards the end it must have been difficult for Fr Martin as he was unable to communicate.
The chief mourners were Fr Martin's two sisters, Moura and Cathy, his brother-in-law Micheál, nieces and nephews. His brother, Barry, was travelling from the USA and was expected for the funeral Mass.
On Friday, 1 August, the SMA Provincial Leader, Fr Michael McCabe, led 46 priests in concelebrating the Funeral Mass. The principal concelebrants were, from left, Fr Tom Harlow [a student of Fr Martin in Dromantine and highlighting Fr Martin's 'Galway' connection], Fr John Brown [Parish Priest of the SMA parish of Our Lady & St Patrick's, Walthamstow, London], Fr McCabe and Fr Donal Fennessy [representing the British Province].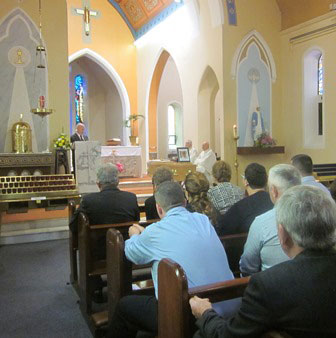 Fr Angelo Lafferty SMA was the Cantor and Fr Tommie Wade SMA was MC. The Church Sacristan, Miss Margaret O'Regan, had earlier prepared the Altar and chapel for the celebration of the Eucharist.
Among the concelebrants were Fr Michael Igoe and Fr Andy O'Sullivan, who worked with Fr Martin in Ondo in the 1950's, as well as many former students of Fr Martin during his years in Dromantine. As Fr McCabe reminded everyone in his homily, they rememebred Martin as a gentle and supportive teacher, even beyond the classroom.
After Communion Fr McCabe invited Fr Martin's brother, Barry, to address the congregation. In a very moving eulogy Barry paid tribute to the man who "was the kindest man I've ever met" and "the glue that bound us together". There were seven children in the Walsh household. Barry told us that, due to the Second World War and at just 12 years of age, Martin was given the task of bringing his brother Michael and sister Margaret home to Ireland from Liverpool. Their parents stayed on in England and the three children were taken in by relatives back in Galway, in three different houses. Every Sunday, Martin would travel across the fields to collect Michael and then go to where Margaret was living. It was to keep all of them together, despite their living circumstances. Barry spoke of Martin's mission to Africa but "his greatest mission was to us." For Barry, Cathy and Moura and all his family, Fr Martin Walsh was their strength.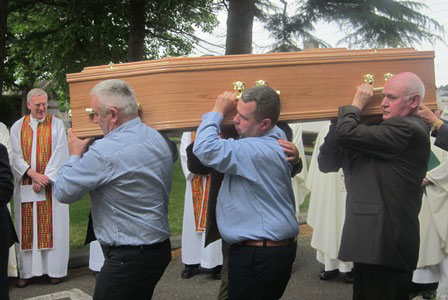 Barry's sharing showed a side of Fr Martin that was unknown to his SMA confreres. Fr Martin was not one to ever draw attention to himself.
Our photo shows Barry and other relatives shouldering Fr Martin's remains ot his final resting place in Wilton.
One SMA remarked of Fr Martin that though he was a big man in stature but when he spoke it was always with a quiet voice, as if he didn't want to dominate the gathering by either his size or voice. Yet, intellectually, he was a gentle giant. He always sought to persuade you by his reasoning and argument [and he would hold to his opinions once he had settled on them] but never seek to 'shout you down'.
After the Prayers of Commendation we accompanied Fr Martin across the city to St Joseph's SMA Church at Wilton where we laid him to rest. At the end of the burial, Fr John O'Keeffe, the Wilton community Leader, led a decade of the Rosary and then invited all to lunch in the community dining room.