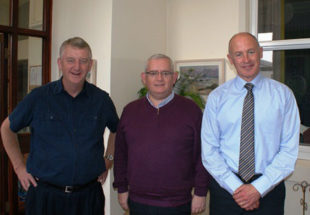 Fr Malachy Flanagan, from Tullyallen parish (Drogheda, Co Louth) is the son of the late Mary (Oliver) and the late John Flanagan. Born in 1962, he did his schooling at Tullyallen National School and Drogheda Technical School where he completed his secondary schooling in 1979.
Pictured are Fr Fachtna O'Driscoll (SMA Superior General, 2013-2019), Fr Malachy Flanagan and Mr Paul Murphy (Assistant Provincial Bursar)
A little over a year later he began his studies with the SMA and, after the Spiritual Year programme in Cork, he went to Maynooth where he completed his Philosophy and Theology studies. Speaking about why he joined the SMA, he said "I came to know of SMA from Fr Peter Devine SMA who comes from my parish. When I felt I wanted to be a priest he encouraged me to become a missionary with SMA. I felt drawn to missionary work… attracted to reach out to the most abandoned… to be a messenger and instrument of hope… to build up a local indigenous church… to help people in their struggle against illiteracy and injustice and lack of basic health facilities."
Malachy was ordained a priest on 25 June 1989 in the church where he was baptized, the Church of the Assumption, Tullyallen, by Cardinal Tomas O' Fiaich, Archbishop of Armagh. He was one of two SMA priests ordained that year. The other is Fr Paddy O'Rourke from Tullyco, Co Cavan.
Fr Malachy was appointed to southern Nigeria where he spent 17 years, first in the diocese of Ilorin (1989-1996) and then in the Prefecture Apostolic of Kontagora which had been created from parts of Ilorin and other neighbouring dioceses. This part of Nigeria is often referred to as an area of Primary Evangelisation – i.e. the frontline of the missionary apostolate, where the Gospel is unknown, telling people for the first time about the love of Jesus Christ.
He served as Chancellor of Kontagora for 10 years and was an essential part of the team there as the fledgling Prefecture grew, eventually becoming a Vicariate in 2002. As Chancellor he has a lot of administrative responsibilities during the week but at weekends he is fully occupied traveling to outstation churches attached to different parishes in the Vicariate. In an interview he did at that time he explained his work: "I am responsible for diocesan building projects and for many water development projects which I supervise regularly. In the dry, desert conditions around Kontagora the provision of clean drinking water is a necessity. The Vicariate makes a huge contribution to well-digging and water purification systems." Having the skill of 'water diviner' he was an integral part of the well-digging programme, finding places where water could be found.
This programme provides water to hundreds of villages scattered throughout the Vicariate. It still continues as there are still many villages which don't have a source of clean water.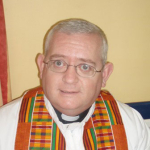 Fr Malachy was a valued collaborator with Bishop Tim Carroll SMA until he was asked to return to Ireland in 2006 and work in the office of the Provincial Bursar. He succeeded Fr Jarlath Walsh as Provincial Bursar in September 2007 and held that position until his election as Irish Vice Provincial Leader in 2013. On 10 July 2019, Fr Malachy was elected to the position of Provincial Leader, succeeding Fr Michael McCabe who had completed his six-year term.
As we wish Fr Malachy wish him well in his new role we also assure him of our prayers. May the Holy Spirit guard, guide and direct him.