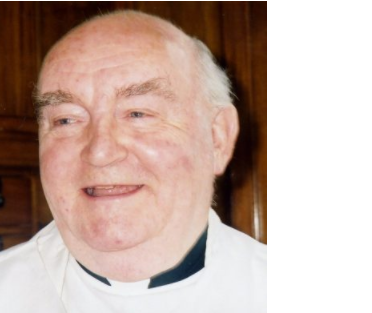 Fr Leo Silke, the oldest member of the Irish Province, passed, unexpectedly, to his eternal reward on the evening of Friday, 16 April 2021. Due to Covid-19 government restrictions, he was buried after a private Funeral Mass in St Joseph's SMA Church, Wilton, Cork, on Monday, 19 April. Fr Malachy Flanagan, SMA Provincial Leader, celebrated the Funeral Mass and Fr Colum O'Shea SMA was the homilist. Following is an edited version of that homily.
I have good reason to remember very well the first time I met Leo. It was around 6pm on the second Sunday of September 1999, at the SMA House in Dublin. It was All-Ireland Sunday and Cork had defeated their old rivals Kilkenny by the narrowest of margins, one point! Poor Leo was in no form to be meeting anyone from Cork. I must confess that I had pity on this 'poor Kilkenny man'. It was only when I took up residence here in Wilton about 5 years ago that I realised Leo was neither poor nor a Kilkenny man, but a Carlow man, and a very proud one at that.
He was very proud of his roots in beautiful Borris, Co Carlow. It was in Borris that Leo was born and grew up in. It is where he received a good grounding in the faith in the Silke family home, and it was here that the seeds of the missionary vocation were planted and nourished.
In 2002 on the occasion of his Golden Jubilee, Leo spoke the following words, "Priests come from real families, they belong to real parishes, and they have real friends. I became a priest from a background in which there was a deep appreciation of all that the priest did, and of his vital ministry in the life of the Church."
Leo was very proud of his roots in Borris and very proud of the Silke clan. And you his relations and friends were very good to Fr Leo. You were good for keeping in contact and I know he used to look forward to and enjoy the family gatherings at Carrigaline, Co Cork.
When Leo entered the SMA Novitiate at Cloughballymore, Co Galway, in September 1946 he was not the first Borris man to do so. He was following in the footsteps of two other SMA priests, Fr Tommy Lennon and Fr Tom Gorman. All now gone to their eternal reward. I don't know if there is another town of that size that can boast of three SMAs and all three living a couple of doors from each other on the same street. And they were three great men who made a great contribution to the missionary effort not only in Africa but also in Argentina, England and Ireland. They are now reunited once more in heaven.
Leo was ordained a priest on 18 June 1952. A day later his first cousin, Fr John Silke, was ordained for Raphoe diocese.
Later in 1952, Leo departed for Nigeria and ministered for 33 years in what is now the Archdiocese of Jos. Some the places he worked had rather exotic names, such as, Shendam, Kwande, Pankshin, Zawan and Bukuru. He enjoyed his years in Nigeria, was happy there and was proficient in the local Hausa language. In 1986 he was advised, on health grounds, that he could not return to Africa.
So he took up an appointment in the Archdiocese of Westminster where he served for the next 18 years. He is still fondly remembered in the parishes he served in. He was particularly appreciated for his ministry to the sick especially while Chaplain to Mount Vernon Hospital and Michael Sobel House, which cares for those suffering from cancer. In 2005 he retired and took up residence here in Wilton.
In his early years of retirement, he celebrated weekly Masses at a nearby nursing home and St Joseph's convent, Model Farm Road. He kept that up as long as he was able to.
In spite of his years he was very much into IT and he loved trying out new gadgets that were advertised in the papers. He had a good sense of humour and a positive attitude to life. These and his daily dose of honey contributed to his longevity.
Just last week I came across, in an SMA publication, a definition of 'attitude' which I think applies to Leo. Imagine Leo with a shirt and written on the shirt the sentence; "I am not 93 years old; I am sweet 16 with 77 years of experience."
He was always young at heart; he was a rogue and a charmer and had many admirers and friends.
While he had a grá for the GAA, especially the Kilkenny hurlers and Carlow footballers, he was interested in a variety of sports. In his youth he excelled at handball, he was a champion handball player. Something else about the good man was his decisiveness. He also had a stubborn streak. When the time came to make a decision, he made it. He decided when it was time to retire; he decided when to give up driving; last November he decided it was time to move to our Nursing unit at St Theresa's, SMA House, Blackrock Road.
He was well looked after and much loved by everyone here in Wilton. There were two very fine HSE health care workers who used to attend to him three times a week. We, and they, were sad to see him go. It was a big decision but Leo knew it was time to move. He settled very well in St Theresa's and got great care there and plenty of TLC. These are not easy decisions to make but it makes life a lot easier for everyone when others don't have to make these decisions for you.
This is Easter time in the Church's calendar. It is resurrection time. It is Spring time and time for new life. Leo has done his Holy Week, he carried his cross as best he could, he has experienced death and is now enjoying the fruits of Christ's resurrection. This is what we profess, what Fr Leo professed, when we say, "We look forward to the resurrection of the dead and the life of the world to come." Life has changed for Fr Leo, not ended.
I have no doubt that when the Lord called Leo last Friday night that he was ready to answer the call, as ready as he was way back many years ago in Borris when the Lord invited him to, "Go out to the whole world; proclaim the Good News to all creation."
On Friday night last as he departed this life he would have heard these or similar reassuring words, "Come you whom my Father has blessed, take for your heritage the kingdom prepared for you since the foundation of the world."