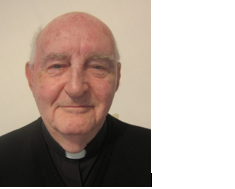 Funeral Mass for Fr Leo Silke SMA will take place at 12 noon on Monday, 19 April. Due to government restrictions it is strictly private. Click here Parish Webcam to join in the celebration of the Mass.
The Irish Province of the Society of African Missions (SMA) is mourning the death of their oldest member, Fr Leo Silke, which took place on Friday evening, 16 April 2021, in the St Theresa's Nursing Unit, SMA House, Blackrock Road, Cork.
Fr Leo, a native of Borris, Co Carlow, was 93 last February and had served 33 years as a missionary in the then Diocese of Jos in Nigeria when serious ill health forced his departure from Africa. After recovering from surgery he ministered for 18 more years in the Archdiocese of Westminster, London, England. From 2005 until 2020, he had an active retirement in the SMA House, Wilton, Cork. In November last year, advancing ill health required that he move to the SMA Nursing Unit in Blackrock Road where he died peacefully with nursing staff and some of the SMA community at his side.
The son of the late Michael and Teresa (Née McGoldrick) Silke, Leo was one of a family of seven. His sister Mona and brothers Desmond, Brendan, Donal, Vincent and Declan all predeceased him. He attended primary school in Borris and for his secondary schooling he attended St Joseph's Academy, Bagenalstown, Co Carlow (1941-'46).
Leo studied for the SMA at their Probation Hosue in Kilcolgan, Co Galway and in the African Missions Major seminary at Deomantine, Newry, Co Down. During his years in the seminary, Leo was a noted handball player. He was ordained in Newry Cathedral by the Bishop of Dromore, Bishop Eugene O'Doherty, on 18 June 1952. Four months later he was one of the first SMA priests to fly into Kano Airport in the north of Nigeria. Up to that time, SMAs travelled from Liverpool by boat to their missions in West Africa. For the next 33 years, he served in what is now the Archdiocese of Jos in Plateau State.
In 2002, while celebrating the Golden Jubilee of his Priestly Ordination, Fr Leo traced his vocation, first of all, to his parents and siblings, all of whom have predeceased him. He also made reference to his first contact with the SMA: "Fr Tom Lennon SMA lived three doors away from me and Fr Tom Gorman lived two doors away." I'm sure they are all now reunited in their heavenly home.
A more complete Obituary will be published in due course.
Funeral arrangements: In accordance with Government Covid-19 regulations, Fr Leo's Funeral Mass will be strictly private.
Rejoice, the Lord has truly Risen! Alleluia!
May Fr Leo rest in peace!