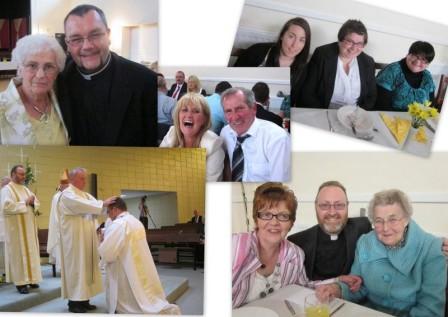 Ordination of Fr Kevin Conway SMA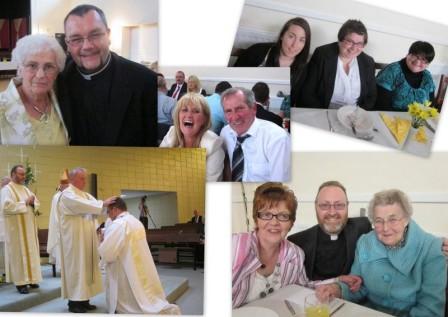 SMA priests and supporters travelled from far and near to participate in the Ordination to the Priesthood of Fr Kevin Conway SMA at St Patrick's Church, Dunamanagh, Co Tyrone on Saturday, 18 June. It was a wonderful day for the people of the parish of Donagheady and for the SMA.
There to join Kevin's family and the SMA were other missionaries (priests and Sisters) and priests from several dioceses in Ireland, including Derry, Dublin and Ferns.
Three priests in particular deserve special mention: Frs Stephen Kearney (PP in Newtownstewart), Fr Paddy Dooher (Columban Missionaries) – both sons of the parish and V Rev Fr George Doherty, former Parish Priest. There are five articles for you to read and photos to look at… Enjoy!
Throughout Kevin's period of formation with the SMA he – and all our 260+ seminarians – relied on the help of a vast network of SMA supporters in the Family Vocations Crusade (FVC). They are an invaluable part of the wider SMA family and are our partners in mission. If you would like to know more about the FVC click here.
For information about missionary life in the Society of African Missions (SMA) please contact the SMA House in your area – here.
In welcoming everyone to the Parish of Donagheady, the Parish Priest, Fr Eamonn McDevitt, reminded all that it was 29 years since Dunamanagh had hosted an Ordination ceremony and it was 12 years since the Irish Province of the Society of African Missions had ordained a priest. Fr McDevitt also reminded us that the parish had given nine priests to the Church – until today it had been an even four diocesan and four missionary but with Kevin's ordination the balance had tipped to the missionary side. But all joined in praying that the Lord would call more young men and women from the parish to serve the church at home and overseas. The former Parish Priest, Fr George Doherty and many diocesan priests joined with Columban and SMA priests for the Ordination Mass.
Fr George Doherty presents Chalice to Fr Conway – read here.
Fr Kevin and his parents Liam and Anne pictured after the ceremony. A proud day for the Conway family and the people of Donagheady parish. Ad Multos Annos Fr Kevin!
The ordaining bishop was the Bishop-emeritus of Lodwar, Kenya, Rt Rev Patrick J Harrington SMA (pictured above at the moment of Ordination – the laying on of hands), where Kevin had undertaken his Pastoral training under the guidance of Fr Oliver Noonan SMA who, home from his mission on holidays, was also present with his SMA colleagues.
Kevin was called to Ordination by the SMA Provincial Leader, Fr Fachtna O'Driscoll. After the Bishop accepted Kevin for Ordination to the Priesthood, Fr O'Driscoll preached the homily for the occasion. In it, Fr O'Driscoll reiterated the words of Fr McDevitt that Donagheady parish has a rich missionary tradition but that it also has a close association with the SMA. Kevin was also reminded by Fr O'Driscoll that "The honour of serving as priest is not an honour you take on yourself. You are called to this life; it is a vocation. You have answered the call but you never possess the call. It is always God who calls and leads. Even Christ himself did not take upon himself the glory of becoming high priest." Read full homily here.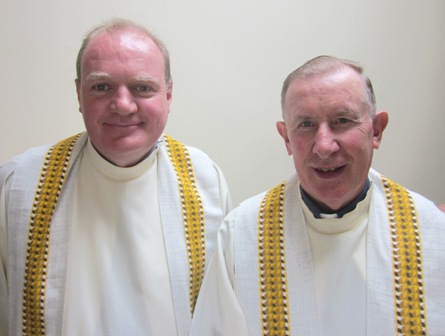 SMA Frs John Bowe (FVC Director, Leinster) and Seamus Nohilly (SMA Claregalway community Leader) participated in the Ordination Mass.
Fr Peter O'Kane, a Derry diocesan priest who had just returned from Rome where he is studying Canon Law, was MC for the occasion. Under his watchful eye the ceremony was a smooth and joyful celebration for all. A combined choir, from the two churches in the parish, led the singing which was appreciated by all.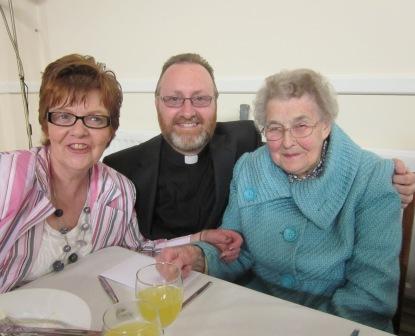 Sincere thanks to Frs McDevitt & O'Kane for their great welcome. A huge amount of preparation went into making the ceremony and the celebrations afterwards in Aghabrack Centre such a success. To Fr Kevin, Anne & Liam, his sisters and brothers, relatives, friends and parishioners: Thank You one and all.
And maybe we will be celebrating an All-Ireland with Tyrone! Read more…
On right Fr John Denvir SMA (Downpatrick, Co Down) poses with Siobhan Cairns and Mary McNally.