Br James Redmond SMA
The death has been announced of Brother James (Jim) Redmond. Br Jim died peacefully at 9.20am on Saturday, 25 February 2012 at St Theresa's Nursing Unit, African Missions, Blackrock Road, Cork where he had lived since June 2011, after suffering a Stroke. Up to then, Br Jim had been living an active retirement in the African Missions, Wilton, his home since 1970.
Our picture shows Br Jim during his time as Manager of the Claverianum Press in Ibadan, which publishes many religious books, Catechisms, Hymnals (in Yoruba and English) as well as The Independent, the Catholic newspaper for western Nigeria.
James Kieran Redmond was born in Cloughbawn, Rathnure, Enniscorthy on 26 October 1931 to Thomas and Brigid (née Maher), the eldest of three children in the family. His brother Larry predeceased him. He is survived by his sister Ellen (Cusack).
He attended Poulpeasty National School, near Clonroche and Rathnure National School. His first contact with the SMA came through his Aunt Margaret (Murphy, from Knockroe) who subscribed to the SMA magazine, The African Missionary. After completing his schooling, Jim decided to test his vocation with the Brothers of Charity in Rochestown, Cork (1945 – 1946). He then came to the SMA on 8 August 1946 and lived at the SMA Motherhouse on Blackrock Road until he transferred to the SMA Novitiate at Cloughballymore, Kilcolgan, Co Galway for his two-year Novititate programme.
After taking his first oath of membership in the Society (9 May 1949) he returned to Blackrock Road and served as Porter and Sacristan in the Public Church. As part of his training for missionary life, Jim completed a Technical qualification in Building Construction (1955-1957).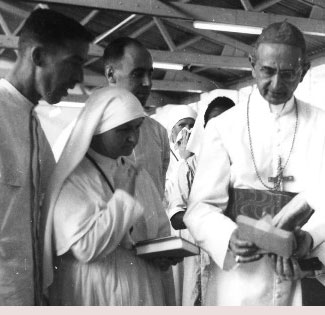 In 1960, Br Jim and Br Sean Murphy were appointed to Nigeria – Jim to Ibadan diocese and Br Sean to Kaduna. For the next ten years Jim was involved in pastoral work in Ibadan City as well as working as Manager of the Claverianum Press. It was during these years that his organizational skills came to the fore. He lived for a time at Oke-Ado as well as in the house built beside the Claverinum Press in Bodija. In July 1962 he, along with the Editor, Fr Tommie Blee, welcomed the then Cardinal Montini to the Press to see their work. A short time later, Cardinal Montini was elected Pope Paul VI. Our picture shows Fr Blee, Br Jim and Sr Juliana to the left of Cardinal Montini.
In 1970, Br Jim was appointed to take charge of the Promotions Office in Wilton, Cork. Over the next 30 years he was to add another dimension to his missionary repertoire: his skill and empathy with the pen. His work in Wilton was crucial in building up the vast support network there, particularly through the development and growth of the two Novenas – in February (Our Lady of Lourdes) and November (For all our deceased). But outside those particular periods, Jim wrote letters daily to people who contacted him, asking for prayers for particular intentions. Not for Jim a cursory acknowledgement of a donation; no! Each person got a letter from Jim assuring them of our prayers but also trying to encourage or console them as was their need. In 1999, on the occasion of his Golden Jubilee as a member of the SMA, the then Provincial Superior, Fr John Quinlan, said: "Jim had a ministry / apostolate of the pen. Diligent, painstaking, persistent he has carried out a ministry to many SMA benefactors in their daily difficulties and in times of crisis. Your work became a real pastoral ministry to many people, as well as presenting to them the message and spirit of the Society of African Missions." During his years in charge of the Promotion Office, Jim initiated hundreds of SMA seminarians into the world of SMA supporters, as they packed envelopes for the Novenas every year. But, more importantly, he spoke to us of different supporters in need of prayer and reminded us of our duty to pray for all our SMA supporters and benefactors, who help our missionaries to be in Africa and do their work.
Br Jim was the Founder and Leader of the Choir in the SMA Wilton parish. He was diligent about playing the Organ at Sunday Mass as well as providing for the Music at SMA events – Funerals, Jubilees and our Annual Knock Pilgrimage.
Br Jim was a private man and much of his good was done in secret. No trumpeting about his good works. He went about doing good, in different ways and for the benefit of different groups. He was involved with the Cork branch of the Wexford Mens Association. He also fund-raised for Edel House in Cork City. In the late 70's and early 80's he was involved in the leadership of the National Association of Religious Brothers.
At a Society level, he represented the Irish SMA Brothers at the 1968 Provincial Assembly and, in 1973, represented all the English-speaking Brothers at the SMA General Assembly in Rome.
To sum up Br Jim is not easy but one could certainly say the following of him, again quoting Fr Quinlan, "He was at the service of others; dedicated, tireless and generous; faithful to his calling and a gifted man. In short he has truly been a Brother to those he met."
Br Jim is pictured with other SMA Brothers at Blackrock Road on 8 December 1977, the occasion of the Permanent Oath of Br Paddy Dowd SMA.
From left: Br Jim, Br Peter Houlihan, Br Paddy Dowd, Br Jim Ahern and Br Michael Walsh.
Go ndéana Dia trócaire ar a anam.