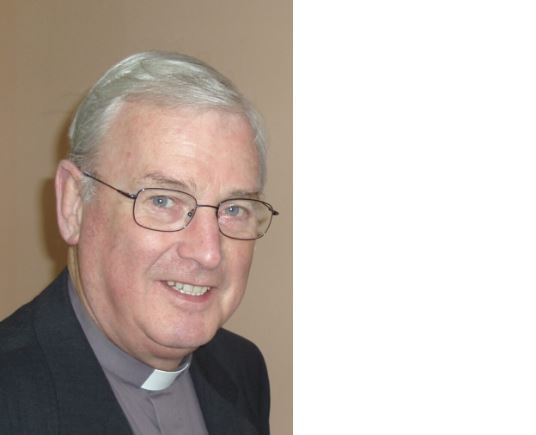 Fr John Quinlan passed to his eternal reward on 16 July 2020, at the St Theresa's Nursing Unit, African Missions, Blackrock Road, Cork. He was 83 years of age and had been in failing health for some years. Fr Hugh Harkin, a classmate and Secretary to Fr Quinlan during his time as Irish Provincial Superior, and the St Theresa's Nursing Administrator, Ms Martina Rumley, were with him when he died, shortly after 7am.
His Funeral Mass was celebrated on Saturday, 18 July 2020, at St Joseph's SMA Church, Wilton, Cork. Read Fr Malachy Flanagan's Funeral homily.
John Alphonsus Dominic Quinlan was born in Tralee, Co Kerry on 2 August 1936, the second of eight children born to Thomas and Mary [née Daly]. He was known within the family, at school, and by many friends in Tralee and beyond as Bruddy. This was because his sister, Marie, found it hard as a small child to pronounce the word 'brother' and it came out as Bruddy! And so the name stuck. Fr John's mother died in 1989, his father in 1990 and his brother Oliver in 2002. He is survived by his sisters Marie Murphy [Caherslee], Phil Casey [Caherslee] and Adrienne Young [Causeway], his brothers, Tommy [Tralee], Fr Patrick and Msgr Micheál, both priests in Salford diocese, England.
John's Primary and Secondary education took place at the Christians Brothers, Tralee. After completing his Matriculation exams in 1953, he entered the Novitiate of the Society of African Missions at Cloughballymore, Kilcolgan, Co Galway, becoming a member of the Society on 25 June 1954.
John Quinlan was a very good athlete, excelling in athletics and, of course, Gaelic football. He was part of the CIE Relay team and won a Kerry title with them. In his final year at school he won a Kerry and Munster Colleges medal. That same year he was on the senior panel of the local O'Rahilly's GAA team. The team played in the county semi-final the day before he joined the SMA. Trailing their opponents, the Team Manager had sufficient confidence in the 17-year old Bruddy Quinlan to put him into the right corner forward position, marked by a Kerry Senior player. This change helped O'Rahilly's to rally and they went on to win the game. The County Final was the following Sunday! Fr Tommie Drummond, another well-known SMA from Tralee, along with the team management asked for John to be allowed return home for the final. Unfortunately, permission was not given. The O'Rahilly's did beat the then Shannon Rangers Club and John got his Senior Championship Medal. When home on holidays, even after Ordination, he often togged out when called upon!
After becoming a member of the SMA in 1954, John headed for the SMA House in Wilton, Cork, to undertake studies at the University College, Cork. He was awarded an Honours BA degree in English and Latin. He studied theology at the African Missions Major seminary in Dromantine, Newry, Co Down from 1957 – 1961. John, one of a class of twenty-four, was ordained a priest by Bishop Eugene O'Doherty of Dromore diocese in the Cathedral of Ss Patrick and Colman, Newry, Co Down in December 1960.
From his earliest years with the Society, John's academic ability was obvious to all. It was no surprise that, instead of going to Africa with his classmates, he was sent to Rome to study Sacred Scripture, living at the SMA Generalate on via dei Gracchi, close to the Vatican. In 1962, he was awarded a Licence in Theology [STL] from the Angelicum University. He then gained a Licence in Sacred Scripture [LSS] from the Pontifical Biblical Institute, after which he returned to Dromantine to teach Scripture.
In 1966, he arrived in Nigeria, working firstly in the diocese of Benin City and then teaching Scripture in the SS Peter and Paul Major seminary in Ibadan. In 1968, he was recalled to teach in Dromantine, and, from 1971 to 1976, he lectured in general Theology at the National seminary, St Patrick's College, Maynooth, Co Kildare. During this time he founded the One-Year Theology Course in Maynooth which brought many priests and religious together for a one-year sabbatical programme.
In 1969 our SMA seminarians moved from Dromantine to Maynooth, living initially in the College and, in 1972, transferred to the new SMA House on the college campus. In due course, Fr John also took up residence in the SMA House.
In 1976, Fr John was the Education Officer for the Irish Missionary Union [IMU], still living at the SMA House, where he was the Director of Students. After completing his IMU appointment, Fr John undertook MA studies at the School of African and Oriental Studies at the University of London, England. He returned to Maynooth, lecturing in the Mission Studies Department where he was very popular with the students. He also served on the SMA formation staff as Dean of Students. Fr John might have continued to enjoy his teaching life but, in 1983, his SMA confreres elected him as the Vice Provincial Superior which necessitated his moving to the Provincial Headquarters in Cork.
He served as Vice Provincial from 1983 to 1989 with responsibility for Recruitment, Formation, Personnel outside Society Works, and SMA Parishes. He was elected to succeed Fr Con Murphy as Provincial Superior in 1989. He was re-elected in 1996 for a further six-year term of office. He took a well-deserved sabbatical break for one year, after which he was appointed to the SMA House, Wilton, where he was asked to reflect and write on SMA issues [2003 – 2009].
Fr John was elected many times to represent his confreres at various Society meetings, particularly the SMA Provincial and General Assemblies as well as serving on several Society Commissions, e.g. Assembly Preparatory Commissions, Formation, Revision of the SMA Constitutions & Laws etc. He was elected as President of the Irish Missionary Union [1993-1995], a sign of the esteem in which he was held by the leaders of the other Irish missionary groups, female and male.
In 2010, Fr John retired and moved across Cork to live at the African Missions, Blackrock Road. In 2018 he moved permanently into the St Theresa's Nursing Unit where he lived until the Lord called him to his eternal rest. During those years in St Theresa's and, particularly when he became increasingly incapacitated, his classmate, Fr Hugh Harkin, faithfully visited him, chatting, reading and praying with him.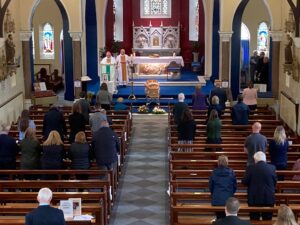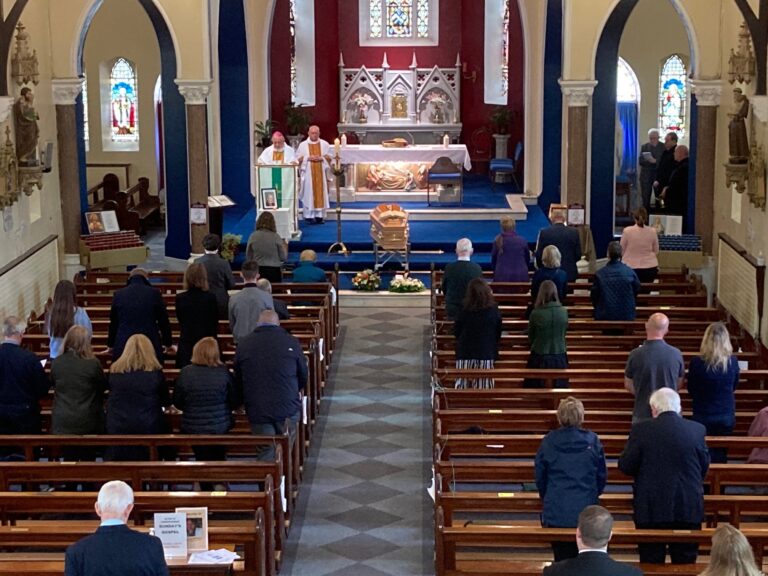 At his Funeral Mass, the celebrant, Most Reverend Kieran O'Reilly SMA, Archbishop of Cashel and Emly, reminded us that Fr John Quinlan had a great love for the Scriptures, not only teaching it but, like our Blessed Mother Mary, he pondered God's word in his heart. In light of that, the Archbishop invited us to listen more closely and treasure the words of the Scriptures. He also spoke of Fr John's invaluable support in the development of the SMA over the past 40 years. The SMA is now a growing international missionary Society with priests from many African countries, Philippines, Poland, and India. [Archbishop O'Reilly had been a member of Fr Quinlan's Provincial Council from 1989 to 1995]. Before the Final Prayers and Commendation, the present SMA Provincial Leader, Fr Malachy Flanagan, spoke of the many qualities of Fr John, particularly his constant attention to caring for his SMA confreres, during his teaching years and, later, as Provincial Superior.
In a Message sent to the Irish Provincial Superior, the Archbishop of Tuam, Most Rev Michael Neary, spoke of Fr John as an inspirational priest who gave great support and encouragement to those he taught and to his teaching colleagues in St Patrick's College, Maynooth.
As a lecturer, SMA Dean of Studies, member of the Provincial Council and Provincial Superior, member of the Wilton and Blackrock Road communities, John Quinlan was noted by one and all as a true gentleman. He endeared himself to his confreres and others by his gentle nature who was always open to hearing the other side. We hold fond memories of a lovely man we were privileged to know.
Though we are sad at his passing, Heaven will certainly a better place for his presence.
Four of Fr John's siblings, Tommy, Marie Murphy, Phil Casey and Adrienne Young along with other family members participated in the funeral Mass. His brothers Fr Patrick and Monsignor Micheál were unable to travel from England due to the two-week isolation requirement but were able to watch it on the SMA Wilton parish webcam.
Also in attendance were three former SMA Provincial Superiors: Fr Con Murphy [who received Fr John's remains into the Church before Mass], Fr Fachtna O'Driscoll [who is also a former SMA Superior General] and Fr Michael McCabe. Bishop Patrick J Harrington SMA, emeritus bishop of Lodwar, and a former SMA Superior General was also present for the funeral ceremonies as well as other SMA priests. Without doubt, there would have been a very large attendance for Fr John's final goodbye but both State and Church rules relating to funerals were adhered to. Were it not so, the turnout would have been like a Munster Final in Pairc Uí Chaoimh, Cork!
Ar dheis Dé go raibh a anam uasail.