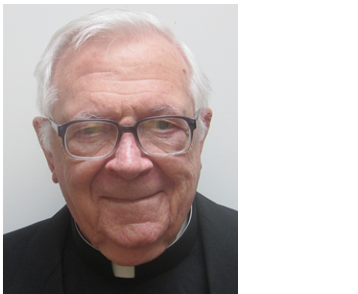 The Funeral Mass for the late Fr John Flynn SMA was celebrated in St Joseph's SMA Church, Wilton, Cork on Friday, 24 June 2022. Fr Malachy Flanagan, the SMA Irish Provincial Leader, was the Principal Celebrant and he was assisted by Fr John Horgan, a classmate of Fr John and by Fr Gus O'Driscoll SMA who worked with Fr John in both Ghana and Philippines. Fr Gus gave the homily during the Mass.
Fr John's sister Eliza Crotty and his brother Seamus accompanied by a number of Fr John's nieces, nephews, a grandniece and two grandnephews as well as a large number of SMA priests along with OLA Sisters were in attendance for the ceremony. Fr John had two sisters, both now deceased, in the Congregation of the Daughters of Mary and Joseph (DMJ) and they were represented by Sr Joan Roddy. After the Mass, Fr John was laid to rest in the SMA community cemetery adjacent to the Church. Fr Anthony Kelly, who also worked with Fr John in Ghana, led a decade of the Rosary after Fr John's body was laid to rest beside many other SMA missionaries who had toiled in many African countries.
Before the Mass, symbols of Fr John's life were presented: a Prayer book and Rosary symbolising Fr John's faith, which he learnt in the family home in Newtowncashel, Co Longford; a Yoruba carved crucifix reminding us of Fr John's many years in Nigeria and Ghana; a Barong – a shirt worn in the Philippines for formal occasions and a family photo of Fr John with his four sisters and two brothers.
The readings at Mass were read by Fr John's nieces, Catherine [Isaiah 25:6-9] and Mary [Romans 14:7-12]. The Gospel was taken from John 12:24-26 – the grain of wheat dies and so yields a rich harvest. Fr John's grandniece and two grandnephews read the Prayers of the Faithful. The following is an edited version of Fr Gus's homily.
When we refer to people who have lived a long life, people well into their 80's and early 90's, we have a lovely expression which says – "he / she lived to a ripe old age". The important word in that expression is not "old age", but "ripe".  A person who has harvested well from the seeds that were planted in youth, in one's early years. Old age brings infirmity, brings limitations; it calls for adjustments and some restrictions.
But old age can also bring the grace of acceptance of one's condition and situation. It can bring an interior calm and serenity. One writer has described old age in terms of a strong river which calms down as it reaches the ocean. I think we can safely say that Fr. John Flynn "lived to a ripe old age".
The idea of ripeness and harvesting is presented to us in the gospel reading chosen for this Mass – "unless a grain of wheat falls into the ground and dies  … a rich harvest".
We are like seeds dropped by the hand of God into the field of life. Under his gaze, we break through the surface and open ourselves, as it were, to the sun and the rain. But as we open ourselves to receive, we must also open ourselves to give. Those who live for themselves will stagnate. Those who live for others will grow and bear fruit.  But to live for others means to die to self; and that's the hard part!
Fr. John took on this teaching of Jesus in a very specific way in 1958 when he set sail for the coast of West Africa. He left the comforts of home and family and became a new seed dropped by God into the soil of Nigeria. There he went to work among the peoples of the mid-west. The area soon became engulfed in a civil war. John and his fellow missionaries had to face great dangers. One of his closest companions, Fr. Richard Wall, here with us in church today, can attest to the sufferings and violence endured at the hands of the military.
But they stayed with the people, and after a number of turbulent years, peace was restored.
In 1973, John was asked by his SMA Superiors to take up a new assignment in Ghana, further along the coast of West Africa. He formed part of a team of five who began a new mission in Ghana by the Irish Province, in the newly erected diocese of Sunyani. I joined that team four years later together with my ordination classmates Anthony Kelly and Michael Philipps. It was John who met us at the airport in Accra on that September evening in 1977, our first night on African soil. Even though Ghana was going through a difficult time politically and economically, and what we called "essential commodities" were in scare supply, it was an exciting time to be a young missionary. Essential commodities was Ghana speak for food, toiletries, the various essentials of life. We learned so much from the wisdom of John and the other seasoned missionaries – "a grain of wheat falling into the ground and dying …."
Time doesn't allow me to recount the many wonderful stories from that time, some serious, some humorous, all in the cause of spreading the gospel of Christ.
As is the lot in missionary life, one puts down roots for a period of time and then moves on again to another place. And so it was with John, taking up a new assignment in Rome as secretary to the Superior General, Fr Patrick J Harrington, and his Council. In preparation for this assignment, John took up the study of French. He became sufficiently competent to be able to translate some of the writings of our Founder from French to English. It showed once again John's single-mindedness and clear focus.
Another new chapter opened up for John in 1991 when he took up the challenge of assisting in the development of the newly established Philippine Unit of the SMA. Once again, I followed his footsteps a year later when I took up an appointment in the formation ministry of our Filipino and Indian students in Silang, Cavite, south of Manila. Though I resided in the Formation Centre during the week, I went into Good Shepherd Parish each weekend to assist John and Fr. John McCormack, the parish priest.
Ten years later I took up full-time ministry in the parish, and I was able to see first-hand John's great commitment to the parishioners. Among his many responsibilities, I pick out two for special mention – celebration of the Eucharist and Pastoral Care of the Sick and housebound.
Liturgy is very vibrant and enriching in the Philippines. Perhaps the annual highlight is the Filipino tradition of Simbang Gabi or Missa de Gallo, the Masses at Cockcrow. For nine days, beginning on 16th December, we rise about 3.30am. John was out the door by 4.00am to celebrate Mass either in the parish church or one of the chapels found throughout the parish, which were generally packed with parishioners; one of four masses in the parish at that time each morning. John did this for 20 years, right into his 80th year.
The other ministry to which John devoted himself to was in the pastoral care of the sick. I would say, it was this ministry above all else, which endeared himself so much to the people. And you can imagine that in a densely populated parish like Good Shepherd, there were many people who needed care. In 2008, we held a big celebration in the parish to acknowledge his 50 years of priesthood and his 78th birthday. For me, the most touching part of that evening was hearing the voices of the many sick people to whom he ministered. Members of the Pastoral Council had gone to their homes in the previous week to record their messages. One after another, their message was a simple one of gratitude – "Salamat Fr. John, Salamat Po!
John's 20 years in the Philippines was perhaps the most enriching period of his life. He was much loved by the people. This has come through again in the many emails I have received in the past two days, messages and tributes attesting to his great kindness, his generosity of spirit and selfless dedication. I pass on those messages to you his family – to his sister Eliza, his brothers Seamus and Mike, nephews and nieces. 
John was pretty exhausted when he came home from the Philippines in 2011. All the "going-away" parties took their toll! Not to mention the long-haul flight from S.E. Asia to Dublin, a journey of about 17 hours. He was soon admitted to hospital for heart surgery.  But he recovered well, and was able to live out his remaining years in our SMA communities here in Wilton and Blackrock Road. The attention he received, particularly from the staff in St. Theresa's Nursing Care Unit, brought him great comfort.
I believe this final 10 year period of his life was a time of much grace, of ripening. He was able to live with serenity, reflecting on his missionary life and his impending death. On more than one occasion I heard him speak of not being afraid to die. In the words of our 2nd reading today:
If we live, we live for the Lord, and if we die, we die for the Lord, so that alive or dead, we belong to the Lord.
I believe he took on board those comforting words of St. John Henry Newman:
May the Lord support us all the day long, until the shadows lengthen, and the evening comes, and the busy world is hushed, and the fever of life is over, and our work is done.
Then in your mercy, grant us a safe lodging and a holy rest and peace at the last.
And he was able to understand the words of St. Paul to his young companion Timothy: The time has come for me to be gone. I have fought the good fight to the end, I have run the race to the finish, I have kept the faith.
And finally the words of Fr. Daniel O'Leary in his final book "Dancing to my Death", written some months before he died: The day comes, in one way or another, for each one of us, when the pros and cons of our lives are weighed up, when the balance has changed, and we know, like Jesus did, that it is time to go. And he concludes by quoting from  First Corinthians 13 –" for now we see in a mirror dimly, but then we shall see God face-to-face. Now I know only in part; then I will know fully, just as I have been fully known myself by God".
"John, Ar dheis Dé, go raibh d'anam dílis".