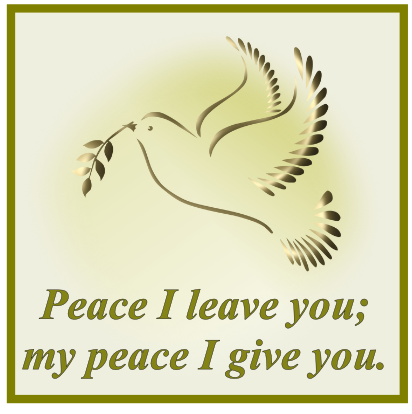 3 July 2022
Isaiah 66:10-14                        Galatians 6:14-18                        Luke 10:1-12,17-20
Theme: Sent as Ambassadors of Peace
Jesus invited his disciples not only to follow him, and learn from him, but also to share in his mission of proclaiming and witnessing to the Kingdom of God. In today's gospel from Luke, Jesus nominates seventy-two of his disciples and sends them out 'ahead of him, in pairs, to all the towns and places he himself was to visit' (Lk 10:1). He gives them specific instructions about what they are to do and how they are to conduct themselves. Their mission is to heal the sick and proclaim that the kingdom of God is very near to them (cf. Lk 10:9). They are to leave immediately and to travel light – without purse, haversack or sandals. They are to salute no one on the road (cf. Lk 10:4) and to rely on the hospitality of those who welcome them.  Above all, they are to be peace-bearers. 'I am sending you out', he tells them, 'like lambs among wolves' (Lk 10:3), and 'your first words' on entering a house are to be 'Peace to this house' (Lk 10:5). Even if they meet with hostility or rejection, they are not let this disturb them but let their peace return to them.
The theme of peace looms large in the life and ministry of Jesus. Heralded by the Prophet Isaiah as the 'Prince of Peace' (Is 9:6), Jesus' birth in Bethlehem is accompanied by angels singing, 'Glory to God in the highest and on earth peace to people on whom God's favour rests' (Lk 2:14). Among the beatitudes, Jesus' Kingdom charter, he includes the peacemakers: 'Blessed are the peacemakers; they shall be called children of God' (Mt 5:9). And his final gift to his disciples on the eve of his  passion and death was the gift of peace: "My peace I leave with you; my peace I give to you. I do not give to you as the world gives. Do not let your hearts be troubled, and do not let them be afraid" (Jn 14:27). We can truly say, in the words of the English philosopher, Francis Bacon, 'When Christ came to the world, peace was sung; and when he went out of the world, peace was bequested.'
The Kingdom of God and its peace was the central concern of the life and ministry of Jesus. It was the reason for which he lived, died and rose again. It is for that kingdom and that peace we pray in the "Our Father" when we say, 'Thy kingdom come, thy will be done on earth as it is in Heaven'. The peace of God's Kingdom is the fruit of God's spirit at work in us, the outcome of his ultimate intention for his people and his world. It was for this peace for that the people of Israel longed and which, they believed, would take root in our world with the coming of the Messiah. It is in anticipation of this peace that the  prophet, Isaiah, in our first reading, calls on Jerusalem to rejoice and be glad: 'Now towards her I send flowing peace, like a river, and like a stream in spate the glory of the nations' (Is 66:12).
The Hebrew word for peace is 'shalom' and it has a much greater depth of meaning than we normally associate with the English word 'peace'. It signifies not merely the absence of conflict, but the presence of harmony and integrity in the life of the individual person, in society – a harmony that embraces the entire created world. Shalom involves openness, friendship, tolerance, goodwill, hospitality, reconciliation. It disposes us to reach out to others, to break down barriers of suspicion, fear, prejudice and bigotry. It includes the idea of wholeness, of being fully healed so that we are "at one" with God, with oneself, with others, and with all created things.
The promotion of peace is at the very core of Christian mission. Like the first disciples of Jesus, we are called and sent into the world to be ambassadors of peace. And also, like the first disciples, we must accept that our peace will not always be accepted. It may return to us like an echo of our own voice. In a world constantly torn by rivalry, anger and bigotry, we have the challenging vocation to be living signs of a love, expressed in kindness to everyone, that can bridge divisions and heal wounds. As Pope Francis had reminded us, in his recent encyclical letter, Fratelli Tutti: 'The real antidote to the open hostility characteristic of age is not superficial tolerance but the virtue of kindness…. It is kindness that facilitates the quest for consensus; it opens new paths where hostility and conflict would burn all bridges' (FT 204).
 So let us pray in the familiar words of St Francis of Assisi:
'Lord,  make me an instrument of your peace.
Where there is hatred, let me sow love;
where there is injury, pardon;
where there is doubt, faith;
where there is darkness, light;
and where there is sadness, joy.
O Divine Master, grant that I may not so much
seek to be consoled as to console;
to be understood as to understand;
and to be loved as to love.
For it is in giving that we receive;
it is in pardoning that we are pardoned;
and it is in dying that we are born to eternal life. Amen.'
Michael McCabe SMA, June 2022
To listen to an alternative Homily from Fr Tom Casey of the SMA Media Centre, Ndola, Zambia please click on the play button below.