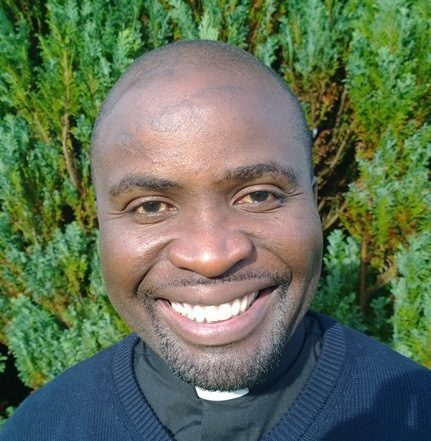 Fr. Ignatius Malwa, SMA was born in Kabwe, Zambia in 1980, the fifth of seven children. It is also the location of the SMA Formation House and Ignatius often met some of the SMA priests on the staff there, particularly Fathers Michael O'Shea and Derek Kearney. Near Kabwe is the Mpima Major seminary which SMA students attended for Philosophy studies. He writes that, during his secondary schooling, "On many occasions, I had to travel to the Copperbelt Province of Zambia where many SMA priests were based and I met some of them who influenced my path to the priesthood: Fr. Michael Igoe, the late Fr. Fergus Conlan, Fr. Sexton Doran [who was our Vocations Director] and Fr PJ Gormley." Sadly, Fr Doran passed away on 9 September 2014 and Fr Ignatius was able to attend his funeral in Loughinisland, Co Down.
The young seminarian began his priestly formation in Mpima, on the outskirts of Kabwe. After completing his Philosophy studies he went to the SMA Spiritual Year programme in Benin Republic and then spent one year in that country learning about the day-to-day life of an SMA priest living with a French SMA priest. This is the SMA Stage programme. He did his Theology studies in Ibadan, Nigeria.
"When I completed my Theology studies I returned to Zambia as a Deacon to live with four Irish SMA priests in Lusaka where I had a rich experience that has always left good memories of community life."
Fr Ignatius was ordained on 26 June 2008 and his first missionary appointment was to northern Nigeria where he is still working. "Fr. John O'Keefe introduced me to the Nigerian culture and the history of evangelisation in Nigeria whose work was mostly done by Irish SMA priests." According to our latest statistics, January 2014, the situation has changed. Of the 53 SMAs in Nigeria there are now 18 Irish and the others are from Benin Republic, England, Ghana, Ivory Coast, Kenya, Nigeria, Togo and Zambia.
"I worked in Kontagora Vicariate with Bishop Timothy Carroll SMA. I later transferred to Kano diocese and worked with Fr Tom Treacy for a period before spending a year with Fr John Haverty in Kachia, Kaduna archdiocese. At the end of 2010 I came to St Peter's SMA parish in Kaduna City where Fr Dan O'Brien was in charge. Following his return to Ireland for health reasons I have taken over as Parish Priest of St Peter's.
I have learnt a lot and had rich experiences from these missionaries. They have contributed immensely to my vocation and I follow their footsteps in trying to make the best out of my priesthood. And my priestly story cannot be complete without mentioning them."