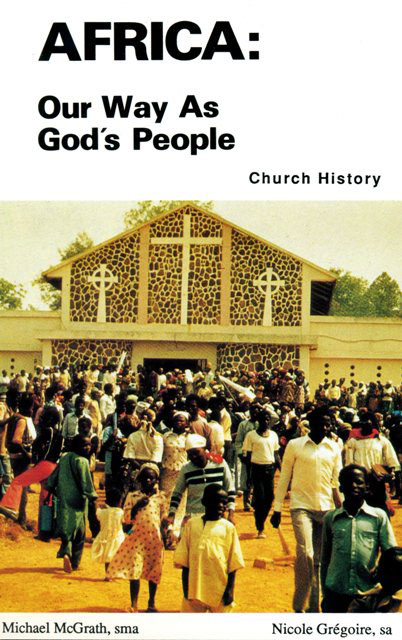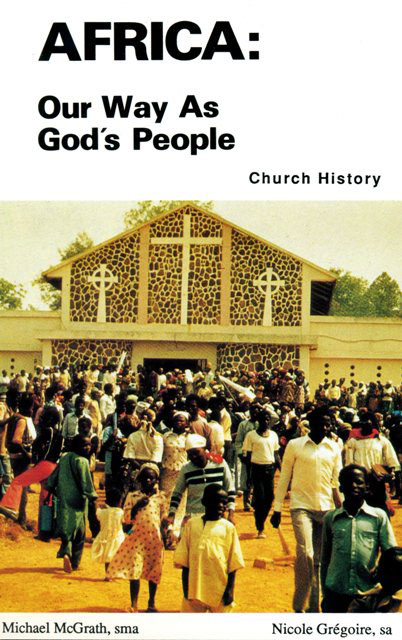 For most of his 50 years as a missionary Fr Michael McGrath has worked in Kaduna, Nigeria. His primary interest has been in catechetics: teaching and training catechists and writing books suitable for teaching catechetics in Africa.
In 1954, during his second year in St Mel's College in Longford, he met Fr Michael Cummins, the SMA Vocations Director, who was visiting the school to invite the students to consider the possibility of a missionary calling to Africa. He indicated to Fr Cummins that he was 'undecided' about what he would do after his Leaving Certificate exams. "However, Fr Cummins sent me greetings every Christmas and Easter and this persistence resulted in my making contact with him after I finished school when I did consider becoming a priest." Within three days of writing to Fr Cummins he had a visit from him and later that summer Michael entered the SMA Novitiate at Cloughballymore, Co Galway to begin training for the priesthood in the SMA. He completed his Philosophy and Theology studies at the African Missions seminary in Dromantine, Newry, Co Down.
Speaking about why he wanted to be a missionary he says, "I felt drawn to tell people about Jesus Christ through teaching and preaching the Gospel. Since I always felt Ireland had more than enough priests to do this, I wanted to be elsewhere. When I arrived in Nigeria I became passionately convinced that catechists and lay leaders were key in the work of evangelisation. The more one helps them to pass on the message, the better is Christ known and loved."
In 1965 the newly-ordained Fr Michael arrived in Kagoro where he was introduced to the lingua franca of northern Nigeria, Hausa, and learnt about the customs and traditions of the people of that part of the country. His first appointment was to the staff of St Joseph's Minor seminary in Zaria, teaching English and Religion. As well as teaching in the seminary he also worked, for some years, as Parish Priest of Samaru. This led him to interact with the local catechists (women and men) and he saw the great need to train the Hausa-speaking catechists, giving them proper information about the faith and passing on teaching skills to them. Then, in turn, they could teach those seeking to become Catholics (catechumens). At the same time Fr Michael used teach some courses at the Malumfashi Catechetcial Centre near Katsina in north-west Nigeria, which American Dominicans had established in the 1960's.
In 1972, already noted for his interest and part-time work with training catechists, he went to the Gaba Pastoral Institute in Kenya to get some formal training in catechetical work. During this one-year programme he met Sr Nicole Grégoire, a Canadian Sister of Africa [SA]. It was to be a providential meeting. After they completed the programme they began to collaborate with writing and publishing one of the most widely used catechetical tools still in use in many parts of Africa today, 40 years on!
With more than 20 different books the "Africa, Our Way" series deals with such issues catechetics, counselling, marriage, homilies for Sundays and feast days… It is available in English, Hausa and Kiswahili. Some have been translated into other less familiar African languages. The series also includes videos and posters on the Catholic faith.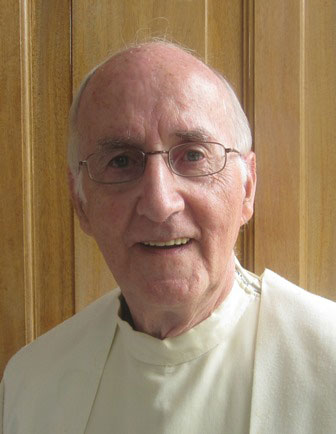 Michael's involvement in catechetics has brought him to many parts of Africa and he has visited and worked in Ghana, Zambia, Tanzania, Uganda and Kenya.
When he returned to Nigeria from Kenya (1973) he returned to Samaru. However, a year later he was asked to take over the Malumfashi Centre, where he was to work for the following 19 years. Here training was offered to catechists and lay leaders from all over Nigeria. On average 20 catechists undertook a two-year programme, either through the medium of English or Hausa. In all, over 600 catechists did some training – full or part-time, at Malumfashi. The Centre is now run by a Nigerian diocesan priest,
Returning to Kaduna City in 1993, Fr Michael has devoted his years since to the reprinting and distributing the Africa: Our Way books all over Nigeria and beyond. He also operates a bookshop in the city.
"There is no such thing as a typical day in my life", he says. "Each day brings different bits and pieces, overseeing and running the bookshop, sending out orders, answering queries about the books. I often meet with groups of catechists and am available to the diocesan priests with queries about the RCIA [Rite of Christian Initiation of Adults]." Fr Michael also conducts occasional seminars and helps out in local parishes when needed.
For several years he served as chaplain to the Borstal Training Institute in Kaduna which caters for 300 young men who are on remand or have been convicted of various crimes. It was the first of its kind. Every Sunday Fr Michael spent 3-4 hours with the Catholic youths. He has since handed on this very important ministry to a local diocesan priest.
Would you like to join Fr Michael in preaching the Good News? If you want further information on Fr Michael or the Africa: Our Way series please contact
[email protected] [email protected]
Would you like to reach out to the young people of Africa?
Why not contact the SMA Vocations Director? [email protected]