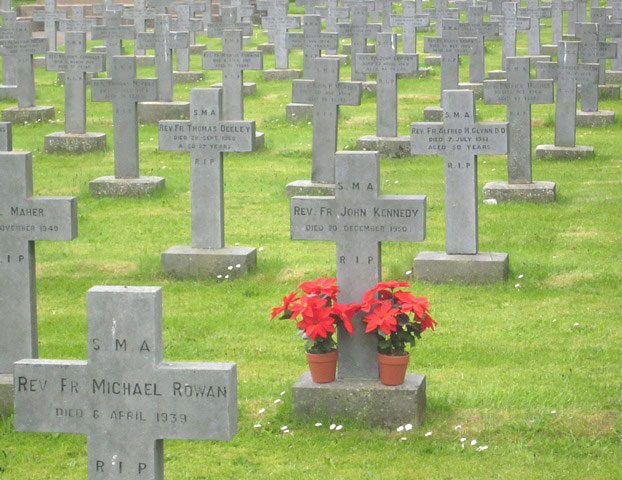 The SMA Provincial Leader, Fr Michael McCabe, was the Principal celebrant for the Funeral Mass for Fr Bill Kennedy SMA on Wednesday, 20 May 2015. He was assisted by Fr Leo Silke SMA [a classmate of Fr Bill], Fr Richard Wall SMA [former Regional Superior of MidWest Nigeria when Fr Bill was working there] and Fr Declan Blake [who worked with Fr Bill in the Finglas West parish, Dublin and is now PP of Ballymun parish].
Fr Michael's homily
"I am going now to prepare a place for you, and after I have gone and prepared you a place, I shall return to take you with me; so that where I am you may be too." Christ made this promise to his disciples before he left them to return to the Father. Christ, whose Ascension into Heaven we celebrated just three days ago, has now returned for Fr Bill and bring him to the place he has prepared from him. As we acknowledge the loss of a dear confrere, brother and friend, we thank God for the witness of his life as a missionary priest. In the words of Paul to Timothy, Fr Bill's life was "poured out as a libation… He fought the good fight, finished the race and kept the faith". Now he has gone to receive the "crown of righteousness, which the Lord, the righteous Judge" has in store for him. It is appropriate that we, who are still fighting the good fight and have not yet finished the race, should remember some of the key moments in Fr Bill's long and fruitful life of service to mission.
Bill was born on 17 June 1926 in High Street, Sligo. He was the second son in a family of six – four boys and two girls – of William Kennedy and Patricia Downes. A younger brother, Frank, died in childhood. Fr Bill is survived by his sisters Angela and Patricia and two brothers, Des and John.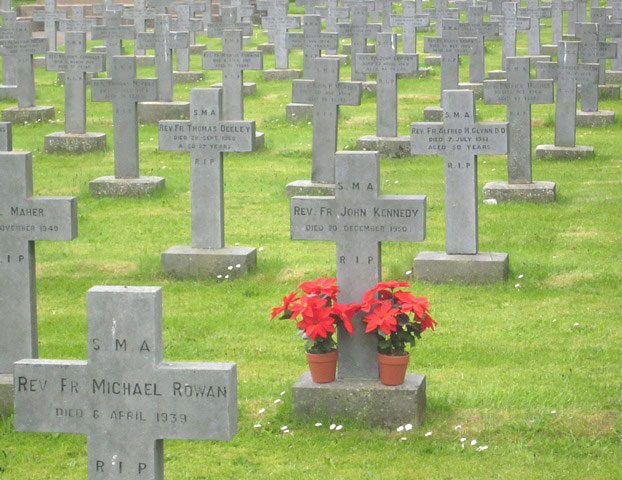 When he completed Secondary School, Bill decided he wanted to become an SMA missionary priest like his uncle, Fr Jack, who was ordained in 1932 and ministered in Liberia until his untimely death in 1950 at the age of 48. When he was home on holidays from Liberia, Fr Jack used to visit Bill's family in Dublin and it was to him that Bill expressed his wish to become an SMA priest. Fr Jack then mentioned this to his Bishop, John Collins, (a famous SMA missionary in Liberia) who took Bill out for tea in Barry's Hotel in Dublin. In 1946, Bill entered the SMA Novitiate in Cloughballymore, Kilcolgan, Co Galway, where he also completed his Philosophy Studies. He took his First oath of membership in the Society in on 29 June 1948 and from there went to the African Missions Major seminary at Dromantine, Newry, Co Down where he completed his theological studies in 1952. After taking his oath of SMA Permanent membership [11 June 1951] he was ordained a priest in the Cathedral of St Patrick and St Colman, Newry, by Bishop Eugene O'Doherty on 18 June 1952. He was one of a class of twelve ordained that day.
Following his ordination Fr Bill was appointed to the diocese of Benin City, MidWest Nigeria and served in that diocese for 21 years under the inspiring leadership of the legendary Bishop Kelly, a man whom Bill greatly admired for his spirit of prayer, simplicity of life, kindness, and missionary zeal – qualities Bill stove to emulate in his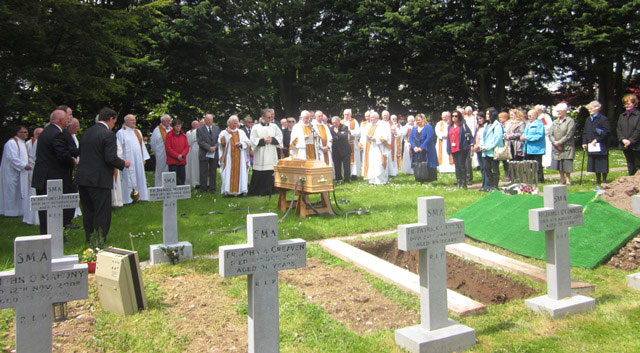 priestly life and ministry. On the occasion of his Golden Jubilee in 2002, Bill stated that Bishop Kelly was the single most important influence on him as a priest. Fr Bill worked in both the teaching and pastoral ministries and made a major contribution- particularly in the field of education – to the development of the Church in that Region in what was an era of remarkable growth
Some of the years Fr Bill ministered in Nigeria coincided with a terrible civil war (1967-'70). He was Parish Priest in Ubiaja at the time and he not only remained with his parishioners but demonstrated considerable courage on more than one occasion. In his book, Kindling the Fire [2003], Fr James Higgins SMA, recalls an event which illustrates Bill's courage. Six girls from northern Nigeria who were staying in a College near his mission, were taken by rebel soldiers to their Army base, 14 miles away. When Fr Bill heard of this he immediately got into his pick-up truck, drove to the army base, and demanded the release of the girls. The soldiers were reluctant to hand them over but Bill did not back down. He insisted that he would have to remain with the girls as they were placed under his protection. Finally, the soldiers relented and Bill was able to bring the girls back to their College School in Ubiaja, safe and sound. Looking back over 50 years of priesthood Bill recalled the time spent 'in the war zone' in Ibusa and Asaba (1969-'70) as the time that gave him greatest satisfaction as a priest. Being needed and wanted and in a position to bring both material assistance and spiritual comfort to the people was a humbling and truly blessed experience, he said.
From 1973 – '83 Fr Bill was part of a missionary team helping a newly appointed Nigerian bishop, Rt Rev Anthony Gbuji, establish the fledgling diocese of Issele-Uku. Before his eventual return to Ireland, Bill worked for a brief period in the parish of St Theresa's, Ifako, in the Archdiocese of Lagos. When he returned to Ireland in 1984, he took up a pastoral assignment in the Archdiocese of Dublin, in the parish of Finglas West, and ministered there until 1993. The present Superior General of the Society, Fr Fachtna O'Driscoll, recalls happy memories of collaborating with Bill on faith empowerment programmes for the parishioners in Finglas West. From 1993 to 1997 he was Assistant Priest in St Joseph's parish, Wilton and carried out his duties with diligence and commendable good grace in spite of a significant hearing disability. For the past seventeen year Bill lived in contented retirement in SMA House, Wilton, enjoying reasonably good health for most of that time.
Bill's health deteriorated and led him, early this year, to take up residence in St Theresa's Nursing Unit, African Missions, Blackrock Road. For the few months he was there he settled easily into the community and appreciated the excellent care of the nursing staff and carers. In his final moments on this earth, Bill was surrounded by his confreres and members of his family. Two days ago the Lord called him home. He had lived a full and fruitful life. Bill never let his mind grow stale. He was an avid reader, alive to the wonder of the world around him and open to new ideas in Philosophy, Science and Theology. I remember a fascinating conversation I had with him in 1974, when I was a young priest at SMA House, Maynooth, and Bill was engaged in a Sabbatical programme, about the views of the famous French Jesuit Philosopher and Paleontologist, Teilhard de Chardin. He would have concurred with the famous saying of the Greek Philosopher, Socrates: "The unexamined life is not worth living".
As he goes to meet his Maker, he can surely echo these sentiments of the poet, Mary Oliver, taken from her poem, "When Death Comes":
When it's over, I want to say: all my life
I was a bride married to amazement.
I was a bridegroom, taking the world in my arms.
When it's over, I don't want to wonder
If I have made of my life something particular, and real.
I don't want to find myself sighing and frightened
Or full of argument.
I don't want to end up simply having visited the world.
Bill certainly made something particular of his life. By the grace of God, he was privileged to have been part of what Pope John Paul II has referred to as "the historical drama of charity, heroism and sacrifice that has made the African Church the vibrant, fast growing plant it is today".
May the Lord grant him the reward of a true and faithful servant.
Obituary of Fr Kennedy Fr Kennedy goes to his eternal reward Funeral rites for Fr Kennedy