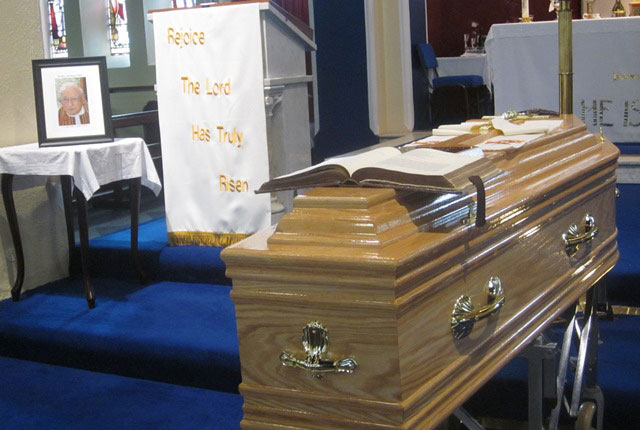 Prayers before removal from the SMA House, Wilton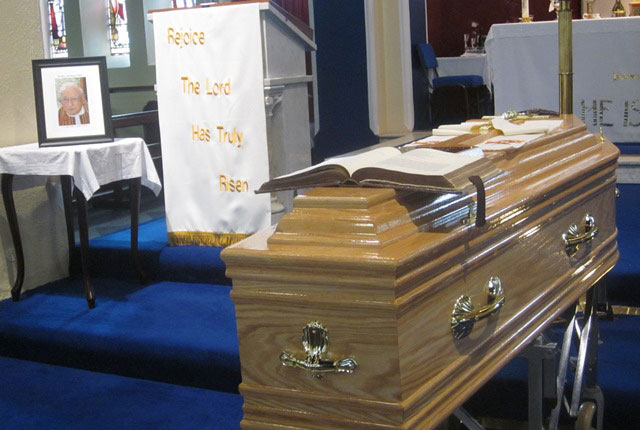 The remains of Fr Bill Kennedy were removed from the SMA House to the adjacent St Joseph's SMA Church, Wilton at 7pm on Tuesday, 19 May. Fr Dan Cashman SMA led the Prayers prior ot the removal. He paid tribute to Fr Bill in the following: "The meaning of the word 'philosopher' is a person who loves wisdom for its own sake. I think this is an apt description of Fr Bill Kennedy. He was a voracious reader, especially of works of spirituality and theology. He was a huge fan of the writings of Pope Benedict XIV. His mind was always searching for answers to our deepest questions about life.
Fr Bill was always striving for perfection and everything he did was done with style, class and panache. This did not extend to his driving however, as his brother John reminded me!
Bill made friends easily and for many it was a lifelong friendship with Fr Bill. He always showed concern for their welfare and loved to meet them socially.
At community meetings and social gatherings Fr Bill loved to share his views and did so with enthusiasm. Our community gatherings will be less exciting because of his absence.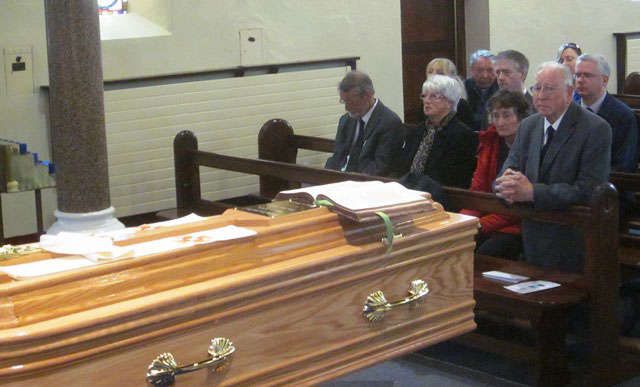 His spirituality was faith-filled and simple. He was a man of prayer and his love for the Eucharist nad Rosary was plain to see.
We thank God for the loan of this big-hearted, witty, sensitive and generous soul. He now has all the answers to his questions for the Light of God will make all things clear to this great servant of mission."
Reception of remains at St Joseph's SMA Church, Wilton
Fr Mossie Kelleher SMA received Fr Bill's remains at the entrance to the Church, a service Fr Bill had often done for many deceased parishioners during his four years as Assistant Priest in the parish. Members of his family, parishioners and SMA confreres were there to welcome him and, as the entered the Church, they sang the hymn, Nearer my God to Thee.
After placing the Christian symbols of the Bible and the Cross on his coffin, Fr Kelleher also placed a Stole – symbol of Priesthood – on it. He welcomed Fr Bill's brother, John, his sister Patricia and other mourners who had travelled for the Removal. Fr Mossie told us that during a Sabbatical year in the SMA House, Maynooth, he lived with Fr Bill. It was a wonderful time for Bill's enquiring mind. "He loved the buzz, loved the discussions with the students on theological and other matters, though Fr Bill was probably more enthused about this than the students who were studying for exams." They were to meet up again when both ministered in Wilton parish.
Before coming to Wilton Fr Bill had spent several years ministering in the Finglas West parish in Dublin. He then came to Wilton parish "which, as a proud Dub he probably considered a lesser assignment".
During his 4 years in Wilton Fr Bill insisted, again and again, on the need for house to house visitation believing that personal contact with the people was vital in building up the church. "Fr Bill brought great enthusiasm to his ministry … love of preaching, church music and liturgy. He brought Nigeria to his experiences here, often speaking of Asaba, Uromi, Agenebode etc in his sermons or chatting in the community. His heart remained in Africa."
A special memory he had of Fr Bill was that, on the occasion of Fr Mossie's Golden Jubilee in 2014, he received a card from Fr Bill with a €50 in it. [Fr Bill was known to do this for many confreres down the years]. "This generous gesture defines the man we call Fr Bill. May the Lord be generous to Bill as he enters Paradise."
After the conclusion of the Service the mourners were invited to the Community dining room for light refreshments.
Funeral Mass – 12 noon, Wednesday, 20 May
The SMA Provincial Leader, Fr Michael McCabe, was the Principal celebrant for the Funeral Mass, assisted by Fr Leo Silke SMA [a classmate of Fr Bill], Fr Richard Wall SMA [former Regional Superior of MidWest Nigeria when Fr Bill was working there] and Fr Declan Blake [who worked with Fr Bill in the Finglas West parish, Dublin and is now PP of Ballymun parish]. More than 40 other SMA priests concelebrated as well as Frs Jim Barry [St Patrick's Missionary Society – SPS], Paul Kenny [PP Dun Laoghaire] and Finbarr Crowley [PP Inishannon, Cork]. Fr Bill's cousin, Fr Edward Downes was delayed but arrived shortly after the Mass began.
Fr John Gallagher SMA was the MC and Niamh Roe led the music for the hymns.
Before beginning the Mass Fr Michael made some introductory remarks:
We are gathered here today to bid farewell to our brother, Fr Bill, and accompany him with our prayers on his final journey home to God. Fr Bill died peacefully at 11.45am on Monday, 18 May 2015 in St Theresa's Nursing Unit of the African Missions, Blackrock Road, Cork. He was in his 89th year and had been in failing health for some time.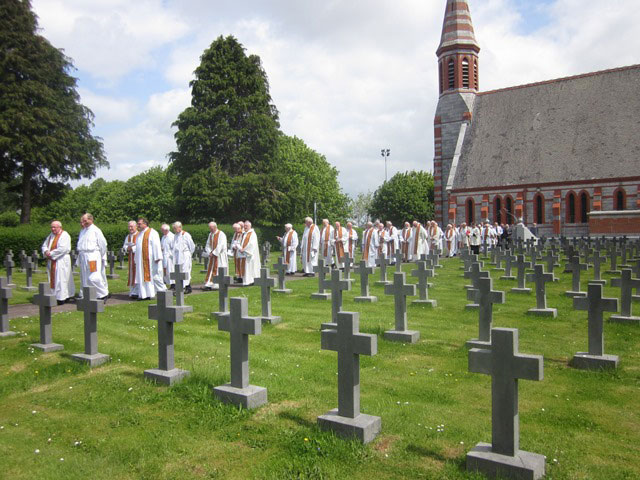 On behalf of the Irish Province of the SMA, I express my condolences to his sisters, Patricia and Angela; his brothers, Des and John; sister-in-law, Rosemary; nieces, nephews, cousins, relatives and friends. I welcome all who have travelled here today to pray for Fr Bill and pay him their last respects: Bill's cousin, Fr Edward Downes and Fr Paul Kenny from Dublin, priests from the Diocese & Ross, Sisters, especially the members of the OLA, family members, relations and friends from Dublin.
We remember in this Eucharist Bill's deceased parents, William and Patricia, his younger brother, Frank and the deceased members of his ordination class.
Tribute and Thanks of Patricia Spillane, sister of Fr Bill, before the Prayers of Commendation
The following is an edited version of Patricia's remarks
I invite you all to join me in celebrating the life of my big brother Billy. His life was full of richness, service, patience and a strong sense of justice all highly coloured with humility. He was the embodiment of the Sermon on the Mount. To me, the youngest in our family, he was always the big brother and he would always stand up for me. One thing stands out quite clearly is the way he used to bring me on swimming trips to Dollymount strand. Many times in face of fierce opposition of his later SMA colleague, Larry Skelly, who didn't like the idea of supervising the demands of a little girl.
All through our lives Billy and I were very close and his departure, while it is hard to envy him his well-earned rest, will leave an aching void.
Throughout my life I had his support and at some low points in my life this was a
tremendous help… History speaks for his heroics in Africa where he was SMA to the core and he left behind him a record that any man could be proud of and that set a high aim for those who followed. When home on leave he would stay with us and I have lovely memories of the Masses he celebrated in our home. We enjoyed his visits and great craic was had by all… Billy was no less generous to the rest of the family, to Angela, John and Desmond and prayed for us constantly.
I will miss him intensely, nut I am glad he had such a caring SMA family to love and cherish him. Over the last few days I have witnessed at first hand this love and attention and I thank those who cared for Billy from the bottom of my heart and on
behalf of our family. Were this a military operation, you would all be recommended for the Victoria Cross. Billy so wanted to come home to Wilton to the staff and brother priests he loved and lived with for so many happy years. And he has done just that. From Billy I trust that I have inherited and become part of this lovely SMA family.
Patricia then paid tribute and thanks to Fr Michael McCabe, the concelebrants, to Fr John O'Keeffe [Wilton Community Leader], Fr Eddie O'Connor and Fr John Denvir [Leader and Assistant Leader in Blackrock Road].
"My own personal thanks to my brothers John and Desmond and my darling Matt who have been a great support to me this week.
And finally to Billy himself: 'Well done good and trustworthy servant. You have shown you are trustworthy in small things, I will trust you with greater. Come and join your Master's happiness'."
Following the Prayers of Commendation, Fr Bill was laid to rest in the adjoining SMA community cemetery, alongside colleagues he had served with in Nigeria and his uncle, Fr John Kennedy, who died in 1950, aged 48 years, after ministering in Liberia.
Fr Bill Kennedy goes to his eternal rest Obituary of Fr Bill Kennedy Homily at funeral Mass