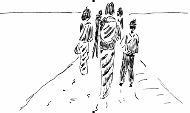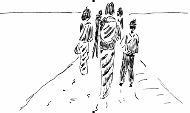 BACKGROUND AND HISTORY
Cois Tine is an outreach project of the Society of African Missions Justice and Peace Desk. Cois Tine's remit is purely a pastoral/religious one and its main focus is on members of the African community. It does not address the political, legal or physical health dimensions of immigrant life, and deals with the social, cultural and mental health dimensions only in so far as they pertain to the pastoral/religious. While Cois Tine has a Roman Catholic focus its services are open to people of all faiths.
As a result of the growing number of refugees and asylum seekers in Ireland the Society of African Missions (SMA) recognised the need to respond to their spiritual and pastoral needs. In April 2002 Cois Tine began with this specific remit. From the very beginning the cooperation and participation of the local Church, Religious Congregations, Voluntary and Statutory groups has been essential to the very existence of Cois Tine. This support is one of the main contributing factors to our achievements to date and essential to the fulfilment of Cois Tine's pastoral role.
Since its foundation Cois Tine has provided support services to immigrants, especially asylum seekers and refugees with the aim of facilitating their integration into the community. Cois Tine also works with the Irish community to promote the rejection of racism, to encourage mutual understanding and the fair and just treatment of those who have been forced to leave their homes due to injustice, violence, poverty and persecution. Particular attention has been paid to facilitating the welcoming of Catholic immigrants into the local church.  Back to About Cois Tine.