Advent in the Philippines – Simbang Gabi Masses

Worshippers arriving at 4am for Mass in Good Shepherd Church

The Filipino way of preparing for Christmas during the Advent Season is quite unique. December 16 is always a much-awaited date as it is the start of the Simbang Gabi Masses. December 16 marks the second half of the Advent season and attention is focused on preparations for the coming of Jesus into the world as a child.
"Simbang Gabi" Masses are votive Masses in honor of the Blessed Virgin Mary. They anticipate the birth of Jesus and are a way for preparing spiritually to welcome Jesus at Christmas.
Our picture shows some of the congregation at the Mass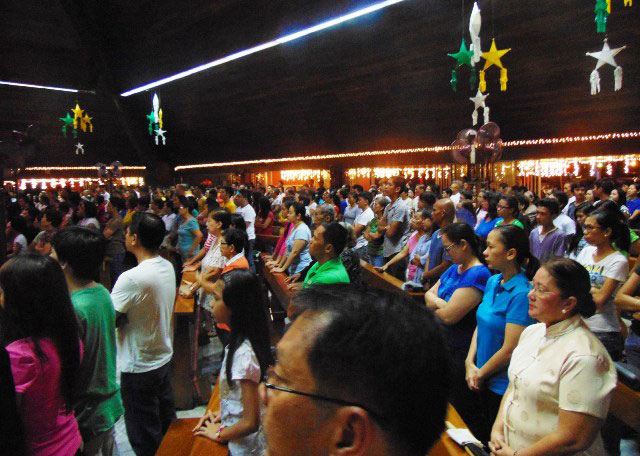 The Simbang Masses are celebrated from 16th December to 24th December each morning at dawn, from 4am – hence the Mass is sometimes referred as "Misa de Gallo" (The Mass of the Rooster). Dawn has a symbolic character. It is a reminder that Christ is the Light who overcomes the darkness. Dawn too is a reminder of the penitential nature of Advent when people are encouraged to make some sacrifices by getting up early. These Masses form a nine-day Christmas Novena.
WHY ARE SIMBANG GABI MASSES CELEBRATED?
Simbang Gabi Masses are celebrated to pray for the perseverance of the Philippine nation in faith. The Mother of God is honoured as is the "dawn" of our salvation! Simbang Gabi Masses are sometimes called "Aguinaldo" Masses. Aguinaldo is a Spanish term meaning gift. So the Masses are considered as a sort of Christmas gift of the people of God as well as God's gift to them. Simbang Gabi Masses are a reminder that salvation is pure gift.
WHERE ARE SIMBANG GABI MASSES CELEBRATED?
Simbang Gabi Masses are celebrated in every parish and other places throughout the Philippines. Office staff and factory workers have a Simbang Mass celebrated in the office or workplace… so much is the love and devotion to this unique religious practice.
HOW ARE SIMBANG GABI MASSES CELEBRATED?
Liturgically Simbang Gabi Masses are part of the Advent Season. However, white as opposed to violet is the liturgical color of this period of nine days. Even on Sundays in Advent, white vestments are permitted. The Gloria is sung. The mood is festive waiting, heightened longing and expectation as we await the joyous birth of Jesus.