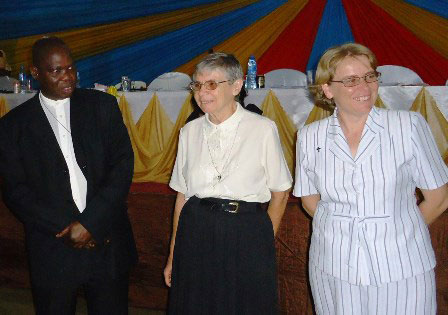 Archbishop Matthew Man-Oso Ndagoso of Kaduna Archdiocese recently hosted a celebration to honour two Sisters who have served the Catholic Church in Nigeria for many years. Fr Edmund Hogan SMA reports on the event: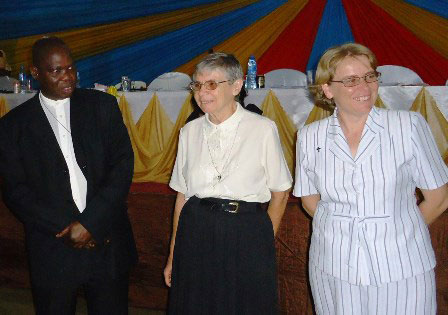 Archbishop Man-Oso Ndagoso with Sisters Rita Schwarzenberger OP and Kathleen McGarvey OLA
The ceremony took place at the Kaduna Pastoral Centre, drawing a large crowd of people from all walks of life in the Archdiocese. The opening address was given by Fr Mark Monaghan SMA, one of the Vicar Generals in Kaduna, who is the APCEC Chairman.
V Rev Fr Bulus Lukas Karis, also Vicar General in Kaduna, gave the Closing remarks and Prayer.
Sister Rita Schwarzenberger, an American Dominican, was celebrating the Golden Jubillee of her Profession. She has spent almost all her religious life in Northern Nigeria. Her father is still alive in the USA, aged 95.
The second Sister was the recently-elected OLA Provincial Superior, Sr Kathleen McGarvey, from Falcarragh, Co Donegal. Among the attendacne were members of the Muslim community – and particularly those working along with Christian women for community harmony – in which Sr Kathleen was a moving spirit.
The diocesan newspaper – The Cross News – wrote of her, under the headline: THE FALCON FLIES AWAY
"On Wednesday 13 Nov 2013, the Archdiocese of Kaduna through her Pastoral Executive Council (APEC) organized a farewell dinner in honour of Rev Sr Kathleen McGarvey OLA, for her excellent pastoral contribution to the Archdiocese and to the Church in Nigeria, as she leaves on 15 November to take up appointment as OLA Provincial Superior in Ireland. Guests at that occasion spoke in glowing tributes of this enigmatic falcon, an erudite theologian, a conflict resolution expert and a pragmatic missionary called Kathleen McGarvey."
Sr Kathleen receives a gift from the Archbishop during the Farewell ceremony.
After her First Profession in 1992, Sr Kathleen was sent to work in the OLA community in Argentina where she was involved in Missionary animation and formation. Her seven years on mission there were special years in her missionary formation.
In December 1999 she returned to Ireland to begin preparations for final vows and further studies. Her topic of choice was Women and Interreligious Dialogue, largely because of her interest in both areas and because the OLA Sisters are committed to promoting the dignity of women. She was conferred with a Doctorate in Missiology in 2006 from the Gregorian University, Rome and then returned to Nigeria where she has been until her election.
Her studies included two years research in Northern Nigeria – two challenging but adventurous years that brought her into the lives of both Muslim and Christian women, and strengthened her commitment to helping transform relations between these two groupings and create an environment in which they could become life-giving rather than death-threatening.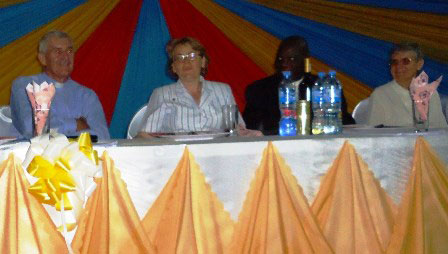 Fr Mark Monaghan SMA, Sr Kathleen, the Archbishop and Sr Rita listening to the speeches during the ceremony
In March 2008 she began, what has been until her election as Provincial Leader, her present mission in Kaduna, Nigeria. There she lectured in the Good Shepherd Major Seminary giving various courses, including Theology of Religions, Missiology, Ecumenism, Ecclesiology and Consecrated Life. Sister Kathleen has also been involved in diverse activities in the Archdiocese, particularly in the area of pastoral planning, with some women's church-based groups. The importance of promoting interreligious dialogue at all levels has always been a priority and in recent years Sr Kathleen has become an influential figure particularly as a member of various committees set up by Government to help in responding positively.
From May 2010 until her election last September, Sr Kathleen was the Founder and General Coordinator, Interfaith Council of Muslim and Christian Women's Associations, Kaduna, Nigeria. This group brings leaders and members of Muslim and Christian women's faith organizations together in sincere and concrete dialogue to address conflict and women's other concrete concerns.
Among her publications is 'Muslim and Christian Women in Dialogue: The Case of Northern Nigeria' (published Peter Lang, Oxford, 2009).
To read more about the Sisters of Our Lady of Apostles click here.
Fr Edmund Hogan and Fr Colman Nilan represented the SMA at the ceremony.