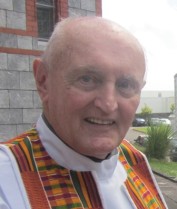 Fr John Horgan SMA worked in Africa as a Missionary for many years. He is now 89 years old and a member of the SMA Community living in Wilton, Cork. Below is the text of the homily he preached during the community Mass on Mission Sunday 23rd of October, 2022. 
Mission Statements: In recent years 'mission statements' have become fashionable. Almost every organisation whether it is a club, a society, or a hospital or a church has its own mission statement and that helps greatly to focus on what they are about. Our annual World Mission Sunday is an opportunity for each of us to rethink what is mission the Catholic church & the SMA and how is our commitment to the mission of the Church as SMAs.
The mission of the Church is to continue the Mission of Christ and we as SMAs play our part in that mission; I will treat the mission of the Church under four headings
i) Worship & Prayer,  
ii) Being an Inclusive,  Welcoming Community.
iii) Proclaiming the Word of God &                                                                
iv) Promoting Human Wellbeing & living life to the full.
Worship & Prayer were a central part of Jesus' life & work. He worshipped in the synagogue; he prayed regularly alone & with others; he prayed at all significant moments in his life; he preached on the importance of persevering in prayer & taught his disciples to pray.  Continuing the mission of Jesus, the Church is called to be a community that celebrates its faith in both liturgy & prayer.
Our worship includes our celebration of the Eucharist & sacraments & other significant moments on our life's journey; it also includes the various forms of prayer we use; the Divine Office, Lectio Divina, private prayer & praying in a group, retreats and novenas. In a word, worship refers to all we do as a community to publicly express our faith in God & celebrate God's presence in our lives.   
On Being an Inclusive Welcoming Community; We are called to witness to our faith by the way we as a community live our lives. Christian witness means striving to create a sense of welcome and belonging in our house community & in our parish or wherever we work, striving always to be a community in which all are welcomed, valued and feel they truly belong. A large section of the 2019 Provincial is devoted to 'Thinking & Acting Inclusively'.
Proclaiming the Word: Jesus proclaimed the Word of God in his teaching particularly in his teaching on the kingdom of God; and in his actions, especially in his fellowship meals, which were a big feature in his life so much so he was accused to socialising and eating with sinners. He was inviting people to know and understand God in a new way. As a church & as an SMA community we continue the work of Christ by offering people an opportunity to explore & develop their faith & come to a deeper relationship with God in their own lives.
Promoting Human Wellbeing & Flourishing: Jesus said, 'I have come that they may have life and have it to the full' (Jn. 10:10) Jesus put human wellbeing &human flourishing at the heart of his ministry for example in Luke's gospel Jesus heals the sick and casts out devils fulfilling his mission of liberation as he announced in his mission statement in Luke chapter four, 'The Spirit of the Lord is upon me, because he has anointed me to bring good news to the poor. He has sent me to proclaim release to captives & recovery of sight to the blind, to let the oppressed go free, to proclaim the year of the Lord's favour'. (Lk. 4;18-19). We also are called to be people who work for justice both nationally and globally.
In fact Justice has been central to the ethos of the SMA from our Founder's personal commitment to Justice in caring for the poor, the sick and the abandoned. Justice issues have featured strongly in both General & Provincial SMA Assemblies in recent years. Integrating Justice is one of the Central Issues in our 2019 Provincial Assembly.  Our justice Strategic Plan of June this year prioritises 3 areas; i) action and advocacy on behalf of Africa & peoples of African Descent, ii) Human trafficking & iii) Promoting Care for Creation. 
It is fitting to express our gratitude to the SMA Justice Office for the hard work they put into producing the regular Justice Briefings. These briefings now numbering 46 are an important contribution to our SMA justice outreach.
Retirement Nor are we to sit on our hands and let the world go by because we are retired. The Provincial Assembly of 2007 reminded us that we are still missionaries in retirement. It said: "those who are adapting to the reality of ageing and retirement from full active ministry, continue to participate in the mission of the Society, through their wisdom, prayer and fraternal support". And the SMA Policy on Retirement offers 5 helpful attitudes to cultivate in retirement:
Learning to accept ourselves in the conditions we find ourselves
Keeping mentally & physically active
Generosity being open to giving & receiving; contributing to the vitality of the Province, through prayer and by being a loving & caring person available to doing what we can & having an interest in the affairs of the Society.
Accepting the Cross in the diminishment that the ageing process brings
Being grateful realising how God has blessed us and blessed others through us.
We are never too old to be missionary.
Age is a quality of mind,   
if I have left my dreams behind 
if hope is cold,       
If I no longer look ahead,
If my ambitious fires are dead
then I am old.  (Anonymous)