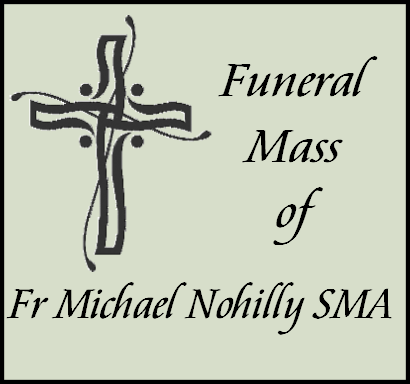 Fr Michael Nohilly SMA died peacefully in the Cork University Hospital [CUH] on Tuesday, 27 September 2022, aged 76 years.
Fr Seamus Nohilly SMA, a brother of Fr Michael, was the Principal celebrant and preacher at the Funeral Mass which took place in St Joseph's SMA Church, Wilton, Cork on Friday, 30 September 2022. The principal concelebrants were the SMA Provincial Leader, Fr Malachy Flanagan and the Provincial Councillor, Fr Anthony Kelly. After the Funeral Mass, Fr Michael was laid to rest in the adjoining SMA community cemetery.
The Mass readings were from Isaiah 60:1, 19-20; 2 Timothy 4:5-8 and John 11:17-27. The following is an edited version of the homily preached by Fr Seamus.
When the final years of a person's life is characterised by serious illness and suffering – in Michael's case there were some 11 years of it – we tend to let that experience define his or her life. In these words of Appreciation and Thanksgiving, while I will reference this reality of that segment of his life at the end, I will dwell more on what happened before that in Michael's life.
Apart from the positive influence of our parents and family I mention two very formative influences in his life from his young days.
The boys in our family went to what was known as the Monastery School in Cummer, now Corofin parish in Co. Galway for national school. It was so called as the Franciscan Brothers taught there. This most human of Religious Orders had a number of these education establishments, mostly in Counties Mayo, Roscommon and Galway. Unconsciously and indirectly the Brothers would have sown youthful vocation seeds in those so inclined.
We are from a farming background. Michael, during holiday time from College and Seminary, would have done a lot of work not only in our own farm but in those of our neighbours as well. He was never afraid of hard work and in the very limited mechanised farming of the 1950's and 60's much of that work was done manually and on one's knees. Looking back now I have no doubt that this experience on the land was very good preparation for the rough and tumble of missionary life in Africa. When I went to the missions first, the seasoned missionaries had a great word for a quality that would help greatly in being a fruitful missionary. You won't find it in any Dictionary – it was stickability – working on the land back then helped greatly with this quality.
Michael did his secondary education in the SMA College at Ballinafad, some eight miles from Castlebar – a town and its environs that was to play a big part in his life later on. Having decided he would try out his vocation further he went to our Society's Spiritual Year House, in Cloughballymore near Ballindereen and Kilcolgan in South Galway – now Blake Manor Nursing home. This was followed by his Seminary Studies and Formation in Dromantine, some six miles from Newry. His final year of studies was completed in Maynooth as we transferred our Seminary there in the early 1970's. He was ordained in Corofin Church by the late Archbishop Joseph Cunnane of Tuam – so his death came some 9 months short of the Golden Jubilee of his Ordination – not to be.
Around 1973 the SMA Irish Province – which up to then largely sent their personnel to Nigeria and Liberia – diversified. Now we went also to places like Ghana, Kenya, Tanzania and South Africa – in the latter place Michael did some years in parish parish work. Ghana was the first  country he was assigned to – in 1973 – together with his good friend and classmate, the late Fr. Vincent Glennon. Together with two seasoned Missionaries who had worked in Nigeria they pioneered the new venture in a very rural diocese called Sunyani, north of Kumasi, towards the centre of Ghana. It was there in parishes like Mim and Dorma Ahenkro that he had some of his best years in pastoral, parish ministry. He got on very well with the people, as he did in all subsequent parishes in which he served.
Michael was someone who did not get very many lucky breaks, health-wise. The first of these came some 8 years in Ghana, when the country hit a real low, both economically and politically.  I recall 1981 being a real "Annus horibilis" when there were literally empty shelves in shops and stores – provisions that would have supplemented the produce of the land. It was little wonder that he and others became subject to some tropical sickness – especially hepatitis. Thankfully he and the others and the country itself saw their fortunes greatly improve – but that austerity left its mark on him.
After finishing in Africa in the mid 1990's he decided to continue his missionary priesthood back in Ireland. Thanks to the recently retired Archbishop of Tuam, Michael Neary, who is here with us this afternoon, Michael worked in 4 parishes in the Archdiocese, over an 18 year period – first, for a short time, in Annagdown, famed as Anach Cuan, part of Corrandulla parish near our Claregalway SMA House; then for a good number of years in Breaffy outside Castlebar, then for some 4 years in Moylough, Co. Galway and finally back to another neighbouring parish of Castlebar, Park & Crimlin.
It was in the latter parish that he suffered a stroke in early 2011. While he recovered sufficiently to resume ministry in the parish it soon became apparent to him that he could no longer continue as his speaking and hearing were badly affected – conditions that deteriorated further in the 2011-2014 period. He lived for a while in our Claregalway House but soon he transferred to our St. Therese's Nursing Unit, attached to our Blackrock Road House, here in Cork City, as it was deemed that he needed regular nursing care and supervision – and lest I forget later, on behalf of our family I wish to express sincere appreciation to the present staff and to staff that have moved on in recent years and to the leadership of our House there and to the Province for the care Michael received, which I know was not easy given the communications difficulty that he had.
All this was the action or activity part of his life. However, more importantly for all of us from a faith point of view is the person we have become over the years: each one's unique personality and individuality. It is our personhood that is given to us in seed form, through the cooperation of our parents, that one's calling to develop and mature for whatever number of years God grants us in this life and it is this personhood that we bring with us into the hereafter. And heaven then is the full flowering, full maturation, full harvesting of this same seed of life or personhood.
The seed of Michael's life that we saw and sensed here on earth had many noble qualities and giftedness – he was genuine, kind, thoughtful and generous. Among us siblings he was probably the most daring, the more enterprising, more willing to take risks – aspects which by and large added to the person he was.
On the sporting side of life he was quite a good footballer. The sport that he excelled himself in was cross-country running – something for which he and the Nohilly stature were not ideally suited! That Michael did so well in this is a testament to his sheer doggedness, will power and determination to succeed. Later in life he took up golf and in spite of never having great sight he won a few trophies in his time, among which was the winner of the annual SMA Golf Competition more than once. It was from watching golf on TV that he got most satisfaction from in recent years when his hearing was badly impaired.
Let me conclude with that final decade of his life. When our father died in July 1980 our then Parish Priest in Corofin was in hospital, dying with very severe cancer. He died exactly a week after our father. I had the opportunity to visit him during that week. While in severe pain he was still lucid and I remember well one of his last sentences to me – "I can now see more clearly that suffering is part of the divine plan". No doubt he would have preached about this several times in his long ministry – now he experienced it personally and intimately.
We often say that when someone has had a lot of suffering and hardship in their life that "they have their purgatory over them". Purgatory is not an easy teaching to grasp as it takes place outside of time as we know it. Purgatory does not mean that God limits or withholds his forgiveness and acceptance of us when we die. No, the purification or conversion that may be needed when we die is from our side – as even when one strives to live a good and decent life there may be a residue of selfishness and darkness/shadow that needs conversion in order to be in the company of God for all eternity. That, as I say, takes place outside of time as we know it. And if there is truth in the claim that one can have one's purgatory done in this life then we can confidently hope and pray that Michael is already on the express journey, with no stops, to the pearly gates of heaven – into the warm embrace of the God he endeavoured to love and serve in his life time.
To lead into some prayers of Intercession let us ask the Intercession of two saints for Michael and others:
St Therese of Lisieux – whose feast comes up on Saturday, October 1st
and St Charles – and I quote from the final part of his prayer
          "O Lord into your hands I commend my soul.
            I offer it to you with all the love of my heart,
            For I love You Lord and so need to give myself
            Into your hands without reserve and with boundless confidence
            For You are my father".
Fr Seamus Nohilly, SMA