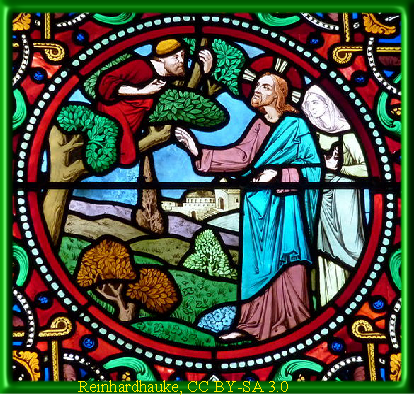 31 October 2022
Wisdom 11:22-12:1                         2 Thessalonians 1:11-2:2                         Luke 19:1-10
Theme: Surprised by Jesus
Today's gospel reading is one of my favourite bible stories. Narrated by Luke with dramatic flair and an economy of words, it is a heart-warming story with a happy ending. It features Jesus, a comical little man, a sycamore tree, and a murmuring crowd. Luke begins by setting the scene of the action. Jesus is on the final stage of his journey to Jerusalem to complete his messianic mission [to be crucified and Rise again]. He is passing through Jericho, a prosperous ancient city in the Jordan valley on the trade route from Jerusalem to the East. A large crowd of people have turned out to meet him.
Luke next introduces us to the main protagonist in the story, Zacchaeus. Luke informs us that 'he was one of the chief tax collectors and a wealthy man' (Lk 19:2). He is anxious to see Jesus but is hampered by the crowd and his lack of stature (cf. Lk 19:3). Although despised by his fellow Jews because of his profession in the service of an occupying power [Rome], Zacchaeus had probably heard that Jesus had a soft spot in his heart for tax collectors and sinners. He was reputed to be 'a friend of tax collectors and sinners' (Mt 11:19) and he even chose one of them to be among his closest companions. So, casting decorum aside, Zacchaeus runs ahead of the crowd and climbs a sycamore tree, and waits there to see Jesus as he passes by. 
The highpoint of the story comes when Jesus spots Zacchaeus and changes his travel plans. Jesus looks up at him, calls him by name, and invites himself to stay at his house: 'Zacchaeus, come down. Hurry, because I am to stay at your how today' (Lk 19:6).  Probably for the first time in his life, Zacchaeus meets a fellow Jew who treats his with respect and kindness, instead of ridicule and derision, and he becomes a new man. He hurries down from the tree and welcomes Jesus joyfully (cf. Lk 19:6).
Luke next turns our attention to the murmuring crowd, thereby injecting an element of dramatic tension into the scene. When the crowd see what is happening, they all begin to complain, shocked that Jesus has decided 'to stay at a sinner's house' (Lk 19:7). We should not be too surprised at the reaction of the crowd. As many of the psalms make clear, law-abiding Jews sought to avoid the company of sinners and certainly would not be seen eating with them (a  sign of acceptance and friendship). The scene could have turned ugly, but Zacchaeus, emboldened by the words of Jesus, stands his ground and does not allow himself to be intimidated by the crowd. Manifesting a generosity of spirit far in excess of what the Law required, he offers to give half his considerable wealth to the poor and repay anyone he may have cheated fourfold. The story ends with Jesus affirming the new status of Zacchaeus as a re-born son of Abraham. He also confirms his own messianic mission of mercy: 'for the Son of man has come to seek out and save what was lost' (Lk 19:10).
The story of Zacchaeus always brings to my mind an unforgettable experience I had while on a thirty days retreat with the Jesuits at St. Bueno's Spirituality Centre in Wales, in 1995. One day, my Retreat Director invited me reflect on the story of Zacchaeus for my first hour of prayer/meditation. Following my prayer, I met with my Director and told him how happy I felt during my prayer-time and how impressed I was with the courage of Zacchaeus. I was rather taken aback when my Director remarked that I seemed to be an observer rather than a participant in the scene described by Luke, and asked me to spend another hour meditating on the same passage. This time, he suggested, that I put in myself in the place of Zacchaeus and imagine Jesus looking at me. After a difficult hour of prayer, I went again to my Director and he asked me, 'How did Jesus look at you?'  I had to admit to him that, much as I tried, I couldn't see the face of Jesus at all. In truth I did not feel comfortable trying to imagine how Jesus would look at me.
My Director then asked me to spend another hour of prayer on the same text, but first to read very slowly chapter 15 of Luke's gospel (the great parables of God's mercy, including the parable of the prodigal Son). Finally, during this third hour of prayer, I was able to 'see' Jesus looking at me with a smile on his face and gentle reassurance in his eyes, and to absorb that look of love. I knew then how Zacchaeus felt when Jesus looked up at him. That for me was the breakthrough moment of the entire retreat, the moment I realised that Jesus loved and accepted me, flawed and weak as I was. I was no longer afraid of Jesus, and felt strongly affirmed in my calling as a missionary priest. There have been a few times since then when I felt close to God but never as palpably as that moment.
The example of Zacchaeus reminds all of us that we should not let anyone or anything deter us from striving to see Jesus and welcome him into the house of our heart. He wants to be our guest and to shower on us the blessings of salvation for he is the embodiment of divine mercy and compassion. He is the human face of the eternal God, who, as the first reading reminds us, loves all that he has made and is merciful to all (cf. Wis 11:22-24).
Michael McCabe SMA, Cork, October 2022
To listen to an alternative Homily from Fr Tom Casey of the SMA Media Centre, Ndola, Zambia please click on the play button below.