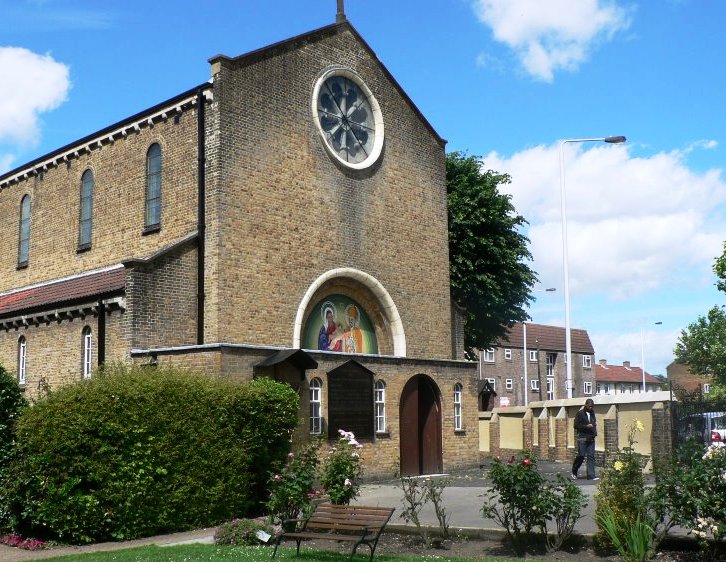 Our Lady of the Rosary and St Patrick


61 Blackhorse Road, Walthamstow, London E17 7AS
Watch the Parish Ceremonies by YouTube
Parish Priest:
Fr Kevin Conway SMA PP
Assistant Priest:
Fr Freddy Warner SMA
Parish Phone:
020 8520 3647
Parish Secretary:
ourparish99@btinternet.com
Canonesses of St Augustine
35 Maude Terrace
Walthamstow
London E17 7DG
Phone: 0208 521 0231
The Church and Parish of Our Lady and St Patrick, Walthamstow is in the Diocese of Brentwood. The Parish was established in 1908 and the Church was consecrated 1986. The Parish has been in the care of the priests of the Society of African Missions [SMA], Irish Province, since 1990.
CHRISTMAS 2020 MASS SCHEDULE
Christmas Eve Masses at 9.30am, 6pm and 9pm.
Christmas Day Masses at 9am, 11am and 1pm.
Admission to Christmas Eve and Day Masses will be on 'first come, first served' basis.
St Stephen's Day Masses at 10am and 7pm [Vigil].
Sunday, 27 December [Feast of the Holy Family]: Masses at 9am, 11.30am and 6pm.
The first SMA Parish Priest was Fr Donal O'Connor. Fathers John Brown and Gus O'Driscoll served as Parish Priests in turn. The present Parish Priest, Fr Kevin Conway, is assisted by Fr Freddy Warner.
Masses are celebrated every day [maximum of 45 persons permitted]. If you are unable to join us personally, please join us via our channel on YouTube.
Monday – Friday @ 9.30am
Saturday @ 10am & 7pm [Vigil]
Sunday @ 9am, 11.30am & 6pm
  
HOLYDAYS: 9.30am & 7.30pm.

Other Services
Sacrament of Reconciliation (Confession): Saturday:  10.30 – 11am, 6.15pm – 6.45pm 
Exposition of the Blessed Sacrament: every weekday after 9.30am Mass
The Brentwood Trust Reg. Charity No. 2340 92