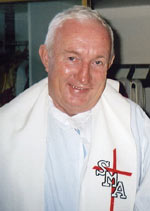 Funeral
The funeral of Fr Hannon took place on Friday 3 December at St Barnabas' Church, Matasia. More than 3,000 people – bishops, priests, religious and laity – attended the obsequies.
The principal celebrant of the Funeral Mass was Archbishop Giovanni Tonucci, Apostolic Nuncio to Kenya. He was assisted by, among others, Archbishop Raphael S Ndingi Mwana 'a Nzeki of Nairobi, Bishop Cornelius Schilder MHM of Ngong, Bishop Patrick Harrington SMA of Lodwar, Bishop Maurice Anthony Crowley SPS of Kitale and Bishop Noel O'Regan SMA of Ndola (Zambia) a classmate.
The Irish Government was represented by Mr Joseph O'Brien, Honorary Consul. Representatives of Concern and Trócaire also attended.
The Society of African Missions was represented by Fr Fachtna O'Driscoll SMA, Irish Provincial Superior, Fr Patrick Devine SMA, Regional Superior Kenya and Fr Patrick O'Rourke SMA Regional Superior Tanzania. Many SMA members attended as well as many hundreds of missionaries and religious working in Kenya.
The Archdiocese of Lagos, Nigeria, where Fr Hannon worked previously was represented by his classmate Fr Edward Hartnett SMA and by Fr Anthony Obanla, secretary to Cardinal Okogie. Fr Padraic Kelly SMA another classmate was also present.
10 members of Fr Hannon's family travelled from Ireland to Kenya for the funeral.
~ Remembrance Mass ~
A Remembrance Mass was celebrated in Blessed Virgin of the Rosary Church, Newmarket-on-Fergus on Friday 10 December. Bishop William Walsh, Bishop of Killaloe was the principal celebrant. Fr Fachtna O'Driscoll delivered the homily which can be found below on page 3.