"We, the Christians of Dosso, form a small, very small, minority community in a predominantly Islamized society. We are happy but also fragile in the face of the diversity and multiplicity of colours in our fellow human beings", says Father Rafael Marco Casamayor, SMA, at the end of the Easter celebrations in their mission in Dosso, Niger Republic.
"We Christians spent a good part of Lent together with the Muslim month of fasting, Ramadan", explains Father Rafael. "These are things that unite us, that help us go beyond our existence and get closer to God, even if the projection is very different."
"We celebrated the Stations of the Cross on Lent Friday at sunset, when people finished their work. We gathered in the great space of the mission and we followed the path of Jesus' passion. It is the cross carried by my people who suffer from famine, lack of medicines, violence and insecurity," continued Father Rafael.
"I also think of the blind children of Gaya whom we carry in our arms and in Dosso, whom we hold by the hand, and the street children in Niamey. It is they who light our way, because with them we take up the cross that becomes love".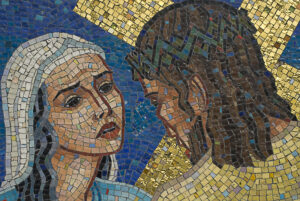 At the end of the Way of the Cross, the faithful collected donations for the needy and the proceeds of the collection were used to buy food and hygiene items to be distributed to the patients of the 'La Madre y el Niño' (The Mother and the Child) hospital in Dosso.
Taken from an article published by FIDES, the Vatican News Agency of the Congregation for the Evangelization of Peoples, 28 April 2022
It is a well-known fact that the Niger Republic is one of the most challenging countries for Catholic mission work. According to official data the population of the country can be counted as follows: 93% Muslim, 7% Animists and 0.4% are Christians (Association of Religions, Nov 2012). Niger is fifteen times the size of Ireland and the Sahara desert covers 80% of the country.
When Monsignor Oswald Waller SMA was appointed as the Prefect Apostolic of Shedam in Nigeria (1911) he vowed to "prepare the ways of the Lord by preaching the Gospel" all the way to Zinder (in Niger). Eight years later the first Catholic priest visited Zinder. SMA priests looked after Zinder, visiting from their missions in Nigeria, to the south. At the same time, the city of Niamey was cared for by SMA's coming from Dahomey [modern-day Benin Republic]. Read more about the history of the Nigerien Catholic Church here.