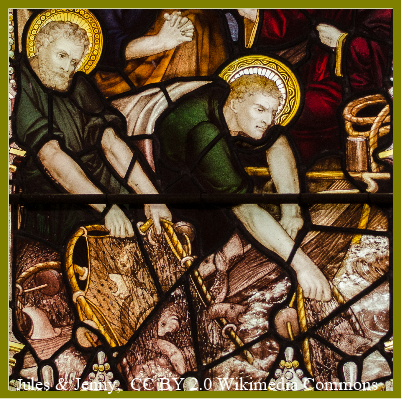 1 May 2022
Acts 5:27- 32, 40- 41               Revelation 5:11-14               John 21:1-19
Theme: 'Do you Love me?' (Jn 21:15)
Today's gospel from John gives us a detailed and moving account of 'the third time that Jesus showed himself to his disciples after rising from the dead' (Jn 21: 10). The setting for this appearance of the Risen Jesus is by the Sea of Tiberias in Galilee, about eighty miles from Jerusalem. The disciples have left the safe house in Jerusalem but not yet embarked on the mission Jesus gave them on the evening of the first day of the week following his resurrection (cf. Jn 20:23). Instead, they have returned to the homes they had left behind to follow Jesus, and resumed their former occupation – fishing.
As usual, it is Simon Peter who takes the initiative. He announces to his companions that he is going fishing. They agree to join him. Surprisingly, after fishing throughout the night – the optimum time for fishing – they catch nothing and head for the shore with empty nets. In the stark words of John, 'that night they caught nothing' (Jn 21: 3). We can imagine how they must have felt – tired and weary, frustrated and dispirited. It is at this moment, when their hearts are as empty as their nets, that the risen Jesus makes his appearance, standing on the shore. John tells us that, at first, the disciples 'did not realise it was Jesus' (Jn 21:5). Jesus addresses them as  'friends', asking them, probably with a smile on his face, if they have caught anything. When they answer 'No', he says 'Throw the net out to starboard and you'll find something' (Jn 21:6). Taking Jesus at his word, they drop the net and catch so many fish that they cannot drag in the net.
This scene is reminiscent of the story of the miraculous catch of fish in Luke 5:1-11, which results in Peter, James and John becoming followers of Jesus. However, whereas Luke's story occurs early in Jesus' Ministry and leads to the calling of the disciples to become disciples of Jesus, John's account is set in a post resurrection context and has Eucharistic connotations. When the disciples eventually come ashore with their exceptional haul of fish, Jesus invites them to join him for a breakfast he has prepared for them. During the meal Jesus, whom the disciples now recognise as 'the Lord', 'took bread and gave it to them and the same with the fish' (Jn 21:13). There are echoes here of Luke's account of the meeting of two disciples with the Risen Jesus on the road to Emmaus and how they recognised him 'in the breaking of the bread' (Lk 24:35).
There are other details in John's account that are highly significant. The Risen Jesus comes to his disciples just after daybreak. The dark hours and fruitless labour of night-time have given way to the dawn of a new day, offering new hopes, new possibilities. Darkness does not win. The light always prevails. Reflecting on a protracted experience of failure as a poet, Patrick Kavanagh asks the question: 'Is there music playing behind the doors of despair?'  There are moments in our lives when, like Kavanagh, we may feel overwhelmed by a sense of failure, and wonder if there will be a new dawn for us. Today's gospel reading reminds us that it is precisely at such moments that the Risen Jesus comes to us, challenging us to trust in his word, as the disciples did. No matter how dark and hopeless our world, or the circumstances in which we live, may appear, with our Risen Lord, 'there is always light if we are brave enough to see it', to borrow the words of the young American poet, Amanda Gorman (from her poem, The Hill we Climb).
In the final part of today's reading we see the Risen Jesus confirming Peter in his role of leadership among the disciples. Following his threefold denial of Jesus (cf. Jn 18:17, 25-27), we might well consider Jesus fully justified in transferring the role of leadership from Peter to John, the faithful and beloved disciple. But he doesn't do that. He does not think like us. Neither does he ignore Peter's egregious failure to stand by him in his darkest hour. Instead he gives him the opportunity to profess his love for him. 'Do you love me?' he asks Peter, not once but three times – one question for each of Peter's denials. Three times Peter gives the same answer, 'Yes, Lord; you know that I love you' (Jn 21:16). Undoubtedly, Jesus did know that Peter loved him. He knew and understood Peter far better than Peter understood himself. He knew his strengths and weaknesses. It was for Peter's sake that Jesus asked him to express his love three times. With each question and answer Jesus is drawing Peter away from his past failures and freeing him to take up his new role as leader of the renewed community of disciples. 'Feed my lambs; feed my sheep' (Jn 21: 16-17).
The story of Peter's confirmation as leader of Jesus disciples shows us that the way Jesus works is through forgiveness and reconciliation. It also reminds us that the Church is not a community of perfect disciples but, in the words of N T Wright, 'a society of forgiven sinners repaying their unpayable debt of love by working for Jesus' Kingdom in every way they can, knowing themselves to be unworthy of the task' (Simply Jesus, p. 221). As we join with Peter in professing our love for Jesus, let us never forget that we carry the treasure of the gospel in 'earthen vessels'  and that, no matter how often we fail, Jesus never withdraws his love from us.
Michael McCabe SMA, April 2022
To listen to an alternative Homily from Fr Tom Casey of the SMA Media Centre, Ndola, Zambia please click on the play button below.